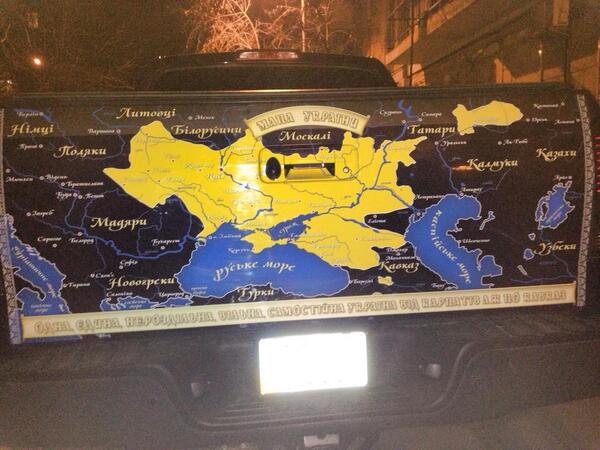 25 de marzo de 2014, 11:42Kiev, Mar 25 (Prensa Latina) Today''s removal from office of Ukrainian Defense minister Igor Teniuj, member of the ultra-nationalist Svoboda Party, and the death of a neo-fascist ringleader are revealing cracks between the coup-imposed leaders and their allies.
There is so much to criticize in the Obama administration's response to Russia's intervention in the Ukraine, from the wishy-washy appeals to the "international community," to the ridiculous complaint that Vladimir Putin is playing by "19th century" rules.
U.S. Secretary of State John Kerry on Tuesday condemned Russia's "act of aggression" in Ukraine and said Moscow, which has taken control of the Crimea region, was looking for a pretext to invade more of the country.
U.S. President Barack Obama said on Tuesday that Russian President Vladimir Putin's aggression in Ukraine is not a sign of Russian strength but rather a reflection of the deep concern Russia's neighbours have about Moscow's meddling.
"The United States reaffirms our commitment to Ukraine's sovereignty and territorial integrity according to international law. We condemn the Russian Federation's act of aggression," Kerry told a news conference during a visit to Kiev intended to show support for Ukraine's new leaders.
An easing of tensions in Ukraine ignited a powerful Wall Street rally, reversing yesterday's losses. Tom Karsten, president of Karsten Advisors, says the market remains on edge as the situation unfolds.
Both the visit and the announcement highlighted Washington's determination to support the authorities in Kiev against Russia as the West grapples with the most serious crisis in the region since the Cold War. But the announcement of assistance signalled the US determination not to yield in the battle for influence in Ukraine.
President Vladimir Putin on Tuesday defended Russia's right to use "all means" to protect its citizens in Ukraine but denied he had already deployed troops there, as the West pressed Moscow in a Cold War-style standoff over the ex-Soviet state.
See more...