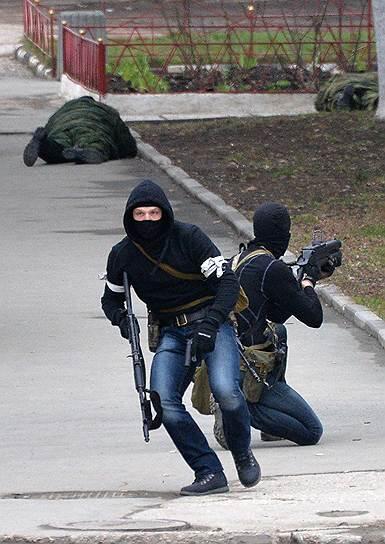 Baz Ratner/ReutersAn armored vehicle with a Russian military plate in the Crimean town of Balaklava on Saturday. Introducing the report, the channel's British anchor said with a tone of disbelief, "The Western media has been flooded with reports going as far as suggesting the Russian Army is invading Ukraine."
Bloomberg chief Washington correspondent Peter Cook reports on Congressional support for aid targeting the Ukrainian people and potential sanctions against Russia for its role in Crimea on Bloomberg Television?On a visit to Kiev on Thursday, the head of the European Union 's delegation to Ukraine said the Crimean referendum scheduled to take place in 10 days would be illegal as it violates Article 73 of the Ukrainian constitution, which sets out conditions for revising borders and territory.
Jan Eliasson says special envoy Robert Serry was threatened by 10 to 15 armed men as he was leaving naval headquarters in Crimea but that he was not abducted. "He is now walking back to his hotel after stopping by in a cafe to get guidance to reach the hotel."
John Kerry urges direct talks between Russia and Ukraine. "The Secretary urged direct talks between Russia and Ukraine," a senior State Department official said of the brief "pull aside" on the sidelines of a conference on Lebanon in Paris.
Armed men seized Robert Serry, a special representative of U.N. Secretary General Ban Ki-moon in Ukraine's Crimea region on Wednesday, Ukraine's Foreign Ministry said. Serry was held in the region's main city, Simferopol, a ministry spokeswoman said.
Russian flag restored atop administration building in Ukraine's Donetsk. In Crimea, forces believed to be Russian have surrounded the main military bases in the area. Moscow says the ships in Crimea are part of the Black Sea fleet.
Heavily-armed troops displaying no identifying insignia and who were mingling with local pro-Russian militants stand guard outside a local government building on March 2, 2014 in Simferopol, Ukraine. But Heather Conley, a Europe analyst at the Center for Strategic and International Studies, said it would be a dangerous proposition for the U.S. and Europe to allow Putin to view gains in Crimea as an opportunity to launch incursions elsewhere in the region.
Speaking to The Associated Press, Prime Minister Arseniy Yatsenyuk denied reports that Ukraine is seeking military assistance from the United States. The Russian military is to be back in the barracks." "What happened in Crimea is unconstitutional and resembles ... a coup supported by the Russian government and the Russian military," Yatsenyuk said.
See more...