Fresh

Trending

Gallery

What's Fresh

What's Trending

Gallery
What's Fresh
Summary Dispatchers with the Eureka Police Department told CBS Sacramento station KOVR the quake lasted around 20 to 30 seconds.
Summary With barely enough time to wipe away the sweat and grins from winning Sac-Joaquin Section basketball championships over the weekend, area teams now gear up for the next exhaustive rounds.
Summary One island, three personalities: 16-mile-long Anna Maria Island is home to three distinct communities. Northernmost Anna Maria has a quirky, historic, small-town character, created by cottage-style homes and boutique accommodations.
Summary LOS ANGELES -- Americans are boarding public buses, trains and subways in greater numbers than any time since the suburbs began booming.
Summary The New York City Council convenes on the second floor of City Hall, in an august chamber with a frescoed ceiling.
See more...
What's Trending
Summary You may get a little teary-eyed after watching this. Trinity Classical was up over 20 points against Desert Chapel with time winding down in the California section championship. With the game well in hand, opposing players were helping Howell score, and he finally did, with the crowd erupting and Howell hugging his teammates.
Summary PHILADELPHIA - William "Wild Bill" Guarnere, one of the World War II veterans whose exploits were dramatized in the TV miniseries "Band of Brothers," has died. The HBO miniseries, based on the book by historian Stephen Ambrose, followed the members of Easy Company, 506th Regiment, 101st Airborne Division from training in Georgia in 1942 through some of the war's fiercest European battles, including the D-Day Normandy invasion, through the war's end in 1945.
Summary SEPANG, Malaysia -- More than 48 hours after Malaysia Airlines Flight MH370 vanished, the mysteries over its fate have only multiplied. But by late Sunday, the lack of answers -- or even many clues -- to the plane's disappearance added to the misery of family members left behind.
Summary The 34-year-old injured police officer was initially taken to Advocate Trinity Hospital, where staff said he awake and talking, but he was later transferred to Northwestern where he is "stable" but still has a fragment of the bullet lodged in his forehead, McCarthy said. Police are questioning six people who were inside the home at the time of the shooting and officers recovered a handgun with one spent round at the scene, McCarthy said.
Summary (CNN) -- A powerful 6.9 magnitude earthquake shook the coast of Northern California late Sunday, the U.S. Geological Survey reported. The epicenter was about 50 miles west of Eureka, California, in the Pacific Ocean. There is no tsunami threat, according to the Pacific Tsunami Warning Center.
See more...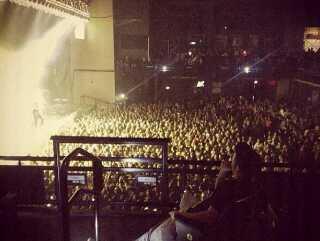 #INSTAGRAM: @jakedeanda_: We made it last show here in pittsburg Pennsylvania so def gonna go off tonight
NP-Soulja Boy ft. Roscoe Dash - ALL THE WAY TURNT UP w/Download Link: via @YouTube #Classic @souljaboy
What happens when @AnaKasparian and I get out of the studio? Find out in the first Kicking Back with Ana and Dave!
See more...