Popular
Recent
Expand Image
Congratulations to Diana Ross's son, Evan Ross + his new wife, Ashlee Simpson --> http://facebook.com/10152238181900404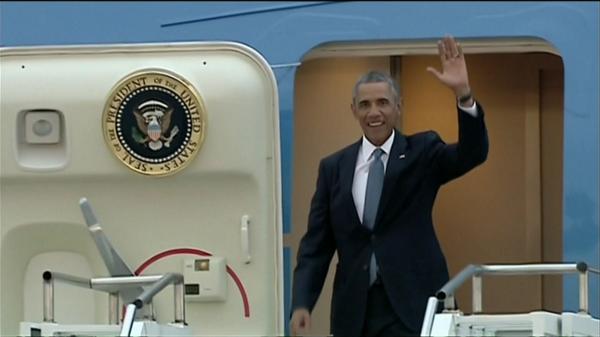 Expand Image
President Obama has just landed in Estonia for Ukraine crisis talks ahead of Nato summit http://pic.twitter.com/mXwyody0FB http://bbc.in/1qZAVQ4
Summary NEW YORK (AP) -- Squeezed into tighter and tighter spaces, airline passengers appear to be rebelling, taking their frustrations out on other fliers. It attaches to a passenger's tray table and prevents the person in front from reclining. A flight attendant told the man to remove the device.
Summary Holt batted second in Monday's series finale against the Tampa Bay Rays at Tropicana Field. The outfield will consist of Betts in center field, Yoenis Cespedes in left field and Daniel Nava in right field. Sure, the rivalry might have lost a little zip in recent years, especially with the Red Sox developing such a heated relationship with the Tampa Bay Rays.
Expand Image
Summary An Internet video purports to show the beheading of US reporter Steven Sotloff by the Islamic State extremist group. Government officials could not immediately verify the authenticity of the video. But Barak Barfi, a spokesman for the Sotloff family, indicated the family fears the worst.
Expand Image
Summary Adam Schefter joined ESPN as an NFL Insider in August 2009 and appears on a variety of programs, including NFL Insiders, NFL Live, Sunday NFL Countdown, Monday Night Countdown, SportsCenter and more. If it starts percolating and you give me a heads-up back, that'd be great." Four days later when the info was more solid, Schefter reported to the rest of the world that the Chiefs offensive lineman had been suspended for the first four games of the season.
Summary The news that another American journalist had been decapitated by the jihadist organization ISIS apparently didn't hit the world of publicity campaigns quickly enough: A digital marketing agency called Think Jam , looking to generate buzz for the release of Sleepy Hollow 's first season on Digital HD, DVD, and Blu-ray, this afternoon sent out eCards celebrating "National Beheading Day." As if the execution of Steven Sotloff weren't bad enough, yesterday was marred by a New Yorker's gruesome suicide via decapitation . Fortunately, the hashtag's use was still fairly limited as of 5:20pm ET, including just half a dozen Sleepy Hollow tweets and one critique of the press release in question.
Summary WASHINGTON (Reuters) - President Barack Obama has ordered an increase of about 350 troops in Baghdad to protect the U.S. Embassy in the Iraqi capital and is sending top officials to the Middle East to "build a stronger regional partnership" against Islamic State militants, the White House said on Tuesday. The White House said the additional troops heading to Baghdad would not serve in a combat role. Rear Admiral John Kirby, the Pentagon press secretary, said the move to augment a U.S. force already in Baghdad providing security at the large embassy compound and its support facilities would bring the total number of military personnel to bolster diplomatic security in Iraq to about 820.
Expand Image
Summary ARLINGTON, Va. - In many ways, Iain Armitage is a typical kid. But what matters to Iain is who's watching his reviews. "I hope that more kids see it and want to go to the theater," he said.
Summary Painted signs at the range where an instructor was accidentally killed by a nine-year-old with an Uzi, August 27th. Scarmardo was quick to point out that the girl's parents had signed a waiver and were at her side. In the video, only part of which has been released, the instructor, Chris Vacca, is wearing camouflage, a choice that seems to have little to do with the proper civilian use of firearms and much to do with the range's Desert Storm theme.
Summary Olaf may be finding out what snow does in the heat sooner than we thought!. On Tuesday, Walt Disney Animation Studios announced a new animated short Frozen Fever, coming in the spring of 2015. The short, from the 2013 film's Oscar-winning directors Jennifer Lee and Chris Buck, will center on a birthday party Elsa (Idina Menzel) and Kristoff (Jonathan Groff) are throwing for Anna (Kristen Bell).
Summary Fabulous! You question authority and you have reason too! But don't get too ahead of yourself, you still have your life to live and you don't want to overthink everything. But if you should do one thing in your life it should be. You got: The tweet that doesn't make any sense.
See more...
See more...
See more...
See more...
See more...
See more...
See more...
Trending Now
Most Popular This Week