24 Hours
Posts
Sentiment
Expand Image
Summary Harare: Australian batsman Steve Smith is bowled by South African paceman Ryan McLaren during the tri-nation series ODI on Wednesday.HARARE: Captain A.B. de Villiers and Faf du Plessis struck sublime centuries as South Africa chased down a massive score to beat Australia by seven wickets in the second One-day International of the triangular series here at the Harare Sports Club on Wednesday. The pair put on 206 for the third wicket, the highest South Africa partnership against Australia, as the Proteas reached their victory target of 328 with 20 balls to spare.
Summary Carolina lost its top four wide receivers from last year including Steve Smith, the franchise's all-time leader in receptions and touchdowns. NFL Coach of the Year Ron Rivera expects first-round draft pick Kelvin Benjamin, who has earned a starting spot, to emerge as the No. 1 receiver and work alongside veterans Jerricho Cotchery and Jason Avant. Tampa Bay was 30th in scoring and last in passing in 2013.
Expand Image
One day at a time!!!! http://pic.twitter.com/8rw8kVNrvo
Summary Yesterday Arizona's nasty and competitive Republican gubernatorial primary concluded with the right-wing favorite in the race, State Treasurer Doug Ducey, winning with a plurality of the vote over five rivals, including former Mesa mayor Steve Smith, who was endorsed by incumbent governor Jan Brewer. The state of gubernatorial races helps provide an antidote to the "Republican wave" assumptions flowing from this year's wildly slanted Senate landscape. At the moment the odds are low Republicans will make any net gubernatorial gains; they would have reason to be happy if wins in Arkansas and Illinois offset losses in Maine and Pennsylvania.
Summary Heading into the preseason, it was clear Carolina quarterback Cam Newton was going have to do more than ever on his own after losing his top two receiving targets in Steve Smith and Brandon LaFell along with left tackle Jordan Gross. As far as where Newton should be placed among quarterbacks isn't an easy question to answer. Before the injury, I had him lower than most - at the bottom of the top 10 among quarterbacks.
Summary SIX CATCHES, 80 YARDS, MAKES FOR IMMEASURABLE EFFECT. As things played out, that wasn't nearly enough. The 5-foot-9, 195-pound Smith, with strength that belies his size, spun free and rumbled down the sidelines, not stopping until linebacker Keenan Robinson shoved him out of bounds at the Redskins' 20-yard line, a 30-yard gain that was the Ravens' longest play of the night.
Summary Veteran players like Haloti Ngata , Steve Smith, Terrell Suggs and Joe Flacco will do the heavy lifting, but a lot of first or second year players need to produce if the Ravens want to return to the postseason. "It's hard to run the ball against them, and we still expect to run the ball against that kind of a front. But, they were determined to stop the run and play us at man coverage." The best thing is that the Ravens found a way to succeed and they can go back and watch the film to address how they will handle these situations in the future.
Madden NFL 15 - Cam Newton vs Steve Smith BrickHouse Madden 15 Onlin...: via @YouTube http://youtu.be/SptShqPg_zk
Summary Baltimore Ravens wide receiver Steve Smith, center, celebrates his touchdown with teammates Marlon Brown, right, and Justin Forsett in the first half of an NFL preseason football game against the Washington Redskins, Saturday, Aug. 23, 2014, in Baltimore. "You know, will he be able to play? What kind of plays can he make? So you go out there and you're excited. You want to make plays." Smith starred in Carolina for well over a decade, and his mission now is to do more of the same with the Ravens.
Summary Former Utah wide receiver Steve Smith showed his new team just what he can do in the Baltimore Ravens' 23-17 preseason win over the Washington Redskins on Saturday. Here's a look at some of the highlights from other players with Utah ties during the third week of NFL preseason play:. -- Eagles cornerback Curtis Marsh ( ....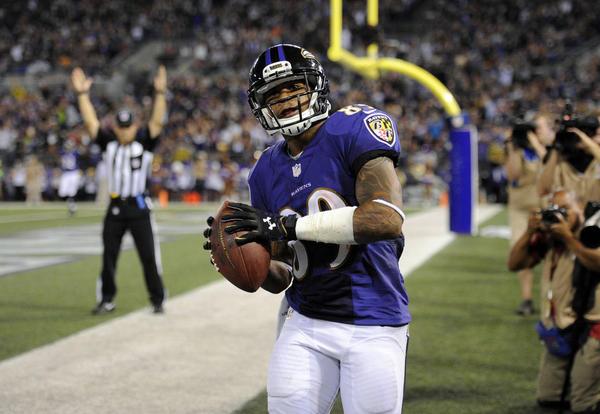 Expand Image
NFL locals photo gallery: Steve Smith scores a touchdown and Dennis Pitta loses his helmet http://pic.twitter.com/d3Uzdq1zym http://www.deseretnews.com/article/865609511/NFL-locals-photo-gallery-Steve-Smith-scores-a-touchdown-and-Dennis-Pitta-loses-his-helmet.html
Summary Looks Like the Baltimore Ravens Have a Beast in Steve Smith--I Mean Steve Smith Sr. When the Baltimore Ravens signed long time Carolina Panthers wide receiver Steve Smith--excuse me, Steve Smith Sr. now--they knew what they were getting. For years Smith has been one of the best ball hawks in the league, with or without a good quarterback tossing him the ball.
See more...
See more...
See more...
See more...
See more...
See more...
See more...
Trending Now
Most Popular This Week