Expand Image
Summary Mubi - With a military escort instead of the usual pomp, the Emir of Mubi was reinstalled Friday in his palace, where until recently flew the black-and-white flag of Nigeria's Islamic extremists, Boko Haram. Niger declared a "humanitarian crisis" in the area, where refugees look across the river at a homemade black and white flag of Boko Haram painted with two assault rifles crossed over the Quran.
Expand Image
Summary Nigerian troops gather evidence at the area were suicide bombers detonated their explosives in Kano, Nigeria. -- AP. But in a sign of the scale of the task -- and the need to provide better security everywhere in the remote region -- a local government official said 11 people were killed by gunmen in the town of Gajiganna in Borno state.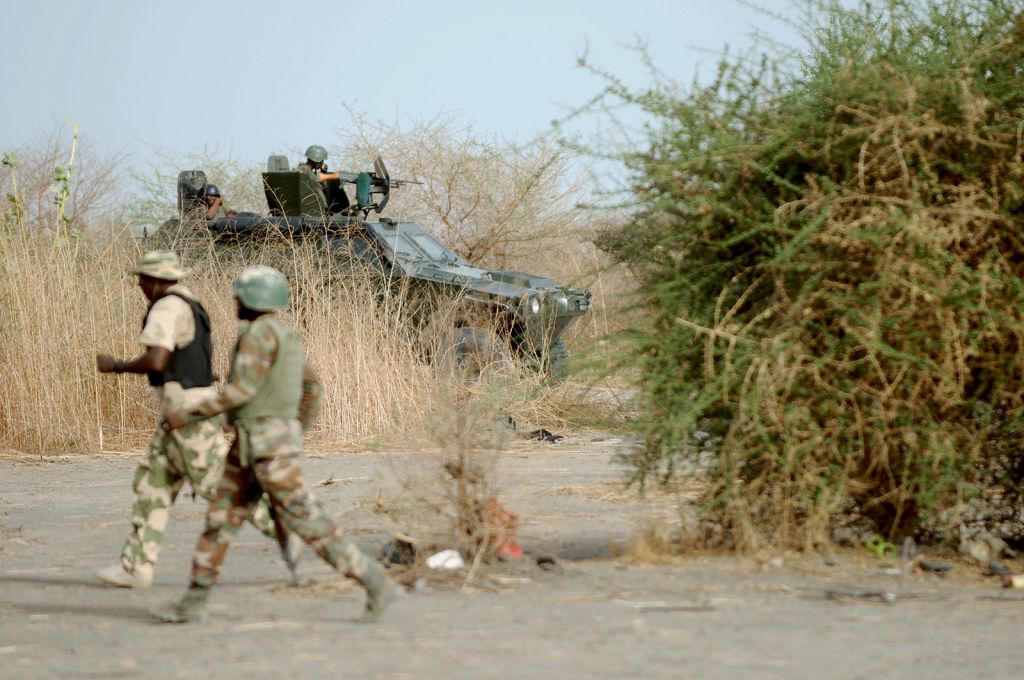 Expand Image
Expand Image
Summary Soldiers clashed with the insurgents in the Balmo, Lame and Hildi forests in Borno State, the ministry said in a statement, without specifying when the fighting took place. The ministry said it recently recaptured the towns of Mubi in Adamawa and Ashaka in Gombe states respectively, which had been under control of Boko Haram.
Summary Spokesperson for Nigerian Defense Headquarters, Major General Chris Olukolade, said the terrorists were nabbed during patrols, surveillance and raid operations to track fleeing militants in communities around northeast state of Adamawa. Boko Haram has killed hundreds of people in the last three months in many village attacks across three states in the northeast region.
Summary Normalcy have gradually returned to Gombi, Hong, Maiha towns and the commercial border town, Mubi that were recently recaptured by Nigerian troops from Boko Haram insurgents. Some residents of the area who spoke with LEADERSHIP correspondent in Mubi expressed happiness with the recent situation as they said that they feel secured now as the town is in the firm control of the military adding that the soldiers have been kind to them.
Summary A mop-up operation is ongoing to apprehend and deal with those who might be lurking around neighbouring communities. "The people must be courageous and brave enough in identifying the terrorists that are mostly known to the locals to enable the military curtail the excesses of the insurgents," he said, adding: We are working assiduously to also tackle activities of moles, some very young who spy for terrorists and invite them for invasion of communities.
Expand Image
Summary Residents of the area, who reported hearing heavy bangs and cracks of gunfire, told local media that the clash started early Thursday morning and has forced them to remain inside their homes. Funakaye is home to Ashaka Cement Plc, one of Nigeria's main producers of cement.
See more...
See more...
See more...
See more...
See more...
Expand Image
Summary Mario Hollerway has been charged with possession of a controlled substance, possession of six to 12 ounces of marijuana and child abuse. On Nov. 13 the couple's 3-year-old daughter was diagnosed at a hospital with marijuana ingestion.
Expand Image
Summary Melvin Howard, 23, of Harvard Avenue, is charged with possessing a gun as a felon and firing the gun. Howard's felony convictions include firing a gun from the passenger side of a car on Oct. 15, 2011 at the intersection of East Emerling and Sweitzer avenues.
Summary PENDLETON - A 75-year-old woman told Niagara County sheriff's deputies that her husband may have been the victim of a computer scam on Tuesday evening. After the deal the woman said she realized her husband may have been scammed and immediately called the credit card company.
Expand Image
Summary Uber's head of global safety wrote in a blog post Wednesday that in 2015 the company will "build new safety programs and intensify others." The blog referenced a case in India in which a driver was accused of raping a passenger.
See more...
See more...