Terrelle Pryor, the former quarterback, is now fighting for a job with the Cleveland Browns as a wide receiver after being cut from the Seattle Seahawks, Kansas City Chiefs and Cincinnati Bengals as a QB. Pryor certainly has the size and athleticism to be a weapon on the offense side. The fact that he is determined to succeed at wide receiver (and not quarterback) is a great sign.
ST. Charles is the Chiefs' starter and one of the NFL's premier backs. Taylor said it was his father's idea for him to tweet highlights to the Chiefs and some other NFL teams. Taylor was the only running back participating on Thursday in the final day of a rookie camp. He'll be at the back of the line when training camp begins Saturday.
Kansas City Chiefs cornerback Sean Smith addressed what lies ahead now that he's arrived at training camp. "I just want to continue to keep a positive outlook towards everything I do in my life because training camp is brutal, it's hot and long hours, but at the same time, it is a time where I am alive and it could be a lot worse.
ST. Mike DeVito/Chiefs Defensive Lineman:"I've been up in northern Maine. It's a little cooler up there than down here. I'm excited to be here. I'm excited to get going. It's been a long wait coming off the injury. And all the work that I put in to get back to this point. So I'm excited to get out there and put it to the test."
Chiefs defensive lineman Mike DeVito spent a lot of time inactive on the sideline last season after tearing his Achilles tendon in a week one loss to the Tennessee Titans. "What I would do was prep my meals at the beginning of the week so that I could just throw it in the microwave and get going. But I really stuck to (head strength coach) Barry (Rubin's) plan, and I feel good." DeVito spent most of his summer in northern Maine, a more temperate climate than the oppressive summer heat and humidity of the Midwest.
This was Friday, the day veterans were required to report to training camp at Missouri Western, and Smith, who could be seen talking and joking with his teammates beforehand, was clearly happy to be back. "It's going to be exciting -- I can't wait to get back out there with the guys, to run out that tunnel and hear the crowd chanting and screaming," Smith said.
Here in this post you will be able to vote on all four Elite Eight match-ups for a date in the Final Four. On the following pages you will vote which KC sports "season" will move on to the next round. Be sure to click next to see the next match-up and vote on each one. That is the case here between the Kansas Jayhawks and Sporting KC.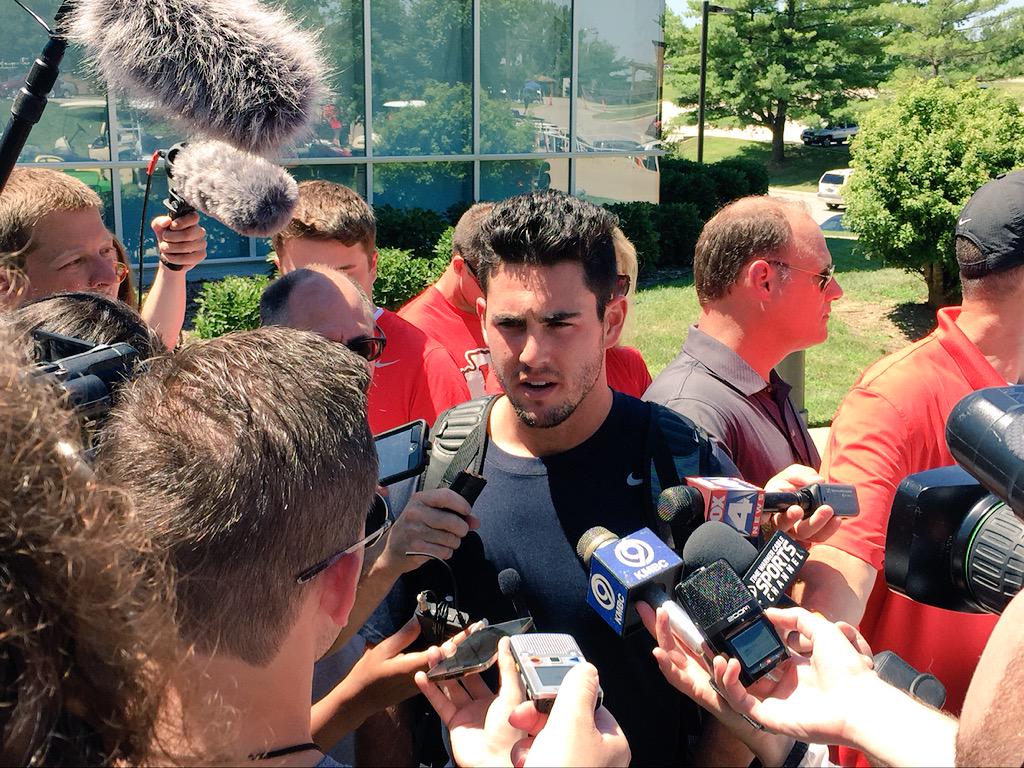 It was beneficial for both of us. @aaronmurray11 on working with rookie WR @_flight17_ during the offseason pic.twitter.com/hQGj ...
ST. Quarterback Alex Smith had an astronomical passer rating of 129.2 when the Chiefs had tight ends Anthony Fasano , Travis Kelce and Demetrius Harris on the field at the same time during the season's first eight games. The Chiefs had to get away from those formations in the second half of the season after losing Harris with a broken foot. But the Chiefs will soon begin practicing in pads, and the game will change for O'Shaughnessy.
It was worth a shot, and now he'll get a shot. On Wednesday, wanting to continue his football career, the Missouri native decided to send a link to his highlight reel to the Chiefs via Twitter: It just so happened that on Thursday, one day before veterans report to Chiefs camp, rookie tailback Keshawn Hill -- the only healthy running back on the field for Kansas City -- went down with a hamstring injury.
This will be the third season under head coach Andy Reid and general manager John Dorsey and you know what they say... Charles is one of the best running backs in the league, and Travis Kelce is a young and rising star in the tight end position. The Chiefs also will go over a month without a game at Arrowhead Stadium in the middle of the season due to giving up a home game to play in London.
Jun 18, 2015; Kansas City, MO, USA; Kansas City Chiefs cornerback Marcus Peters (22) runs drills during the mini camp at University of Kansas Hospital Training Complex. "We've been in the playbook together every night, communicating with each other back and forth if we need each other's help," Peters told the Kansas . Peters, the Chiefs' first-round pick, can walk steps to find a player in Nelson learning the same exact playbook.
See more...