Coronation Street fans of the world listen up, this selfie will make your day. Jack P Shepherd, Jane Danson and Oliver Farnworth made the most of the surprise meeting and took to social media to share a selfie from a northbound Virgin Train this afternoon. "On the train back up north with @RealJaneDanson and look who we bumped into Gavin/Andy," said Shepherd.
The pair, who play David Platt and Leanne Battersby in the legendary ITV soap, bumped into none other than co-star Oliver Farnworth as they made their way back to Manchester. The trio couldn't have looked happier as they hung out in the carriage on their way back home. Jane and Jack were en route back up north after filming for Keep It In The Family at London's ITV studios.
The 83-year-old starred alongside the late Anne Kirkbride as Ken Barlow for over forty years and said he was as heartbroken off screen as he was on following the actress' tragic death in January. William added: "It was the only time there is a blurring of the edges between the character and the actor - it was just one, it became complete oneness."
As we'll see in episodes next week, Ken can't contain his anger and resentment towards Tracy after learning that Deirdre didn't return to the cobbles weeks before because she couldn't face the neighbours... So as mentioned above, with Ken's disdain for Tracy making it all horribly uncomfortable for her, Tracy decides to avoid Deirdre's wake at the Rovers and instead, heads home to grieve alone...
Anne Kirkbride played Roache's on-screen wife Deirdre for over 40 years before she died in January . Viewers will see Ken be given a pair of Deirdre's iconic glasses. There was no Bill and Ken and Deirdre and Annie - it was just one. In episodes coming up over the next fortnight , Ken and daughter Tracey will plan a 60th birthday party for Deirdre.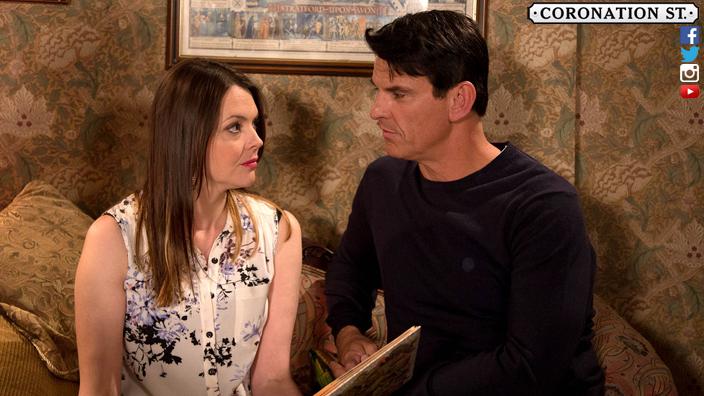 Who is this mystery man with Tracy? It's only her ex-husband Robert Preston! What's he doing back? #Corrie pic.twitter.com/y8NS ...
best known for her role as Maria in the popular soap - cut the ribbon at the opening of bed retailer Dreams at the Portrack store today. The outlet, the former Sofa Italia unit next to Dunelm on Portrack Lane, is the retailer's first to open in the North-east and has created six jobs.
Craig Charles , who plays Coronation Street cabbie Lloyd Mullaney, is due to leave the soap at the end of August to concentrate on a new series of sci-fi comedy Red Dwarf . The actor took part in the popular ITV show last year but was forced to pull out following the death of his brother Dean. According to The Sun, Craig - who made his name as Red Dwarf's Dave Lister - is reportedly heading back to the jungle when I'm A Celeb... returns later this year.
Coronation Street was Friday's top-rated programme (July 3) with Liz's attempts to get even with Tracy and Tony, overnight figures show. The Weatherfield soap pulled in 5.69m (33.0%) at 7.30pm on ITV and 161k (0.9%) on +1 as Tracy was arrested after Liz tipped off the police about dodgy dealings at the second hand shop . 5.57m (30.0%) returned for the fallout at 8.30pm and 146k (0.8%) on +1.
With Leanne having recognised Dan as one of her former clients from her days as a prostitute - and someone with a propensity towards violence - she threatens to tell Liz the truth. Scenes to be shown on Monday will then see Dan advising Leanne to keep her mouth shut - or he'll tell young Simon that she used to work as a prostitute.
Coronation Street says an emotional goodbye to Deirdre Barlow in moving scenes to be screened over the next fortnight. But for the stars of the show it felt they were also bidding a sad farewell to the late Anne Kirkbride, the actress who played her for 42 years. 'There were times when I was grieving for Deirdre and times I was grieving for Annie as a friend and colleague,' says Chris Gascoyne, whose character, Deirdre's stepson Peter, makes a surprise return to the show for her funeral.
The news of Anne Kirkbride's death in January shocked the nation. Deirdre's husband Ken is happily planning a surprise 60th birthday party for her, when her old friend Bev Unwin, with whom Deirdre has been staying, arrives on the street to break the news of her death. "He's been deprived of the last few weeks and months with the person he loves, so he has this double emotion to deal with; tremendous grief at the loss of Deirdre, and colossal anger at Tracy."
See more...