24 Hours
Posts
Sentiment
Summary ITV Studios Global Entertainment (ITVS GE) has renewed its deal with BBC Worldwide Australia and New Zealand for ITV Studios' popular soaps Coronation Street and Emmerdale in Australia. The deal will see UKTV in Australia airing five new series of both Coronati....
Summary In the second part of our interview with Coronation Street's producer Stuart Blackburn , we find out more about what the future holds for some of the show's other characters. Is Max's ADHD story building up towards Kylie's temporary exit ?. "Yes it is. It is a short-term exit and Kylie will be back, but the decisions she makes over the next few months are all going to be the wrong ones! As we head towards Christmas, it's really going to come to a head. "The arrival of Max's dad Callum will also be a real blast from the past for Kylie.
Expand Image
Summary Coronation Street actor Antony Cotton has spoken about the abuse he gets from young gay men. Speaking at Manchester Pride's fringe festival on the subject of gay characters in Coronation Street, he says he has faced ridicule for years from the gay community about the character her plays in the soap- Sean Tully.
I liked a @YouTube video Coronation Street : Wednesday 11th October 2000 Programme 2 http://youtu.be/0Tw3JtFSjms?a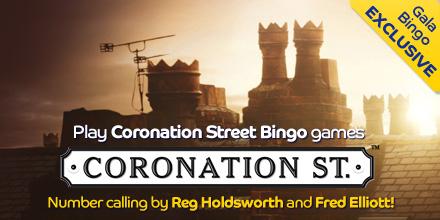 Expand Image
Are you a real #Corrie fan? Play our exclusive #CoronationStreet #bingo! From 8am to midnight http://pic.twitter.com/n8uuy2Z39b http://bit.ly/1m5yfzr
Summary Airs Friday, Aug 22 2014 at 19:30 BST on ITV. Storming into Kylie's birthday meal at the Bistro, she starts smashing bottles and demanding Nick tells the truth. . Meanwhile, Sophie and Maddie are babysitting Amy and Simon.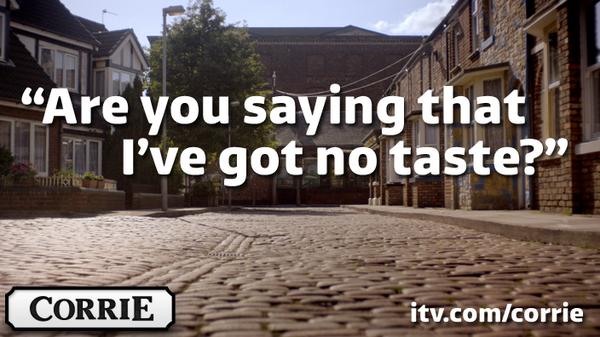 Expand Image
Can you guess who says this line in tonight's episode? #CorrieQuotes http://pic.twitter.com/LRAgWGk3zz http://itv.co/XxCIox
Summary Coronation Street producer Stuart Blackburn has revealed that the Platt family is to be front and centre this Christmas thanks to a plotline that will rock David's (Jack P Shepherd) world. The character has been described as having "good-looking charm and a dark edge" and looks set to have a negative influence on Kylie. As for the other residents of Weatherfield, Blackburn also revealed that some of the action will be focused around the Rovers Return and a beleaguered Steve McDonald (Simon Gregson).
Summary Out Coronation Street actor Antony Cotton has spoken about being ridiculed for his character, and being told that he is a "disgrace" to the gay community. You'd be surprised how many kids say that to me." On the character, he said: "Sean has never had to explain who he was, he never had to come out, he was just accepted into the community of Weatherfield from the start. "So for every one of those people who say to me that Sean's a stereotype, and that he doesn't have a political storyline, actually the fact he's never had to explain himself makes him the most political gay character in soap."
Summary Knowing that his son Jason's building business could go under if this situation isn't handled properly, Tony decides to offer Tyrone a compensation payment of PS1,000. The reality is that they could get into a lot of trouble for this. The business could be shut down, so Tony tries to buy his way out of it!".
Summary Coronation Street is the story of the everyday lives of ordinary folk living in a northern town called Weatherfield. The show's unique blend of heart warming comedy and powerful drama always remaining at the forefront of its programming since 1960.
See more...
See more...
See more...
See more...
See more...
See more...
See more...
Trending Now
Most Popular This Week