Sarah ( Tina O'Brien ) is determined to do the right thing following the shocking news that a body has been found in the local canal. Still convinced that the corpse must be Callum, a stressed-out Sarah abandons her shift at the Rovers Return and heads to the police station to reveal the truth. Digital Spy Soap Scoop video - hit play below for gossip on Ben and Kathy's EastEnders reunion, Aaron's Emmerdale arrest, important news for Fiz and Tyrone in Coronation Street and a shock kidnapping in Hollyoaks.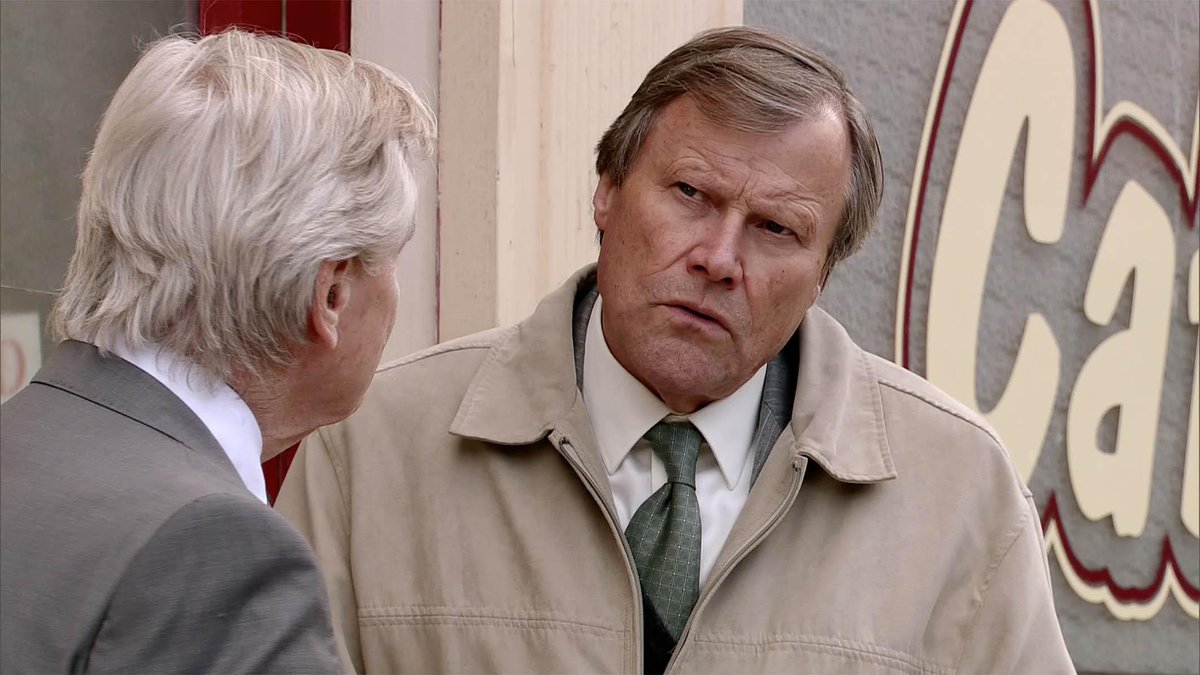 Good evening everyone. Just a quick reminder that the show is on at 6:45pm tomorrow. Don't miss it! #corrie pic.twitter.com/0vHc ...
Departing Emmerdale producer Kate Oates has insisted that her focus remains fully on the soap as it gears up for an exciting Winter over coming months. Emmerdale will air a flashback episode at the end of October which will piece together the moments in the hours leading up to Robert's shooting - as well as indentifying the culprit. The episode will also reveal two further secrets relating to other characters which will build up to some of the show's biggest storylines running through the end of the year and beyond.
After kicking off on Tuesday, the show has thrilled audiences at the Belgrade Theatre and is set to stay there until its finale on Saturday, 10 October. The production - which focuses on a meeting between two of the country's most iconic women, Margaret Thatcher and Queen Elizabeth II - stars Coronation Street actress Susie Blake. The two women, born only six months apart, shared a sometimes uneasy relationship, exemplified by the weekly audience which all British monarchs and their Premiers are compelled to observe. When did you first become aware of Handbagged and what attracted you to this most iconic of screen roles?
Coronation Street topped Wednesday's soap ratings (October 7) as Sarah Platt reached breaking point, overnight figures show. 6.89m (34.2%) tuned in at 7.30pm on ITV and 192k (0.8%) on +1 as Sarah freaked out and vowed to come clean over Callum's death after hearing that a body had been found in the canal . Emmerdale attracted 5.72m (31.0%) at 7pm on ITV and 130k (0.5%) on +1 as Rhona tried her best to support Vanessa . Doctors continued with 1.4m (21.9%) at 1.45pm on BBC One as Ayesha discovered that Hayden had drugged her . Hollyoaks interested 742k (4.2%) at 6.30pm on Channel 4 as Peri and Patrick had an emotional heart-to-heart (+1: 90k / 0.4%).
WHEN Faye Brookes walks down the red carpet, it's always her boyfriend Gareth Gates who gets the attention. But that is about to change because this week Faye made her debut as the newest member of the Connor clan in Coronation Street . And she says her singer boyfriend, who found fame on Pop Idol in 2002, can't wait for her to have her own moment in the limelight. She reveals: "Gareth is so proud of me.
She's convinced the body is Callum's and they're about to be arrested! Carla, Aidan, Johnny and Kate discuss the factory over dinner in the bistro. Johnny confirms that he's on board with the factory on two conditions; that he's central to the running of the business and that they find a job for Kate. As Roy and Ken set off for their classical concert, Cathy admits to Anna she's jealous of Ken.
It looks like we won't be seeing one of our favourite Coronation Street characters "down th'Rovehs" any time soon. The 31-year-old has been on The Street for the past 15 years, and Thomas admits the decision to leave was not taken lightly: It has been a great privilege to be in Coronation Street for the past 15 years. The cast and crew are amongst the best in the business and to have had the chance to be a part of it for so long has been an amazing experience.
TV shows and bingo have teamed up many times over the last few years. The third room room is hosting a 25,000 Maximum Bingo game on the 1st November and pre-buy is available for that. If you play in the fourth room Lucky Lockie at 10pm then you'll have the chance to win cards for the Maximum Bingo game!
Coronation Street 's Ryan Thomas has decided to quit the show - and set his sights on a Hollywood career. The actor, who has played builder Jason Grimshaw since he joined the ITV soap 15 years ago as a teenager, said he felt it was 'time to spread my wings and try other roles' and 'pursue new challenges'. The 31-year-old said: "It has been a great privilege to be in Coronation Street for the past 15 years. The cast and crew are amongst the best in the business and to have had the chance to be a part of it for so long has been an amazing experience.
There's nothing that gets people riled up quite like transport going wrong and ruining your plans - and even the most mild mannered of folk can fall victim to transport fail rage. She's known for playing soft spoken sweetheart Sinead Tinker in Coronation Street but actress Katie McGlynn proved she is far feistier than her alter ego when she let rip on Twitter after a delayed flight caused her to miss the Inside Soap Awards. She had a very heated outburst aimed at Thomas Cook as she feared she might also miss her filming on the soap for the next day. (Picture: ITV)It just goes to show what a fine actress Katie is - she couldn't be more different from her shy, retiring, cardigan wearing character!
See more...