24 Hours
Posts
Sentiment
Summary Airs Friday, Sep 19 2014 at 19:30 BST on ITV. When Tracy lets slip that Steve is bringing in Amy to see Jim, Peter is rattled and Tracy demands to know why. Will Tracy break the news to Steve and put Peter at risk?. Meanwhile, Michael is upset to learn that his father died some. years ago and arranges to meet an aunt to find out more.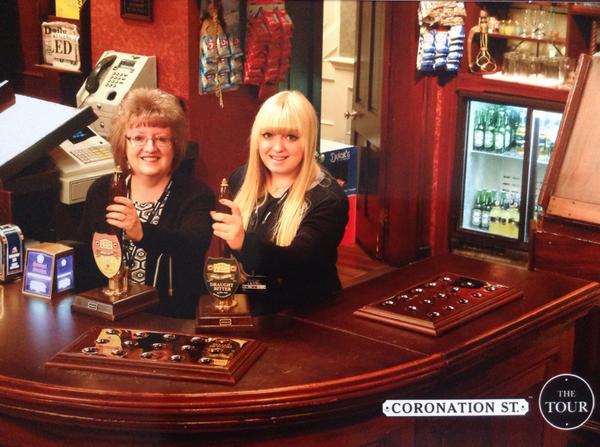 Expand Image
Last month when me and mom went to the @itvcorrie tour 😝 #CorrieTour #CoronationStreetTour http://pic.twitter.com/keiRAqCjsw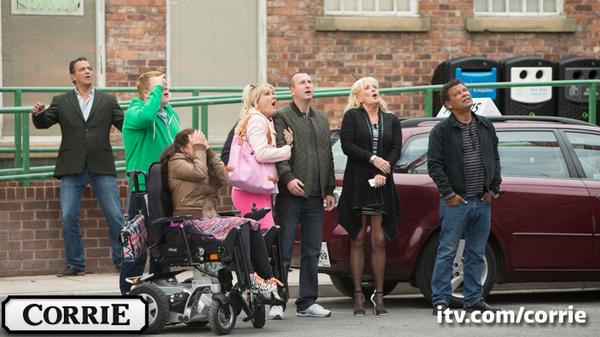 Expand Image
@itvcorrie: What are they all looking at? They've spotted us over the canal @MembersOnThe7th http://pic.twitter.com/NSbXXqo9gr http://www.itv.com/coronationstreet/previews/picture-previews-mon-22-sept-fri-26-sept
Expand Image
Summary The actor who used to play Ashley Peacock in Coronation Street is starring a new play which it's hoped could breathe new life into Oldham Town Centre. It only has 45 seats a night and opens on September 23. It is part of Oldham Council's 'Independent Quarter Project' which aims to bring both businesses and consumers back to the High Street.
Expand Image
Summary 'Coronation Street' bosses have reportedly begun handing out fines to badly behaved cast members. The ITV soap is said to have introduced a football-style fines punishment system for any stars whose actions and behaviour lead to the show being brought into disrepute. A source told The Sun newspaper: "The view is that the only real way to punish the cast is to hit them where it really hurts - and that's financially.
Summary Coronation Street mechanic Kevin Webster returns to Weatherfield next week, but faces an awkward encounter with Tim Metcalfe. As Kevin arrives back in Weatherfield with Jack, he receives a warm welcome from Sophie and awkward greeting from Tim. The two men eventually agree to go for a pint together in an attempt to clear the air, but Tim is left embarrassed later in the week when Kevin has to help him down from the roof.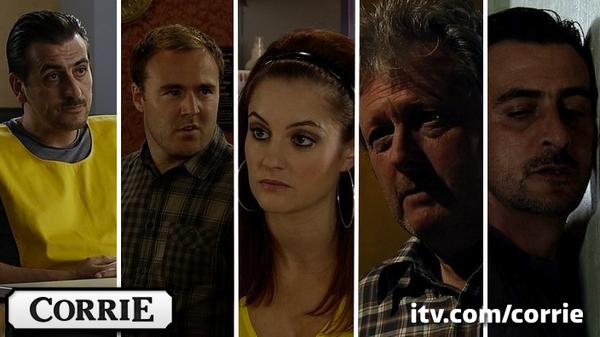 Expand Image
PREVIEWS: What else is in store for the residents of Weatherfield this week? http://pic.twitter.com/qVZuezZn1z http://www.itv.com/coronationstreet/previews/video-previews-mon-15-sept-fri-19-sept
Summary Life seems to be looking up for Coronation Street's Maddie Heath next week when she becomes a huge hit at Underworld. Do you feel Maddie has changed since she first arrived on the Street?. "Oh goodness, yes! I think her life has changed so, so much and that has forced her to adapt as a person - it's been a reality check for her, I think."
Expand Image
Catch up on last night's #Corrie with ITV Player: http://pic.twitter.com/lGjz0KkIbw http://bit.ly/1m7zJ19
Expand Image
Summary CORONATION Street stars Catherine Tyldesley and Tina O'Brien showed off their baby bumps last night, as the pair enjoyed a night at the theatre. Catherine's all-black ensemble disguised her bump - a far cry from the scarlet bodycon dress she wore to last week's TV Choice Awards. Meanwhile for Tina, there was no hiding that her due date is fast approaching, and she proudly held her baby bump as she posed on the red carpet.
See more...
See more...
See more...
See more...
See more...
See more...
See more...
Trending Now
Most Popular This Week