24 Hours
Posts
Sentiment
Summary Former President Bill Clinton will visit Minneapolis next week for a rally in support of Sen. Al Franken and Gov. Mark Dayton . The Minnesota DFL party made the announcement Thursday, a day after Franken and Dayton faced off with their Republican candidates in their first debates.
Summary The 42nd president will be part of an early voting and get out the vote event at the University of Minnesota on Friday, Oct. 10. Clinton's wife, former Secretary of State Hillary Clinton, is widely expected to run for president in 2016 and has already secured the support of Dayton, Sen. Amy Klobuchar and several DFL members of the state's U.S. House delegation.
Expand Image
Jordanian recognised as 'Young Energy Professional of The Year' by @aee @ #WEEC @BillClinton-keynote speaker #ProudJo http://pic.twitter.com/cbTNmx1gmU
Summary "One candidate believes it's about getting new jobs, getting good jobs, giving middle class people a chance to give their kids a decent life," says the former president, who won Kentucky twice. The "not a senator's job to create jobs" is a swipe at Senate Minority Leader Mitch McConnell (R-KY) for a remark he made months ago, which he has backed away from but which Grimes has repeatedly sought to use against him.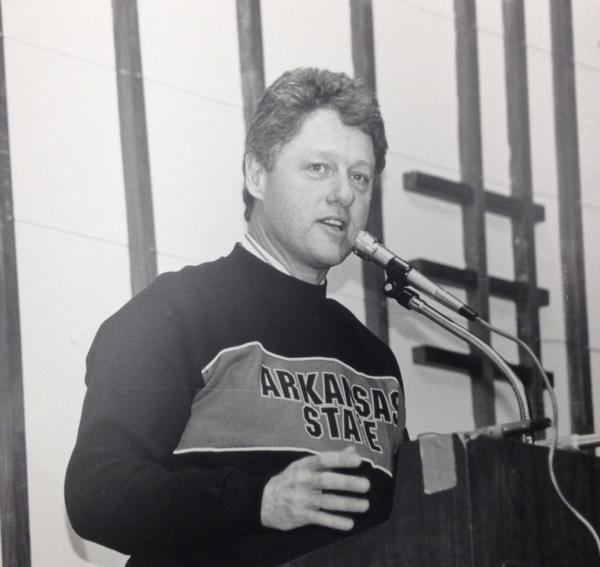 Expand Image
#TBT to the late 1980s as then Gov Bill Clinton visits Jonesboro http://pic.twitter.com/ohOlRvoEqP
Summary Holder, a controversial attorney general, tendered his resignation last week "capping a tumultuous six-year term marked by several high-profile clashes with Congress," according to Fox News . While Holder has been roundly criticized by Republicans for a variety of issues, including being found in contempt of Congress for failing to provide information in the Fast and Furious gun running investigation, the Justice Department's handling of the IRS scandal in which conservative groups were targeted as well as the decision to prosecute terror cases in civilian courts, Davis maintains that Holder worked diligently to carry out the policies "consistent with the person who appointed him."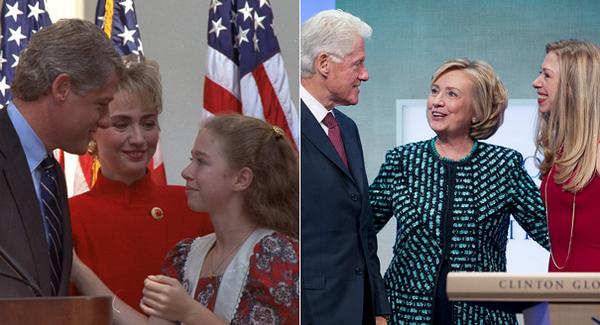 Expand Image
Expand Image
Summary Presented by Banc of California, the event will include over 5,000 at-risk youth from communities throughout Southern California. "We are proud to be joined by President Clinton as our Keynote Speaker at Banc of California's record setting financial literacy training event on November 9th. Banc of California recognizes President Clinton and the Clinton Foundation for their commitment to expand financial opportunities for youth across America. Banc of California is proud to commit its resources to improving the financial literacy of at-risk youth throughout California," said Steven Sugarman, Banc of California's President and CEO.
Expand Image
Summary Last week when former President Bill Clinton meandered onto the topic of charter schools, he mentioned something about an "original bargain" that charters were, according to the reporter for The Huffington Post , "supposed to do a better job of educating students."
Expand Image
Summary On Oct. 6 and 7, Bill Clinton will spend two days barnstorming across Arkansas to support Sen. Mark Pryor (D-Ark.) and other Democrats. In the final weeks of the campaign, the party should bring the appealing and optimistic Clinton message to the widest circle of voters in the largest number of states.
Expand Image
Summary The former president will headline four home-state events next week. "He's one of the few name brands in Arkansas politics that could possibly counter the new generic preference for the Republican brand that's developed in the state."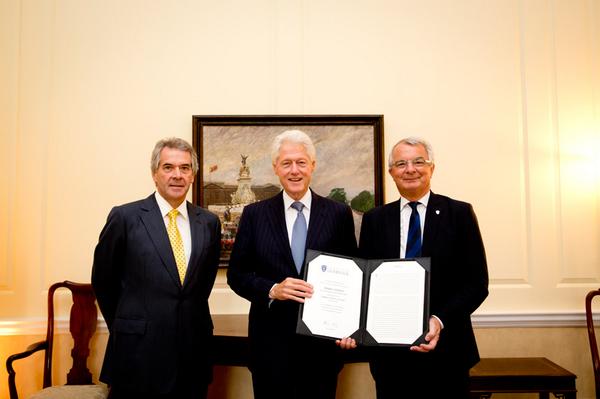 Expand Image
42nd US President Bill Clinton receives Doctor of Laws from VC Sir Howard Newby @UKinUSA http://pic.twitter.com/yN4kuigAci http://bit.ly/1vwS7QM
See more...
See more...
See more...
See more...
See more...
Expand Image
Summary The Secret Service might need a new name. The information included times and locations of the President's events in the final days of the election. The author of the report, Shawn McCoy , is a former Romney campaign staffer, and says that the leaked itinerary "was not widely circulated within the [Romney] campaign" and "did not impact the campaign's strategy."
Expand Image
Summary The wearable device consists of a tiny computer screen mounted in the corner of an eyeglass frame and is capable of taking photos, recording video and playing sound. The U.S. Internet company said in a blogpost in May that anyone in the United States could buy the gadget for $1,500.
Expand Image
Summary A panel of three Shawnee County District Court judges ruled Wednesday that Democrats need not nominate a candidate for the race. The court said the petitioner, who failed to appear in court for arguments, would have to pay the costs of the proceeding.
Expand Image
Summary Civil rights lawyers filed an emergency appeal with the Supreme Court on Thursday seeking to block Wisconsin from enforcing a strict voter ID law they say could prevent as many as 300,000 of the state's registered voters from casting a ballot next month.
See more...
See more...
Most Popular This Week