24 Hours
Posts
Sentiment
Expand Image
Summary Monica Lewinsky became infamous for her affair with President Bill Clinton. The former White House intern disappeared from the public eye, but her name lived on in music. Delivering a speech on cyber bullying at the Forbes Under 30 Summit on Monday, Lewinsky said:.
Expand Image
Summary In Clinton's mind, Maffei, D-Syracuse, deserves another term in the House of Representatives. To help get Maffei re-elected, he asked to crowd to make sure that the people around them go to the polls and vote on Nov. 4. .
Summary In what is likely to become a theme of the last weeks of campaigning before the midterm elections, former President Bill Clinton all but begged voters during a visit in Arkansas not to use their vote as an expression of disapproval for Barack Obama.
For those who missed it, here are my live hits from tonight for @billclinton's visit to #Syracuse. https://www.youtube.com/watch?v=9QHsvaUJXEM&feature=youtu.be
Summary "This wouldn't be a close race if the same people who voted for president voted 10 days from now,'' former President Bill Clinton told several hundred supports of Democratic Rep. Dan Maffei who gathered at a Syracuse Airport hangar for a get-out-the-vote rally Friday evening.
Expand Image
Summary The Nov. 4 elections are about raising the minimum wage, getting people jobs and rebuilding the country from the middle out. "We're going to build the country from the middle out," Clinton said while people cheered and babies cried in the crowded hangar at Syracuse Hancock International Airport.
Expand Image
Summary HE HAD SEVERAL YOUNG CHILDREN. WITH HUGE STAKES ON THE LINE AND LITTLE TIME TO GO, MARY BURKE IS HOPING TO GET A BOOST ON ELECTION DAY FROM A BIG NAME. KEEPING THINGS LIKE, BILL CLINTON TOLD THE CLOUD -- CROWD THAT HE IS LIKE A RETIRED HORSE.
Summary Appearing with Clinton will be U.S. Rep. Steven Horsford, who is being challenged for the 4th Congressional District by Republican Cresent Hardy. "President Clinton will urge Nevadans to vote early and highlight the stakes in this election," the Democratic Party said in announcing details of the Clinton rally.
Expand Image
Summary Bill Clinton's run for presidency nearly derailed when rumors surfaced that he had smoked marijuana during his time in England. The former math professor helped secure teleconferencing at the White house, databases inside Cheyenne Mountain, and the communications network controlling the country's nuclear weapons arsenal.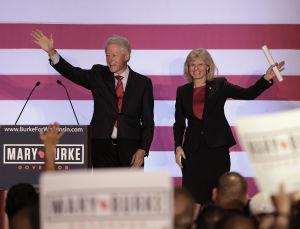 Expand Image
Former President Bill Clinton rallies Democrats to defeat Gov. Scott Walker http://pic.twitter.com/eytp3zqPmu http://dlvr.it/7Jj4xx
Expand Image
Summary Recent polls show Burke and Walker in a dead heat, and both parties have been seeking star power to help get voters to the polls. Burke spoke before Clinton, urging the crowd to knock on doors and make calls to get others to vote.
Expand Image
Summary Mixing folksy nostalgia with vintage politicking, former President Bill Clinton lauded Democrat Mary Burke, took a subtle swipe at Republican Gov. Scott Walker and talked up the great stakes in Wisconsin's governor's race Friday. The beating occurred on the street in the early morning hours of Oct. 24, 2004.
See more...
See more...
See more...
See more...
See more...
Expand Image
Summary Obama spoke Thursday night to New York Mayor Bill de Blasio and Gov. Andrew Cuomo. Obama is asking Cuomo and de Blasio to stay in close touch with Ron Klain, Obama's "Ebola czar," and public health officials in Washington.
Summary Placer County Sheriff's spokeswoman Dena Erwin says 34-year-old Marcelo Marquez was taken alive Friday afternoon from a home in Auburn. Marquez was taken in at a home about 30 miles northwest of the Sacramento neighborhood where a Sacramento County deputy was killed earlier in the day.
Summary The October 3 fire that destroyed the park headquarters in Shanksville also destroyed hundreds of personal items, photographs, recordings and other artifacts, the National Park Service said in a press release Friday. -The entire collection of photographs from the crash site, the investigation and recovery, and memorial services and activities.
Expand Image
Summary But police still need more people to come forward with information. Ad Hoc officials announced Friday that, with a donation from the Carter Broadcast Group, the reward in the case has risen to $21,000. Andreia Jackson, a cousin to Angel's mother, Charity Guinn, tearfully pleaded for the gunman to turn himself in.
See more...
See more...