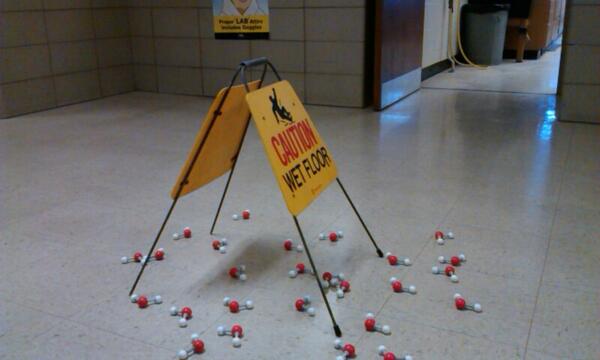 VLOG 4/1/14 - April Fool's Day, Meeting Grichell, Basic Logic Paper, Thoughts, Food, & Sleepy: via @YouTube t.co/C7lnQpXgHx ....
Expand Image
Summary On April Fool's Day, I read a post that had me shaking in my Ugg boots. It basically described changes to Facebook that would allow users to see who had viewed their profiles . Thankfully, it was just a prank post, so amateur cyberstalking may continue undeterred.
Expand Image
Summary It certainly seems like April paid an April Fool's Day joke on us. With fairly dry weather and nice conditions earlier in the day, clouds rotated around a low-pressure system to our south and brought rain in the evening.
Expand Image
Summary The Press-Enterprise says (http://bit.ly/PmMANE ) deputies were called to a fast food restaurant in Hesperia Tuesday night. A dozen sheriff's patrol cars and a helicopter canvassed the area searching for the suspect before a deputy figured out the story was fake.
Expand Image
Summary Yesterday was April Fool's Day -- a celebration of hijinks that are enjoyed by readers and somewhat feared by media outlets. However, like the readers, the writers mostly enjoy the day as well -- there are notable exceptions , mostly those who managed to get bit by a joke.
Expand Image
Summary Now that April Fools' is officially over and we're no longer walking on egg shells and looking over our shoulders, we can finally appreciate the humor that is our sheer disappointment and embarrassment. Well, imagine our surprise when we found our favorite bad boy politician in the middle of an alien abduction.
Expand Image
Summary Kobayashi posed as a busboy at Buffalo Wild Wings and the NASL athletes were, well, shocked at his ability to gobble down wings. Given the setup, elaborate ploy and subsequent humiliation: This is our favorite prank of 2014.
Expand Image
Summary You never know when Katie Couric is going sneak some cayenne pepper onto your breakfast. "And everybody got so upset and nervous. And I also told my audience that George Clooney was on the show, and it was a major buzzkill when I said, 'April Fool's'!" "And, you know, she was very upset. And that was not true," she laughed.
See more...
See more...
See more...
See more...
See more...
Summary Commissioner Charles Ramsey says officials met Monday to discuss the findings and hope to see a final report from the Justice Department by the end of the year.
Expand Image
Summary Rain will begin by mid-morning all across the region, though precipitation may begin as snow and stay snow in the Poconos and parts of the Lehigh Valley. However, when snow falls very heavily, it can rapidly cool the column of air, leading to colder conditions and heavier snow.
Expand Image
Summary It's not likely, but a Portland city official says if approved, the proposed $46 million street fund could go away after six years. The chamber and Paul Romain, a lobbyist representing petroleum users, said they would raise the votes needed to refer the plan to voters should the council approve the plan next month.
Summary Writes the National Weather Service: Roads may become snow covered and slippery...including interstates 81...70...83...66 and 64. Even during the afternoon, when the GFS and European models are suggesting snow moves into the city, around 25% of the SREF members keep the precipitation as rain.
See more...
See more...