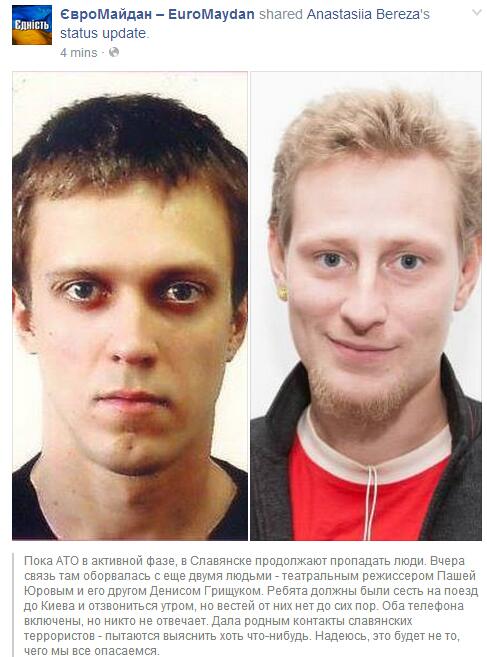 In #Slaviansk new people started to disappear. This time stage director Pasha Yurov & his friend Denis Grishuk. http://t.co/bnKwQmICfh
All Stories
Expand Image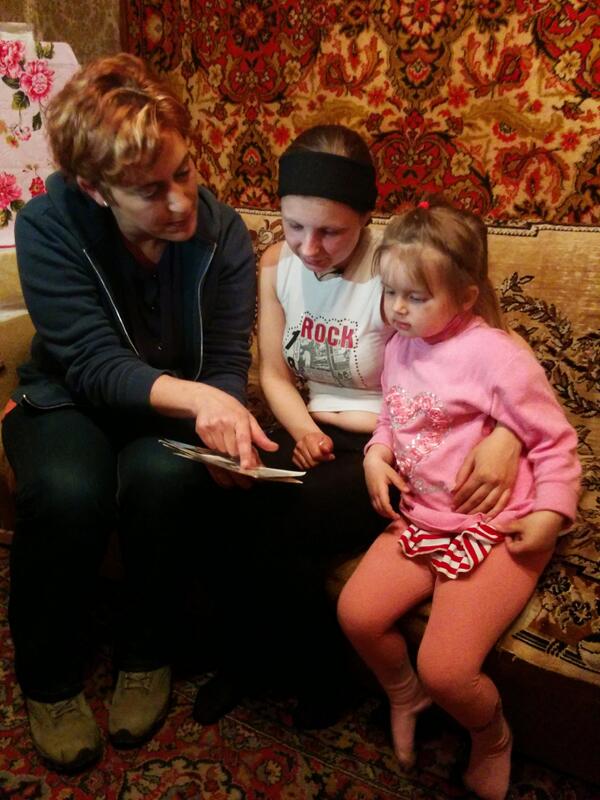 Expand Image
Expand Image
Summary SLAVIANSK, Ukraine -- The leader of separatist rebels holding a group of international observers in the Ukrainian city of Slaviansk said he was scheduled on Sunday to meet a delegation of mediators who were on their way to negotiate the observers' release.
Expand Image
Summary Washington and Brussels are expected, possibly as early as Monday, to name new people and firms close to Russian President Vladimir Putin who will be hit by punitive measures, but there is no consensus yet on wider economic sanctions.
Summary "We wish from the bottom of our hearts to go back to our nations as soon and as quickly as possible," the observer, German national Colonel Axel Schneider, said at a news conference organised by his captors.
Summary Gleb Garanich / ReutersA Ukrainian soldier patrols near a checkpoint outside the city of Slaviansk April 27, 2014. "In view of the latest developments, it must be assumed that representatives of the media are at special risk of being held or seized by separatist forces," it said in a statement.
Expand Image
Expand Image
Expand Image
Summary Ukrainian soldiers sit on top of an armoured personnel carrier at a checkpoint outside the city of Slaviansk where pro-Russian separatist rebels were holding a group of international observers. As a result, its great power status rests on three things in particular: permanent membership of the United Nations security council; its nuclear arsenal; and its position as the dominant state in its region, that of the former Soviet Union.
See more...
See more...
See more...
See more...
See more...
Expand Image
Summary The nationality of the NATO soldiers could not be confirmed, according to protocol. Abdullah, a member of the Afghan Local Police in Yahyakhail district, where the attack happened, said from his hospital bed in Kabul: "I heard the bomber shout 'Allahu Akbar' a split second before the explosion."
Summary The AFL-CIO affiliate for workers without a union plans to protest Monday outside a Greensboro Walmart store. The Greensboro event comes more than a week after the pressure tactics against Walmart led to a sit-in protest at a Los Angeles-area store.
Expand Image
Summary WASHINGTON -- Marion S. Barry Jr., a sharecropper's son and civil rights pioneer who became a flamboyant and polarizing mayor of Washington, went to prison on a cocaine charge and then recaptured City Hall in one of the most improbable comebacks in the history of American politics, died early Sunday in Washington.
Expand Image
Summary The dead have voted in Chicago. The Department of Education concluded "the ultimate scope and magnitude of the altered student files will never be known" and agreed to settle the case earlier this year for $4 million in addition to the money the City Colleges already repaid.
See more...
See more...