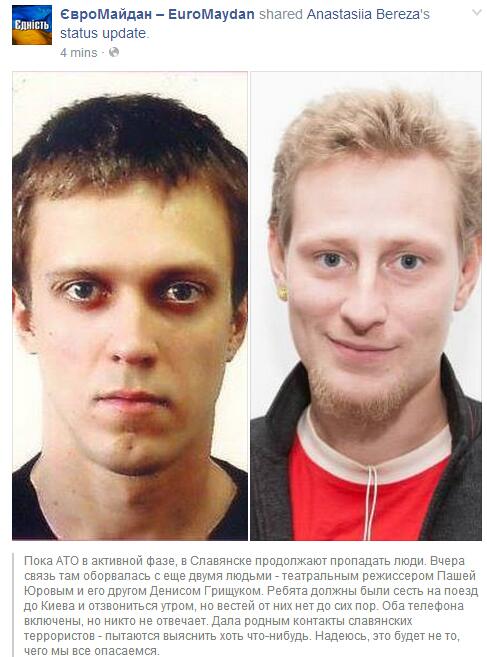 In #Slaviansk new people started to disappear. This time stage director Pasha Yurov & his friend Denis Grishuk. t.co/bnKwQmICfh
Expand Image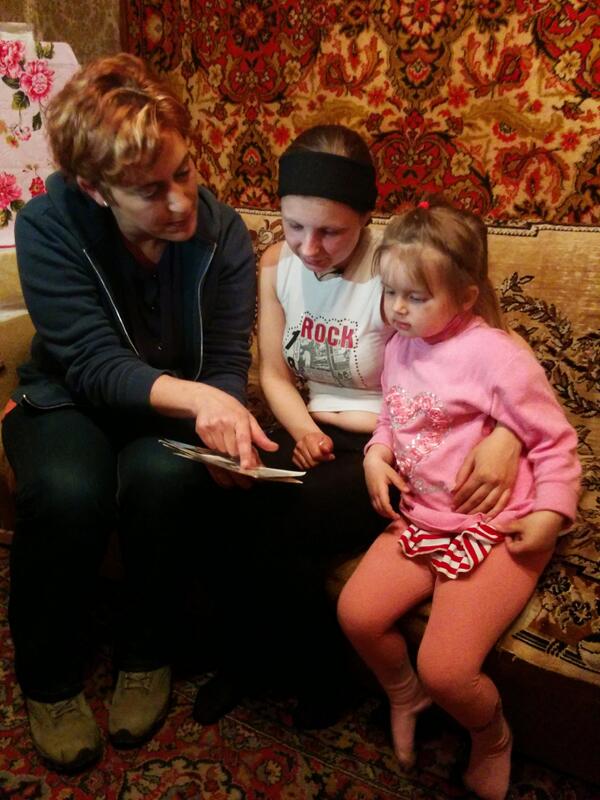 Expand Image
Looking at photos of Pavel Pavelko with his wife Irina- he was killed on Easter Sun while manning a c/post #Slaviansk t.co/n9f5ZzKRef
Expand Image
.@lenta_super posts a photograph apparently of a helicopter dispersing leaflets over Slaviansk. (For which side?) t.co/noTi4Da2OU
Russian journalists interrogate tied-up, undressed and blindfolded people at Sloviansk separatist HQ. Allegedly SBU t.co/7t5NgyOcgj
Summary "We wish from the bottom of our hearts to go back to our nations as soon and as quickly as possible," the observer, German national Colonel Axel Schneider, said at a news conference organised by his captors.
Summary Gleb Garanich / ReutersA Ukrainian soldier patrols near a checkpoint outside the city of Slaviansk April 27, 2014. "In view of the latest developments, it must be assumed that representatives of the media are at special risk of being held or seized by separatist forces," it said in a statement.
Expand Image
Pro-Russian rebels in Ukraine's Slaviansk present detained European observers to a news conference. t.co/xGFzGjgfHn
Expand Image
Summary Ukrainian soldiers sit on top of an armoured personnel carrier at a checkpoint outside the city of Slaviansk where pro-Russian separatist rebels were holding a group of international observers. As a result, its great power status rests on three things in particular: permanent membership of the United Nations security council; its nuclear arsenal; and its position as the dominant state in its region, that of the former Soviet Union.
Here's your proof that the separatists have the military inspectors t.co/05Js83kplM
See more...
See more...
See more...
See more...
See more...
Expand Image
Summary Chelsea Ledbetter is the owner/operator. Sweet Red Bistro is at 208 W. First Ave. ( sweetredbistro.com ), next door to the readers' choice for best burger joint in the area, First Burger.
Expand Image
Summary Chandler Swink, a 19-year-old Oakland University sophomore, was taken off life support Wednesday night after more than a week in an allergy-induced coma, according to the Oakland Post . The Clawson School Board said in a statement that the comment was "an inappropriate attempt at humor" and "insensitive."
Summary In an email to trip participants, Stephanie Ives, the New York Director for the NIF, said that "we have been cut from the trip for three reasons that have been communicated to us: (1) Birthright Israel determined that our marketing of the trip was in violation of their policy because our NIF logo was slightly larger than the Birthright Israel logo; (2) Birthright Israel NEXT has determined that it can no longer partner with NIF in any way because we seek to influence policy in Israel, and they have a rule against partnership with organizations that seek to influence policies in Israel or the United States; and (3) Birthright Israel decided to cancel a number of the New York UJA trips because of recruitment concerns."
Expand Image
Summary The boycott, which used the hashtag #BlackOutBlackFriday on Twitter, was the latest strategy by protesters to draw attention to issues snapped into focus by Brown's death: racism, economic inequality and police brutality in America. The movement was explained in a video produced by Ryan Coogler , director of Fruitvale Station, the story of a young black man shot dead by a white transport policeman in Oakland, California.
See more...
See more...