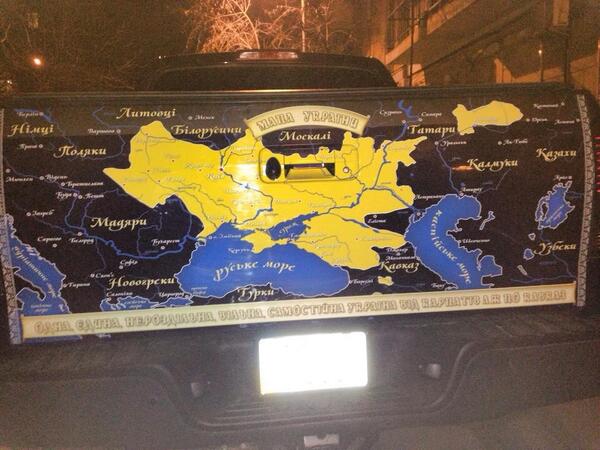 @tony_hartin: #Svoboda posts map of Greater #Ukraine. Looks like the fascists have designs on Russia, Poland and Hungary: http://t.co/wW…
All Stories
Summary The Ukrainian Jewish community is nervous. The ultra-nationalist Svoboda party, with its history of anti-Semitism and platform of ethnic nationalism, won more than 10 percent of the vote in October 2012, shared the political leadership of the Maidan revolution over the past months, and just this week received three ministries in the new Ukrainian government. The future of the Ukrainian Jewish community could depend on the choices made by Svoboda and the actions of Ukraine's democratic leaders.
Summary 25 de marzo de 2014, 11:42Kiev, Mar 25 (Prensa Latina) Today''s removal from office of Ukrainian Defense minister Igor Teniuj, member of the ultra-nationalist Svoboda Party, and the death of a neo-fascist ringleader are revealing cracks between the coup-imposed leaders and their allies.
See more...
See more...
See more...
See more...
See more...
Summary The Viacom-owned cable network has ordered to series single-camera comedies Impastor and Teachers, The Hollywood Reporter has learned. Teachers and Impastor join a roster of TV Land originals including The Exes, Hot in Cleveland, The Soul Man, Darren Star's Younger and newly ordered The Gaffigan Show , which landed at the cable network after CBS passed on the pilot.
Expand Image
Summary Apenetrating remark of an American businessman summed up the impact of Narendra Modi's visit to the US: "There's lots of sizzle, but where's the steak?". India has slipped in the global competitiveness rankings of the World Economic Forum by 11 places to just 71st in the world, last of the five BRICS.
Summary The Giants carried 10 pitchers, including starters Madison Bumgarner, Jake Peavy and Yusmeiro Petit, and essentially a fourth with Tim Lincecum, to anticipate extra innings or an early exit for Bumgarner. The Giants also took Gary Brown and Juan Perez on the theory that a team cannot have enough speed late in the game, which proved invaluable for the Royals in their 9-8 victory.
Expand Image
Summary The federal investigation of Zimmerman was opened two years ago by the department's civil rights division, but officials said there is insufficient evidence to bring federal charges. The case was featured in the movie " Fruitvale Station ."
See more...
See more...