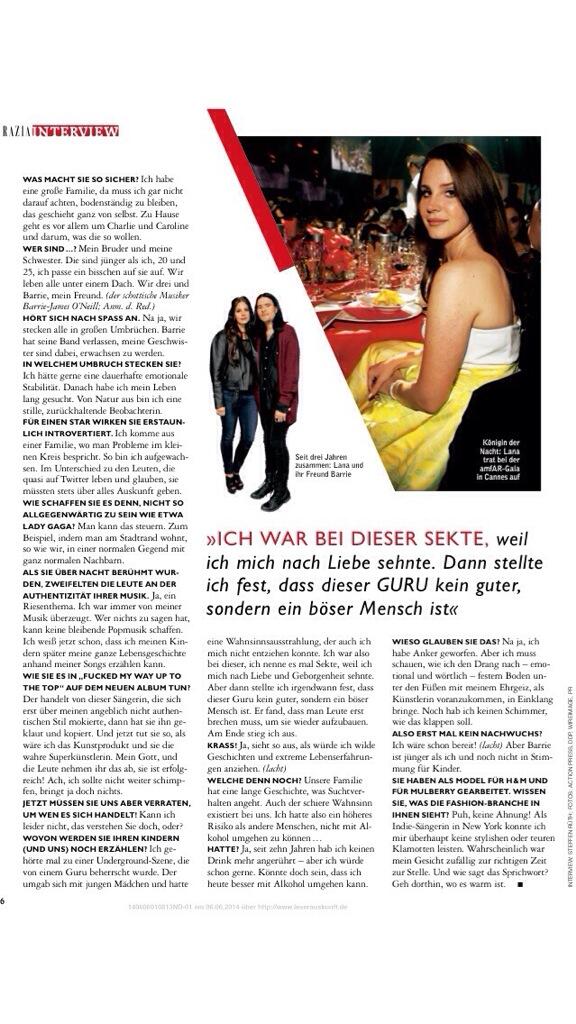 @lanadelrey interview with german magazine 'Grazia' - Part 2 http://pic.twitter.com/FXVEja4FyA
All Stories
NEW VIDEO GUITAR OVER LANA DEL REY PLEASE CHECK OUT (if you want...) via @youtube http://youtube.com/watch?v=EFPPXG…
The Lana del rey morning (+playlist): via @YouTube my morning starts only with #lanadelrey nd #coffey #red #mug http://youtube.com/watch?v=vls456…
@LanaDelRey MY BAND DID A COVER OF A SONG I REALLY HOPE YOU SEE THIS!!KEEP UP THE STUNNING MUSIC SEE YOU AT GLASTO! http://youtube.com/watch?v=4cA_Kt…
Lana Del Rey Ultraviolence Interview: OMFG @LanaDelRey first interview about Ultraviolence http://youtu.be/R5Ho6d5SqoY
I liked a @YouTube video from @delreydarling Lana Del Rey - Brooklyn Baby (Audio) http://youtu.be/mBsecZFP0kI?a
Lana Del Rey - Brooklyn Baby (Full Song Original Audio) via @YouTube http://youtu.be/LcizBU0ce64
Lana Del Rey - Brooklyn Baby (CDQ): via @YouTube http://youtu.be/BYrw20-YUi8
Lana Del Rey - Brooklyn Baby (Official Audio): via @YouTube YASS BAE GET IT http://youtu.be/l-Fr-sxKxdo
See more...
See more...
See more...
See more...
See more...
Expand Image
Summary EPA/RICHARD RODRIGUEZ. At a press conference Wednesday announcing the details of the case, Perry was front and center -- playing the dual role of information provider and, maybe more importantly, calmer of nerves.
Expand Image
Summary Los Angeles beatmaker Flying Lotus ' new LP You're Dead! The haunting video also ties in with You're Dead!'The following week, the good kid, m.A.A.d city rapper got in touch with the producer, and "Never Catch Me" was born.
Expand Image
Summary SoCal Film Festival: 'The Toy Soldiers,' 'Restoration of Paradise' and 'Shadow' spotlight Surf City. In addition to the gym restroom, the city's beach and the contours of its pier -- the latter used as the backdrop for a brutal assault -- featured prominently onscreen.
Expand Image
Summary Kate Walsh, with John Ducey, is worth watching in lackluster "Bad Judge." The pilot that the network circulated back at the beginning of the summer has been substantially revised and fatally softened, even to the point of suggesting that what Rebecca really wants is the monogamous affection of the courtroom psychiatrist now played, after a casting change, by Ryan Hansen.
See more...
See more...