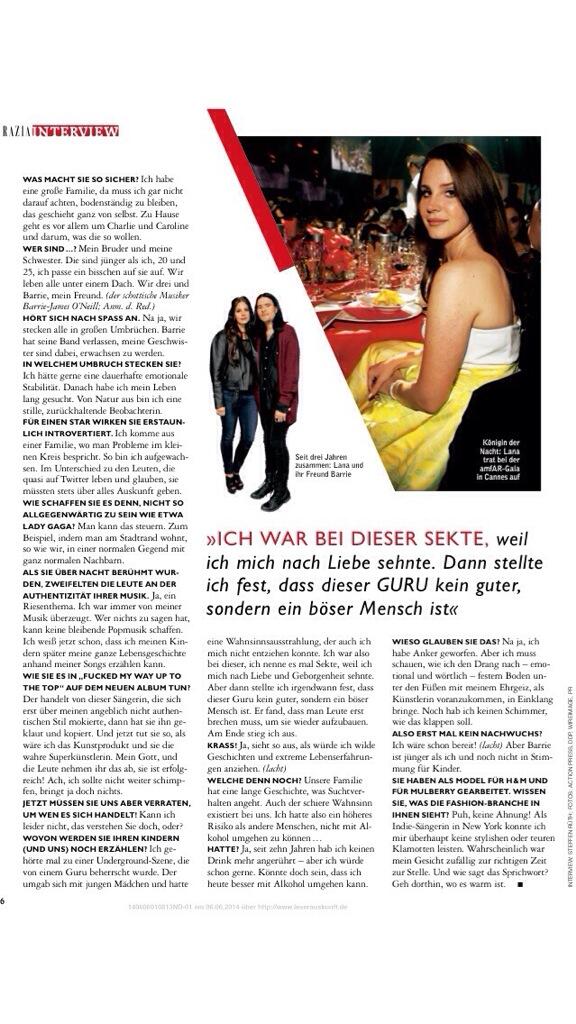 @lanadelrey interview with german magazine 'Grazia' - Part 2 http://pic.twitter.com/FXVEja4FyA
All Stories
NEW VIDEO GUITAR OVER LANA DEL REY PLEASE CHECK OUT (if you want...) via @youtube http://youtube.com/watch?v=EFPPXG…
The Lana del rey morning (+playlist): via @YouTube my morning starts only with #lanadelrey nd #coffey #red #mug http://youtube.com/watch?v=vls456…
@LanaDelRey MY BAND DID A COVER OF A SONG I REALLY HOPE YOU SEE THIS!!KEEP UP THE STUNNING MUSIC SEE YOU AT GLASTO! http://youtube.com/watch?v=4cA_Kt…
Expand Image
BROOKLYN BABY - COMING TOMORROW http://pic.twitter.com/99wG8zhlT3
Lana Del Rey Ultraviolence Interview: OMFG @LanaDelRey first interview about Ultraviolence http://youtu.be/R5Ho6d5SqoY
I liked a @YouTube video from @delreydarling Lana Del Rey - Brooklyn Baby (Audio) http://youtu.be/mBsecZFP0kI?a
Lana Del Rey - Brooklyn Baby (Full Song Original Audio) via @YouTube http://youtu.be/LcizBU0ce64
Lana Del Rey - Brooklyn Baby (CDQ): via @YouTube http://youtu.be/BYrw20-YUi8
Lana Del Rey - Brooklyn Baby (Official Audio): via @YouTube YASS BAE GET IT http://youtu.be/l-Fr-sxKxdo
See more...
See more...
See more...
See more...
See more...
Expand Image
Summary Yoichi Miyazawa, a veteran politician and nephew of a former prime minister, was picked to head the trade ministry on Tuesday after the resignation of his predecessor, Yuko Obuchi, after allegations that her support groups misused political funds.
Expand Image
Summary Agriculture Secretary Tom Vilsack is scheduled to announce the funding Thursday at a convention of Alaska Natives in Anchorage. The Alaska Native Tribal Health Consortium is working with the village on the project. Having the entire system in place will be huge for the community, he said.
Expand Image
Summary Under the proposal, Initiated Measure 17, doctors who agree to conditions set by insurers can join the insurers' preferred providers, or in-network, list. The estimates also do not account for the cost of making the ads.
Expand Image
Summary In recent days, Canada has become more involved in the global fight against ISIS. The U.S. heightened security at the Ottawa embassy as well as another U.S. consulate in the country after monitoring jihadist chatter, which indicated an attack could be in the works, according to a law enforcement official and a senior administration official.
See more...
See more...