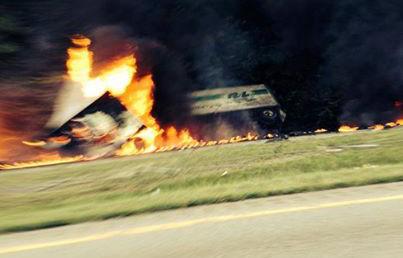 The shooting stemmed from a domestic situation, they said. The man had a slight pulse after he was shot at least once in the stomach, but died after being transported to the St. Elizabeth hospital, police at the scene said. "I like to let the crime scene talk to me. I don't want to be cluttered with rumors about it before I get in there," he said.
The crash shut down the highway in both directions for several hours as crews worked to clean up the scene and deal with a hazardous materials situation. 10News learned Thursday morning that Tim Holt, 49, of Russell Springs, Kentucky was driving the truck that crossed the median. Viewer Jenny Wells Bailey sent in this video of the crash that's shut down I-75 in Campbell County.
Several injured people are being transported via ambulance and Lifestar helicopter from the scene of a fiery crash that has shut down all north- and southbound lanes of Interstate 75 in Campbell County near Caryville, officials said. All northbound lanes are closed at mile marker 129, and the southbound lanes are closed at mile marker 134, according to the Tennessee Department of Transportation.
Ferguson's streets were peaceful for a third night as tensions between police and protesters continued to subside after nights of violence and unrest erupted when a white police officer fatally shot an unarmed... A group of construction volunteers is renovating their home, free of charge, to make it wheelchair accessible. You may remember the little Knoxville boy who got his power wheelchair paid for by online donations from over the world.
See more...