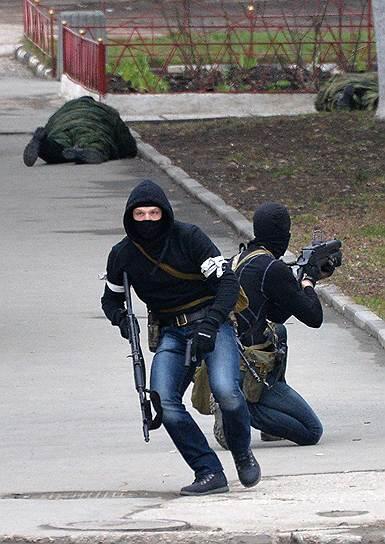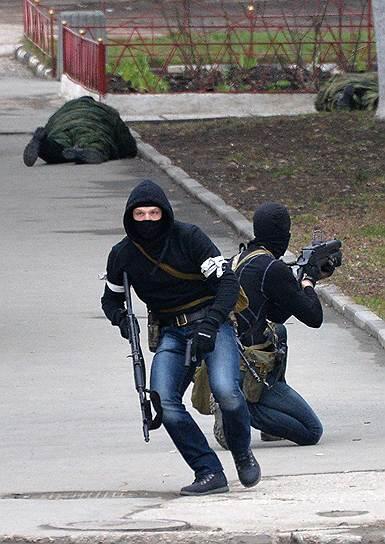 Expand Image
@towersight: WTF F...The guy on the right have a russian Grenade launcher GM-94 - in service in Spetsnaz, FSB, MVD #Crimea t.co…
Expand Image
Summary Russian soldiers have taken over a Ukrainian naval air base in Saki, western Crimea, as the gravest post-Cold War stand-off between the West and Moscow continues. "But there are signs that people are getting used to each other - the Russian soldiers outside the barracks, the pro-Russian militia guarding in front of the gates, the Ukrainian soldiers within."
Expand Image
Summary KIEV, Ukraine -- Ukraine's new prime minister said Wednesday that embattled Crimea must remain part of Ukraine, but may be granted more local powers. The Russian military is to be back in the barracks." "What happened in Crimea is unconstitutional and resembles ... a coup supported by the Russian government and the Russian military," Yatsenyuk said.
Expand Image
Summary "Have they declared a general mobilization yet?" "I can't say I look forward to it, but if there is going to be a war, it's my duty. We have to defend the country," he said.
Expand Image
Summary Either that or Russia Today is desperately trying to dust off its credibility in front of an American audience. Indeed, Martin was full of praise for her network's editorial independence the following evening when she began her show by addressing the fall-out from her remarks.
Summary A hearing with top State and Treasury officials on Thursday was initially billed as a way to review the State Department's plans to support the new government in Ukraine, "especially any plans for U.S. financial assistance."
Expand Image
Summary As Ukraine's crisis continues to deepen, Cossacks - a militaristic group that once defended the borders of Russia's Empire - have joined Russian forces in the country's Crimea region. FRANCE 24 reports from inside one of their training camps.
Expand Image
Summary Participants hold placards and shout slogans during an anti-war rally in the Crimean town of Bakhchisaray March 5, 2014. Russia and the West are locked in the most serious battle since the end of the Cold War for influence in Ukraine, a former Soviet republic with historic ties to Moscow that is a major commodities exporter and strategic link between East and West.
See more...
See more...
See more...
See more...
See more...
Expand Image
Summary Bill Ackman, founder and chief executive officer of Pershing Square Capital Management LP, speaks during an event in New York, on July 22, 2014. While Herbalife has said that it expects to be vindicated, the probe has weighed on the stock.
Expand Image
Summary The Texas Department of Public Safety says the attack happened Wednesday morning outside KCEN-TV in Eddy, about 75 miles north of Austin. Trooper D.L. Wilson says the victim was in his vehicle when the suspect approached, the two argued and the station employee was shot.
Expand Image
Summary We are separated by 90 miles of water, but are brought together through shared relationships and the desire to promote a democratic, prosperous, and stable Cuba. The Cuban people deserve the support of the United States and of an entire region that has committed to promote and defend democracy through the Inter-American Democratic Charter.
Expand Image
Summary The vehicle, a Chrysler Sebring, contained multiple packages that had been taken from homes, according to authorities. Diaz was also charged with criminal possession of a weapon in the fourth degree in connection with a switchblade that was found, police said.
See more...
See more...