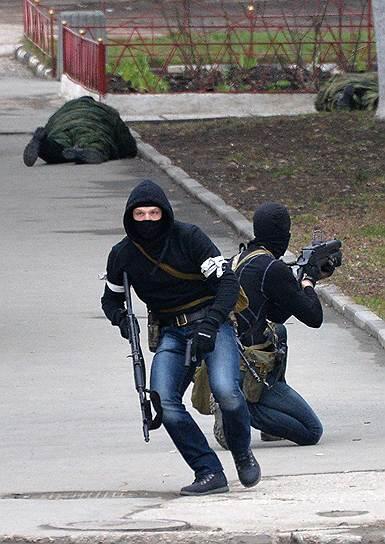 Expand Image
Summary Russian soldiers have taken over a Ukrainian naval air base in Saki, western Crimea, as the gravest post-Cold War stand-off between the West and Moscow continues. "But there are signs that people are getting used to each other - the Russian soldiers outside the barracks, the pro-Russian militia guarding in front of the gates, the Ukrainian soldiers within."
Expand Image
Summary "Have they declared a general mobilization yet?" "I can't say I look forward to it, but if there is going to be a war, it's my duty. We have to defend the country," he said.
Expand Image
Summary Either that or Russia Today is desperately trying to dust off its credibility in front of an American audience. Indeed, Martin was full of praise for her network's editorial independence the following evening when she began her show by addressing the fall-out from her remarks.
Summary A hearing with top State and Treasury officials on Thursday was initially billed as a way to review the State Department's plans to support the new government in Ukraine, "especially any plans for U.S. financial assistance."
Expand Image
Summary But back in 2008, when Russia went to war with neighboring Georgia and there was a Republican in the White House, McCain criticized "partisan sniping" surrounding the issue and called on the country to be united.
Summary KIEV (Reuters) - Ukraine's government said on Wednesday "Russian aggression" in Crimea was hitting the country's economy hard but signalled growing confidence that it will secure international loans and avoid bankruptcy. The damage to an economy driven into the ground by the previous government, he said, would be magnified by a drop in tourism revenues in Crimea following the Russian intervention.
Expand Image
Summary Turkish sources, speaking with the Hurriyet Daily News on Wednesday, declined to elaborate on the name of the US warship. The US vessel to pass through the straits will meet the convention's standards, the sources said.
Summary Speaking before meeting U.S. Secretary of State John Kerry and other Western ministers in Paris, Russian Foreign Minister Sergei Lavrov repeated Moscow's assertion -- ridiculed by the West -- that the troops that have seized control of the Black Sea peninsula in Ukraine are not under Russian command.
Expand Image
Summary Speaking to The Associated Press, Prime Minister Arseniy Yatsenyuk denied reports that Ukraine is seeking military assistance from the United States. The Russian military is to be back in the barracks." "What happened in Crimea is unconstitutional and resembles ... a coup supported by the Russian government and the Russian military," Yatsenyuk said.
Expand Image
Summary Heavily-armed troops displaying no identifying insignia and who were mingling with local pro-Russian militants stand guard outside a local government building on March 2, 2014 in Simferopol, Ukraine. But Heather Conley, a Europe analyst at the Center for Strategic and International Studies, said it would be a dangerous proposition for the U.S. and Europe to allow Putin to view gains in Crimea as an opportunity to launch incursions elsewhere in the region.
See more...
See more...
See more...
See more...
See more...
Expand Image
Summary The nine-hour exchange of firing stopped as night fell, but some militants were still believed to be holed up in an abandoned bunker in the Arnia sector of Jammu region, an officer said on condition of anonymity because he was not authorized to talk to reporters.
Summary Firefighters tried to enter the home, but initially were forced back by the heavy flames. Pruyn was found on the first floor of the home, while Diaz was found on the second floor. "It's bad," a woman who watched as the victims' bodies were carried from the home told 1010 WINS' Derricke Dennis on Sunday.
Expand Image
Summary Hey, happy holidays! When you are watching the movie, you are watching people born in the 1800s interacting with a long-dead dog and a tragic figure in Hollywood history at the very beginning of her career. You're watching a movie starring a man who was already 40 at the beginning of the First World War.
Summary The 81-year-old jurist was sent home and was expected to be at work when the court hears its next round of oral arguments on Monday, spokesman... Supreme Court Justice Ruth Bader Ginsburg, 81, underwent a heart procedure Wednesday morning to have a stent placed in her right coronary artery.
See more...
See more...