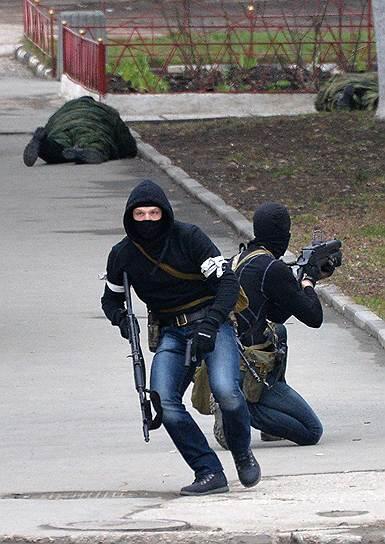 @towersight: WTF F...The guy on the right have a russian Grenade launcher GM-94 - in service in Spetsnaz, FSB, MVD #Crimea http://t.co…
All Stories
Summary Vice President Joe Biden urged Russian Prime Minister Dmitry Medvedev to pull back Russian forces in Crimea in a phone call Monday morning, the latest development in the high-stakes standoff over Ukraine. "The Vice President urged Russia to pull back its forces, support the immediate deployment of international monitors to Ukraine, and begin a meaningful political dialogue with the Ukrainian government," the White House said in a statement.
Expand Image
Summary Crimea's situation is, as with many things in Ukraine's political crisis, compounded by a complicated history. The modern name ''Crimea'' seems to have come from the language of the Crimean Tatars, a Turkic ethnic group that emerged during the Crimean Khanate.
Expand Image
Summary Sergey Lavrov also called on Kiev to abide by an EU-sponsored deal that Moscow did not sign. The use of Russian troops is necessary "until the normalisation of the political situation" in Ukraine, Mr Lavrov said at an opening of a month-long session of the UN Human Rights Council in Geneva, Switzerland.
Summary Meanwhile, Russia also pressed hard Monday for Ukrainian politicians to return to the Feb. 21 agreement that promised a new unity government -- with fugitive President Viktor Yanukovych back in power -- would rule until an early election no later than December.
Expand Image
Summary A Ukrainian soldier stands guard near armored vehicles on a military base in Lviv, Ukraine. Military vehicles, believed to be property of Russian army, are seen near the territory of a Ukrainian military unit in the village of Perevalnoye outside Simferopol.
Summary In Crimea: Russia consolidated its hold on the peninsula. "There are no grounds for the use of force against civilians and Ukrainians, and for the entry of the Russian military contingent." In the markets: Stocks fell across the world as investors chewed on the potential impacts of a ramped-up conflict in Ukraine.
Summary Despite all the uproar among global leaders and diplomats, investors thus far remain unconvinced that the conflict in the Crimea will become anything more than a minor regional event. The volatility index would have to jump another 30%-35% just to match where it stood in early February, as investors seemed much more concerned about the cold weather's potential impact in causing a long-awaited correction in the stock market.
Expand Image
Summary The Russian navy issued an ultimatum Monday to Ukraine's military in Crimea to surrender at dawn in what British Foreign Secretary William Hague said Monday is the "biggest crisis in Europe of the 21st century." "We, the leaders of Canada, France, Germany, Italy, Japan, the United Kingdom and the United States and the President of the European Council and President of the European Commission, join together today to condemn the Russian Federation's clear violation of the sovereignty and territorial integrity of Ukraine, in contravention of Russia's obligations under the U.N. Charter and its 1997 basing agreement with Ukraine," the leaders said in the statement.
Expand Image
Summary EU's Ashton says EU calls on Russia to withdraw troops to bases and hold consultations with Ukraine (Reuters). Negotiations are ongoing to maintain the cut price deal but if no agreement is reached the price could rise in the second quarter.
Summary For the past week, this 27-year-old aviation mechanic has been stuck at his base in Belbek, Sevastopol's military airport, surrounded by Russian forces and kept away from his wife and six-month-old baby. The Ukrainian soldiers were ordered by their superiors to avoid a confrontation and pulled back to the barracks, leaving their equipment and the runways to the Russian military.
See more...
See more...
See more...
See more...
#Moscow 's plans for conscription of #Crimean #Tatars could become an explosive situation http://t.co/LeE6MTs39B
Don't freak over Ebola in the US. The same crack minds that brought you Lois Lerner, Eric Holder, Crimea, and golf are handling it. Fore!
Massive sinkhole on Crimea highway leaves 6 dead http://t.co/LVIHZcIwdS #крым
World: Ebola Crimea Ukraine Isis ISIL Ferguson Iran Syria Hamas In Canada: Calandra Duffy Peace Order and Great Government. Thanks #CPC
Putin Reserve Rubles Vanish in Crimea Grab  http://t.co/DPKqFCOEA2 via @BloombergNews
6 People Killed, 2 Injured After Road Collapses in Crimea | News http://t.co/1ZxK95VT4J
Putin's approval rating increased from 65% in January to 80% in March, immediately after the annexation of #Crimea. http://t.co/EZFzw7tVXB
Putin Reserve Rubles Vanish in Crimea Grab as Yuan Holdings Gain http://t.co/GCb2rB1Ozf
See more...
Expand Image
Summary My relative, May Araim, 68, was killed by a bullet last month while she and other family members were returning to Atlanta after a day of sightseeing in Helen, Ga. While liberty is closely connected with the rights of the individual, including the right to bear arms, this definition explains liberty in a better way: "The maximum freedom of the individual within the context of the freedoms of other members of the society."
Expand Image
Summary While doctors have previously treated the devastating disease, patients up until now had been transported in from West Africa to American hospitals. "The First Ebola Case In America Has Been Confirmed" via Theneeds The Centers for Disease Control and Prevention has confirmed the first case of Ebola in the US.
Expand Image
Summary KKTV reports (http://bit.ly/YML37v ) the jury found 18-year-old Macyo January guilty of first-degree murder in the January 2013 killings. The families of two murder victims, David Dunlap and Whitney Dunlap, spoke to the media outside the El Paso County Terry R. Harris Judicial Complex in Colorado Springs, Colo., Tuesday, Sept. 30, 2014.
Expand Image
Summary Would you speak up if an employee or peer were working himself close to a hospital stay -- or maybe even to death?. "Working around the clock is a personal decision, not unlike the decision to have kids, marry, be openly gay. Some people don't know what to do without work. If you forced them to go home, they would be in a funk."
See more...
See more...