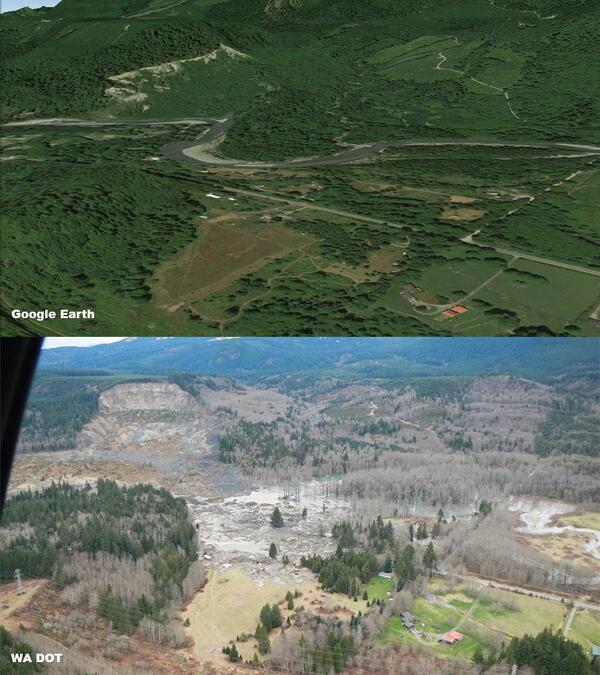 PIC: BEFORE & AFTER deadly, massive mudslide in Oso, WA. [via WA DOT/Google Earth & @chrisdolcewx] | #WAwx http://t.co/XCwNnGIV5X
360° view of this story
Related Photos
NEW: looks like MODIS satellite captured scar from Mayflower-Vilonia, AR #tornado on Sun #ARwx [H/T @chrisdolcewx] http://pbs.twimg.com/media/BmZaHYUCcAAfOyc.png:large
@chrisdolcewx: Size perspective on how small TC #Ita is compared to all of Australia. http://t.co/nuxP6ZBCNG
PHOTO: Before and after the deadly Washington mudslide http://t.co/MJOs1EyoiK http://t.co/DW7iP22CwE
Excellent infographic from NYT showing area of #530slide and the homes in its path. http://t.co/Fm95fBzePz http://t.co/uwOUNVdzii
Massive Mudslide In Washington State Kills At Least Eight People, 108 Still Unaccounted For http://t.co/X7ITFl64jW http://t.co/olDbN2ibpy
Related Videos
Raw Footage Chopper View Shows Size of Massive Mudslide in Colorado: przez @YouTube http://youtu.be/ZIpDe3silGM
Massive Mudslide Kills 3 And Destroys Homes In Washington State - http://t.co/YSiLc8Jp27 http://t.co/gqPr4g3wNS
Related News
Euronews
Summary
·
veooz 360
An entire village has been buried under a massive mudslide. Rescue teams and locals pulled people out of the deep mud 60 km from the city of Pune. The nearest medical centre is about 15 kilometres from the village which is southeast of Mumbai.
Digital Journal
Summary
·
veooz 360
Pune - At least 15 people are believed to have been killed and dozens are thought to be buried under mud and debris after torrential rainfall causes a massive mudslide. Indian news media is reporting that the torrential rainfall has caused two lakes in the Pune province to overflow, resulting in a massive mudslide in the village of Malin in Ambegaon.
The Denver Channel
Summary
·
veooz 360
Flood Warning issued May 31 at 2:07AM MDT expiring June 1 at 12:00PM MDT in effect for: Larimer. Fire Weather Watch issued June 1 at 2:38PM MDT expiring June 3 at 9:00PM MDT in effect for: Archuleta, Dolores, Hinsdale, La Plata, Montezuma, San Juan.
The governor flew over the half-mile-wide by 3-mile-long slide in a Colorado National Guard helicopter Saturday. Authorities are studying the site on a northern face of Colorado's Grand Mesa to understand what triggered the event. A memorial service is planned in Collbran on Sunday afternoon for the three missing men - 51-year-old Clarence "Clancy" Allen Nichols, his 24-year-old son, Daniel Allen Nichols, and 46-year-old Wesley "Wes" Melvin Hawkins.
The Denver Post
Summary
·
veooz 360
COLLBRAN -- Residents along Salt Creek Road were loading up horses Wednesday, lining up a moving truck for a 127-year-old grand piano, boxing up baby pictures and reassuring anxious relatives by phone that they were keeping a close eye on the huge landslide on the mountain above them. "We're just paying attention to the people who know the land, know the water and know the topography," she said.
Outsideon Line
Summary
·
veooz 360
Residents near Mesa County, Colorado heard "a noise that sounded like a freight train," signaling a massive mudslide Sunday morning, according to officials at the Mesa County Sheriff's Office. The Hawkins family owns much of the private land that the mudslide affected, and the Nichols family lives on ranches in the area.
New York Post
Summary
·
veooz 360
COLLBRAN, Colo. -- Crews are searching the bottom edge of a massive mudslide in western Colorado for three men who went missing after checking on damage from an initial slide. At the edges there, the mud is 20 to 30 feet deep.