"We need more Fred Phelps in this world." -- Maricopa Vice Mayor Ed Farrell Can we just settle on some more of this: http://t.co/mOQh3MdlHk
All Stories
Expand Image
Summary The obit was from the satircal site The Onion , and headlined "Fred Phelps, Man Who Forever Stopped March Of Gay Rights, Dead At 84". According to biographers and historians, many of the facets of modern-day society that we now take for granted--such as the ban on gay marriage in all 50 states and the inability of homosexuals to serve in the military--can be traced back to Phelps' vocal public crusades against the unholy practice of homosexuality, which he began in 1991 and which quickly succeeded in bringing efforts to expand LGBT rights to a spectacular and abrupt halt.
Well, at least one Russian newscaster has heard of Fred Phelps--Westboro Baptist Church. She really tells it like it is.....LOL
Summary Phelps died in hospice care, and we can hope he knew that his work was in vain. "This is our moment as a community to rise above the sorrow, anger and strife he sowed, and to show the world we are caring and compassionate people who respect the privacy and dignity of all," Witt wrote.
Dee, the evil dick is dead, is dead, the evil Dick is dead. *Sang in my best munchkin voice*
Expand Image
Summary Often it is my second thought that is best, and that was true when it came to Fred Phelps. In a Q-and-A at the end of the event, I was asked what I thought of the ignorance that was on display outside the building.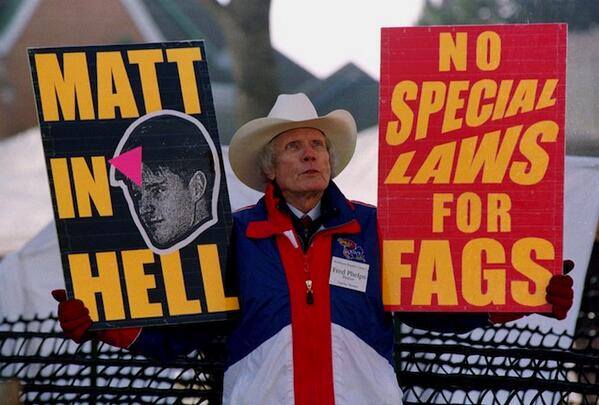 Expand Image
Expand Image
Awesome!!! Love the little Nicky reference!!! Damian Noble Z'ster 'Tyler' Parks
I don't care for the commies but I do love the Russian people......
See more...
See more...
See more...
See more...
See more...
Expand Image
Summary "The teen had spoken to a man named 'Joe' in regards to an ad on Craigslist for a pair of Michael Jordan sneakers at a cost of $400 dollars," said Hialeah Police Spokesperson Carl Zogby.
Expand Image
Summary The Rams (7-1, 6-0) repeatedly came up big in key situations in holding the Cavaliers (6-2, 4-2) to a season-low point total. Clackamas had first-and-goal at the Central Catholic 4-yard line but the Rams slammed the door, stuffing running back Bryce Dickey on third down at the 1 and forcing an incomplete pass on a fourth-down rollout from the 2.
Expand Image
Summary Latoya Curry, 35, was arrested Friday on a charge of second-degree murder in the death of little Linayjah Meraldo, police said. The little girl was last seen in the 100-unit shelter Thursday morning, the source said.
Expand Image
Summary Gonzalez had a knife on his person, and it soon emerged that he had previously been arrested in July, when state troopers in Virginia found semi-automatic weapons, sniper rifles, and a map of the White House in his car.
See more...
See more...