Summary He stands tall at 6-foot-7 and weighs 228-pounds. On Thursday night against an offensive juggernaut in the Washington Nationals , Wainwright put together a complete-game statement to the rest of the league. On Thursday night in D.C., Wainwright put on an absolute clinic on the mound.
All Stories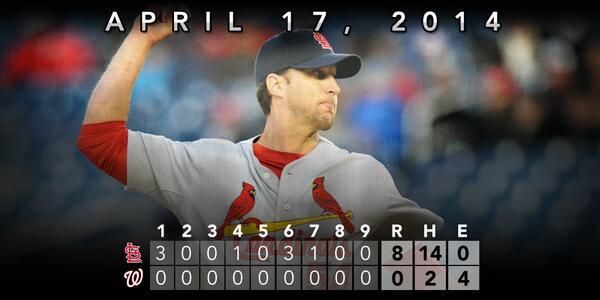 Expand Image
Expand Image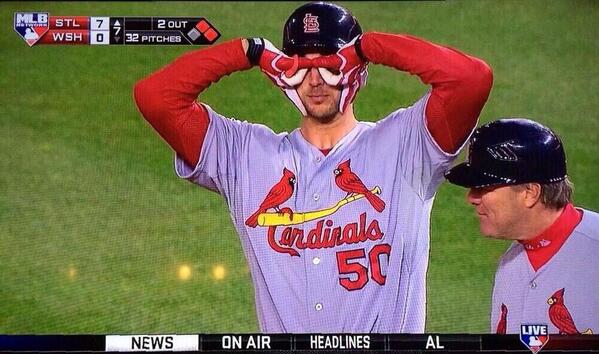 Expand Image
Expand Image
Summary Wainwright (3-1) allowed Ian Desmond's infield single in the second inning and Adam LaRoche's single to right in the ninth. PITTSBURGH -- Andrew McCutchen hit his first homer of the season and drove in three runs, Pedro Alvarez had a three-run shot and pinch-hitter Josh Harrison broke a tie with a long ball in the seventh inning as the Pittsburgh Pirates handed the Milwaukee Brewers their first road loss, 11-2 on Thursday night.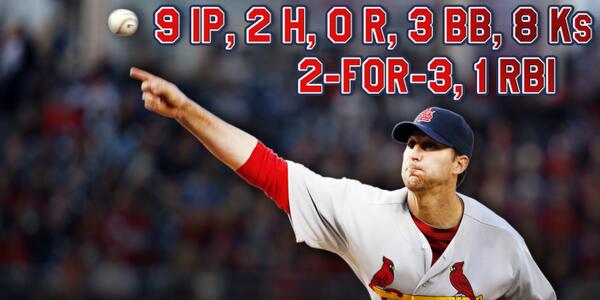 Expand Image
Expand Image
Summary WASHINGTON (AP) -- Adam Wainwright was as close to unhittable as he's ever been. "The first ball of the game, you boot it, that doesn't set the tone. If I ever want to be the captain of this team -- and I do -- I'm going to have to be better than that," Desmond said.
Expand Image
Expand Image
Expand Image
Summary WASHINGTON -- Adam Wainwright (3-1) pitched his fourth career two-hitter and seventh shutout. SAN DIEGO -- Franklin Morales (1-1) allowed four hits in six innings and Wilin Rosario hit a tiebreaking groundout in a three-run seventh.
Summary WASHINGTON -- Adam Wainwright threw a two-hit shutout, and Matt Adams drove in three runs as the St. Louis Cardinals beat the Washington Nationals 8-0 Thursday in the opener of a four-game series. The Nationals' only hit through the first five innings was a high chopper in front of the mound hit by shortstop Ian Desmond in the second.
Expand Image
Summary JAMES SHIELDS STRIKES OUT 12 IN ROYALS WIN: Well, hello there, James Shields. Over in the NL, Andrew McCutchen gave the Pittsburgh Pirates the first of four homers they would use to pummel the Milwaukee Brewers.
See more...
See more...
See more...
See more...
See more...
Summary A Taos County grand jury Thursday indicted 40-year-old Oriana Farrell of Memphis on fleeing and child abuse charges. The officer shot at Farrell's van carrying her five children after she twice sped off and was stopped by another officer for speeding near the tourist town of Taos. Video of the shooting gained national attention, and the officer was later fired.
Expand Image
Summary Nasty Gal, Zappos open their first brick-and-mortar stores. Spain's Duchess of Alba, known as the "rebel noble," has died at age 88. The wealthiest woman in Spain, she was also a bohemian, famous for her eccentric style and for flouting convention in numerous ways.
Expand Image
Summary Marquittas Anthony Wyatt, 26, died at UAB Hospital on Thursday, one day after the confrontation, according to the Jefferson County Coroner's Office. Once dispatchers learned she was close to the police department, they gave her instructions to come there.
Summary No reason was given by Diamond Desert Casino in Tucson, Arizona for the canceled Feb. 15 show. In the past week, numerous allegations of sexual abuse by Cosby from a number of women have led to canceled interviews and NBC and Netflix projects.
See more...
See more...