Summary It's been two years since Michigan State basketball star Adreian Payne first met Lacey, an 8-year-old cancer patient known as "Princess Lacey". The two met years back when Payne was meeting with cancer patients in the hospital and they immediately struck it off as friends. Lacey became a huge supporter of Payne and the Michigan State Spartans , following their success over the last few seasons, and becoming a vocal and visual level of support at many of the Spartans' games recently.
Stories
Buzz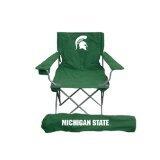 Expand Image
#1: NCAA Michigan State Spartans Tailgate Chair NCAA Michigan State Spartans Tailgate C... http://pic.twitter.com/O38xOfgWq4 http://amzn.to/1qL7On2
Michigan State Spartans 2014 Lacrosse Hype Video: via @YouTube To sick!! http://youtu.be/uKxanpEzwjU
Expand Image
Summary Expectations are high once again for Mark Dantonio's Michigan State Spartans as he enters his eighth year as head coach of the program. Will Dantonio's Spartans continue their success? Watch as B/R's experts preview Michigan State ahead of the 2014 season. .
I liked a @YouTube video 2014 Michigan State Spartans Football: Media Day Remix http://youtu.be/OX07Ph-qcvw?a
Summary Steele's publication, read by literally millions of journalists and fans, predicts how conferences will finish, records of teams, individual performances, and - of course - the Bowl games. So while it's not a prediction for Georgia to head to Pasadena or New Orleans, where the Rose and Sugar Bowls will be hosting semifinal playoff games, it's still a nod that the Bulldogs are right in the mix. Michigan State and Georgia commonly mirror each other in the polls, predictions and records - and Georgia has met the Spartans three times in bowl games, going 2-1, with the most recent being a 33-30 loss in the 2012 Outback Bowl.
Expand Image
Summary Offense: QB: Connor Cook, Jr., 6-4, 218; RB: Jeremy Langford, Sr., 6-1, 208; WR: Tony Lippett, Sr., 6-3, 185; WR: Keith Mumphery , Sr., 6-1, 211; WR: Macgarrett Kings, Jr. , 5-10, 186; TE: Josiah Price , So., 6-4, 251; OT: Jack Conklin , So., 6-6, 303; OT: Donavon Clark , Jr., 6-4, 306; G: Travis Jackson , Sr., 6-4, 291; G: Connor Kruse , Sr., 6-5, 325; C: Jack Allen, Jr., 6-2, 299. Most important game: Nov. 8 against Ohio State. A lot will happen between now and then, but the Spartans and Buckeyes are the Big Ten frontrunners and their early November clash -- under the lights, by the way -- should be the game of the year in the league.
Summary Although the Michigan State Spartans persevered behind replacement Kyler Elsworth's rise to the moment in the Rose Bowl, there's no denying the impact middle linebacker Max Bullough (76 tackles, 9.5 tackles for loss) had on MSU's Big 10 championship season in 2013. While some analysts will undoubtedly point to the linebackers as a question mark when predicting MSU's chances at repeating as conference champions, Dantonio's solid recruiting hauls in recent seasons has made this a legitimate competition, not a tryout to find at least one guy from the group who can step onto the field. The Spartans may not have the big names returning at linebacker some want to see from a playoff contender, but the depth in the group will give defensive coordinator Pat Narduzzi plenty of fresh, capable bodies to send out during the constant grind of the Big Ten season.
Expand Image
Summary Soldier Field in Chicago has been the site of numerous outdoor hockey games, from a number of Winter Classic games, including some nail-biters between the Detroit Red Wings and Chicago Blackhawks, to NCAA match ups. Michigan State and Michigan have faced off against one another in the elements three times now , making the Hockey City Classic their fourth meeting. These have included the first-ever outdoor college ice hockey game, dubbed, The Cold War, back in 2001, where the two teams tied 3-3; the 2013 Hockeytown Winter Festival, where the Spartans blanked the Wolverines 3-0; and The Big Chill at the Big House in 2011, where MSU fell 0-5 to U-M in front of the largest crowd to ever watch a hockey game at the time, with an attendance of 104,173.
Expand Image
Summary When Michigan State Spartans athletic director Mark Hollis first told football coach Mark Dantonio about his plan to schedule a home-and-home series with the Oregon Ducks , Dantonio did not wrestle his boss to the ground, scream obscenities or start updating his rsum. Michigan State athletic director Mark Hollis has upgraded the football schedule with the College Football Playoff in mind, beginning this season with a road game at Oregon. The Spartans arrived in the ranks of the elite in January by beating Pac-12 champ Stanford in the Rose Bowl, capping a 12-1 season.
Summary INDIANAPOLIS, IN - DECEMBER 07: Quarterback Braxton Miller of the Ohio State Buckeyes looks to run during the Big Ten Conference Championship game against the Michigan State Spartans at Lucas Oil Stadium on December 7, 2013 in Indianapolis, Indiana.
Summary A position by position look at your 2014 Spartans in no particular order. In the second part of our 2014 MSU football position preview, we take a look at the tight ends. While Price wasn't the full time starter at tight end for the Spartans last season, he still received six starts during the 2013 season and was the most statistically proficient of the three of them, catching 17 balls for 210 yards and four scores.
See more...
See more...
See more...
See more...
The Michigan State Spartans passed over the Ohio State Buckeyes to take the lead as the top team in the national ran…http://t.co/GQA9voN6Rs
#Coketah_ Michigan State vs. Oregon: Players to Watch in Saturday's Tilt: The Michigan State Spartans and Oreg... http://t.co/x4vo78rXzH
The Michigan State Spartans (1-0) moved up one spot to no. 7 in The Associated Press' latest Top 25 poll. http://t.co/9LZTGXVibC
Mark Dantonio is 23-9 ATS on the road as head coach of the Michigan State Spartans
A Defense to Match: Appreciating the Stingy Michigan State Spartans in the Offensive Age
Michigan State Spartans Green and White Crocheted Beanie Hat with Removable Wood, Cryst...by avadeldesigns https://t.co/ciSzKmp8ZO via @Etsy
227's YouTube Chili' Cheap NCAA Jers Michigan State Spartans 40 Max Bullough White Colleg... http://t.co/0AIWGCBIuv Jamaal Al-Din - NCAA
The big ten champions and Rosebowl champions. Michigan state Spartans the greatest season in spartan… http://t.co/YYoNhwpVcW
http://t.co/tWUuxOCSaU #ebay Oregon Ducks vs Michigan State Spartans Football Game - 9/6/2014 http://t.co/oBeuobEkpf
http://t.co/tWUuxOCSaU #ebay Oregon Ducks vs Michigan State Spartans Football Game - 9/6/2014 http://t.co/6qZnGCaERj
See more...
See more...
See more...
Trending Now
Most Popular This Week