Summary Syabas: First and third stage of water rationing to continue. Syabas' Corporate Communications and Public Affairs Department assistant general manager Priscilla Alfred said although the water treatment plants at Cheras Batu 11 and Bukit Tampoi had resumed operation since March 17 and 19 respectively, the company was unable to ensure the stability of the ammonia level. "The ammonia level is still under the supervision of the operator of the water treatment plants. Syabas has been informed that the water treatment plants will be operational according to the quality of the raw water," she said in a statement on Friday.
Stories
Buzz
Expand Image
Summary RESIDENTS affected in Phase 1 of the scheduled water rationing are now getting daily water supply. This is because the water is safe to consume now that the ammonia content at Sungai Langat had reduced following the recent downpour. A National Water Services Commission (SPAN) spokesman, however, said the daily supply of water was conditional as it would depend on the content of ammonia in the river water.
Summary KUALA LUMPUR: The first stage of the water supply ration plan has been discontinued as the Cheras Batu 11 and Bukit Tampoi are now back in operation. However, Syabas was still monitoring the ammonia content in Sungai Langat and would impose the water ration again if it was found to be at the dangerous level. "At present the water treatment plants will be operating according to the quality of the raw water sources to enable the water supply to be channeled to areas being rationed in Hulu Langat, Kuala Langat and Sepang," it said.
Summary WATER rationing in many parts of the state has sparked worry among residents in Kajang, with some of them taking precautions for fear of a sudden water cut. Housewife Shirley Ng, 57, said it was worrying every time she heard news about water rationing. "I still remember carrying big pails of water up the stairs to my apartment on the third floor during water rationing many years ago. "It was very tiring and stressful," she said. Although water supply was sufficient in her neighbourhood in Sungai Chua, Ng said she would not take the risk of not storing water for emergencies. "I have three big drums of water in the house since last month for toilet and washing use.
Summary First-stage water rationing is to begin in Greater Tainan today because of low rainfall in the southern city's reservoir catchment areas this year, the Water Resources Agency (WRA) said on Tuesday. Denmark, the Netherlands, Russia, Germany, Singapore and some cities in China have some kind of water tax or surcharge in effect. The proposal would be incorporated into the Tap Water Act (Zi Lai Shui Fa ) in the form of an entirely new section dedicated to water conservation.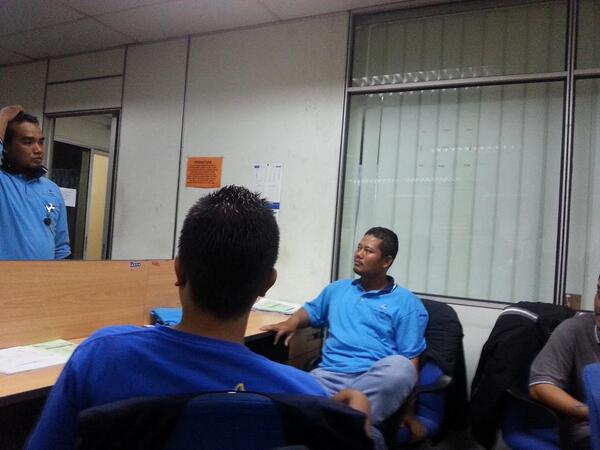 Expand Image
Rutin harian Billing Department Syabas Wilayah Klang/Shah alam. Billing is awsome!!! [pic]: http://t.co/moD2URY4H5 http://t.co/vEktHejcGw
Expand Image
Summary Syarikat Bekalan Air Selangor (Syabas) continues to control and reduce the release of water from Sungai Selangor Dam and Klang gates on the instruction of the state government. Tropical cyclone Gillian today caused a number of aircraft sorties from the Subang airport to the southern corridor to be cancelled. The Transport Ministry said the sorties had to be cancelled due to bad weather which was caused by the bad weather.
Expand Image
Back in caracas visiting in-laws. Shortages, dilapidation, muggings, water rationing, blackouts, emigration. V sad. http://pic.twitter.com/VFW07Mjl1i
Expand Image
Brace for another water rationing in Selangor! Less politicking please, the people need water! http://pic.twitter.com/YuAWJBZaQy
Summary PETALING JAYA, Malaysia - A second water rationing exercise for Selangor has become necessary as the state government cannot rely on the usual intermonsoon rainfall expected in September, said the Association of Water and Energy Research Malaysia (Awer). "It is also unwise to rely on the rains during the intermonsoon period next month because we cannot say for sure if there will be a stable rainfall pattern or if the rainfall amount will be high," he said when contacted. Malaysian Water Association president Syed Mohamad Alhabshi said the water industry had expected to see such problems occur here after the delay of the Langat 2 water treatment plant.
Summary KLANG: The Selangor government is expected to make an announcement on a possible water rationing early next week. The statement also noted that cloud seeding efforts with the Royal Malaysian Airforce and Meteorological department was being conducted at all water catchments. As of Thursday, the water level at the Sungai Selangor dam stood at 31.9%.
See more...
See more...
See more...
See more...
#PJNET Our Regulations by Bureaucrats goals are UN agenda Water rationing begins in #Venezuela amid drought It's coming here...SOON
#PJNET Our Regulations by Bureaucrats goals are UN agenda Water rationing begins in #Venezuela amid drought It's coming here...SOON
Fill the Selangor River dam and end water rationing. WATERY! If only it's that easy. #CardcaptorSakura @liyanasakura
After all it was a temporal water restoration. Situation back to normal »»» temporal water rationing resume
"no water rationing in San Fran....but oh the agricultural areas are restricted..Is Peloser still…" — americansforall http://t.co/5dtfwyoqzW
#PJNET Our Regulations by Bureaucrats goals are UN agenda Water rationing begins in #Venezuela amid drought It's coming here...SOON
Rwanda, Singapore of Africa. 20 yrs of very high economic growth & still water rationing in the capital http://t.co/QB8Wrqaeau complex story
"Pelosi's District Exempt From Water Rationing It's axiomatic that leftist leadership is always in favor of... http://t.co/hUvewu3B3k
Taking an extra long shower on my last night in Idaho in preparation of many months of water rationing ahead. Damn you California drought
Another water rationing in Labasa: Update: 11:00AM SOME residents in Labasa have been advised that they will be... http://t.co/NgoeauRj6J
See more...
See more...
See more...
Trending Now
Most Popular This Week