Summary WASHINGTON -- The United States would not recognize a referendum by Crimea to leave Ukraine, and a shift of that region to Russia "is not a done deal," a top Obama administration official said Sunday. The former vice president under President George W. Bush suggested conducting joint military operations with NATO countries that border Russia, offering equipment and training to Ukraine and reinstating the ballistic missile defense system that was planned for Eastern Europe but scrapped by Obama in 2009. Russia had opposed the deployment of the system in Poland and the Czech Republic.
Stories
Buzz
Amazing! Ancient Caves, Pyramids and Structures of Crimea!: http://t.co/OgZxQZU058 via @YouTube
Is Russia After Pyramids in Crimea Ukraine?: http://t.co/vZ86ELIqrN via @YouTube
Summary KIEV, Ukraine (AP) - Crimea's Parliament said Tuesday that if the public votes to become part of Russia, the peninsula will declare itself independent and propose becoming a Russian state. U.S. Secretary of State John Kerry and Russian Foreign Minister Sergei Lavrov spoke by telephone Tuesday at Washington's initiative. "From the Russian side, the necessity was underlined of taking into complete account the interests of all Ukrainians and all regions in the search for an exit from the crisis and also the respect of the right of the residents of Crimea to determine their fate on their own in accordance with the norms of international law," the Russian Foreign Ministry said.
Expand Image
Summary AFP Merkel calls Russia's Crimea action 'annexation': party source. s lawmakers, a participant said. Merkel told the conservative legislators that Russia had effectively "stolen" the peninsula and added that "one can call it an annexation", the party source told AFP on condition of anonymity.
Expand Image
Summary KIEV/SEVASTOPOL (Reuters) - Ukraine's interim leaders established a new National Guard on Tuesday and appealed to the United States and Britain for assistance against what they called Russian aggression in Crimea under a post-Cold War treaty. Ukrainian premier Yatsneniuk said he had been unable to reach either Russian President Vladimir Putin or Prime Minister Dmitry Medvedev for the past five days. Russia says the overthrow of Yanukovich was a coup backed by the West and that it has the right to defend the interests of the ethnic Russian majority in Crimea, a territory of two million that the Kremlin tranferred from Russia to Ukraine at a time when the collapse of the Soviet state was unthinkable.
Summary KIEV (Reuters) - Sunday's vote in Ukraine's Crimea is being officially billed as a chance for the peninsula's peoples to decide fairly and freely their future - but in fact there is no room on the ballot paper for voting "Nyet" to control by Russia. The second asks: "Are you in favour of restoring the 1992 Constitution and the status of Crimea as a part of Ukraine?". At first glance, the second option seems to offer the prospects of the peninsula remaining within Ukraine.
Expand Image
Summary On Tuesday, Crimea's parliament voted for independence from Ukraine if the people pass a referendum on March 16 to join the Russian Federation. With the support of 78 of its 81 members, the chamber passed a "declaration of independence of the Autonomous Republic of Crimea", saying: "In the case that the referendum on 16 March shows that Crimea should become part of the Russian Federation, then Crimea will become an independent and sovereign state in the form of a republic."
Check out my first topical comedy musical parody -- LET IT GO, PUTIN! (parody of Frozen's Let it Go)
Hmm, shake a story hard enough and you'd be amazed at what facts drop out!! :)
Russian Roulette: The Invasion of Ukraine (Dispatch Seven): http://t.co/QQ6us32eU5 via @YouTube
CRIMEA PYRAMIDS Align North 133 Degrees To Ohio Serpent Mound, Temple of Sun and Golden Calf City!!!
See more...
See more...
See more...
See more...
Conversation with a mag editor in Kiev last May "I've always wantd 2 go 2 Crimea" I said. "Oh its lovely, Iv a summer home there" said she
Kremlin: Crimea and Sevastopol are now part of Russia, not Ukraine - CNN
In the news: Russian agencies suffer from political fallout http://t.co/lKOXtqU63y #intled #Crimea #RussianInvasionOfUkraine.
In the news: Russian agencies suffer from political fallout http://t.co/lKOXtqU63y #intled #Crimea #RussianInvasionOfUkraine.
In the news: Russian agencies suffer fdrom political fallout http://t.co/lKOXtqU63y #intled #Crimea #RussianInvasionOfUkraine.
Life goes on in Russia's #Crimea #supportdontpunish #OST @INPUD http://t.co/WICCmVPCbX
"Risk of a Wstrn military response was & remains negligibl [in UKR], & Russia achieved its objectv in Crimea w/ease.@thenatlinterest Grygiel
Obama's warning as U.S. says 'lying' Russia sent combat troops into Ukraine #Crimea. http://t.co/R1iiUGwvVo
I'm more than sure that #putin's plan is to create so called #Novorossiya,attacking from East,#Transnistria and #Crimea.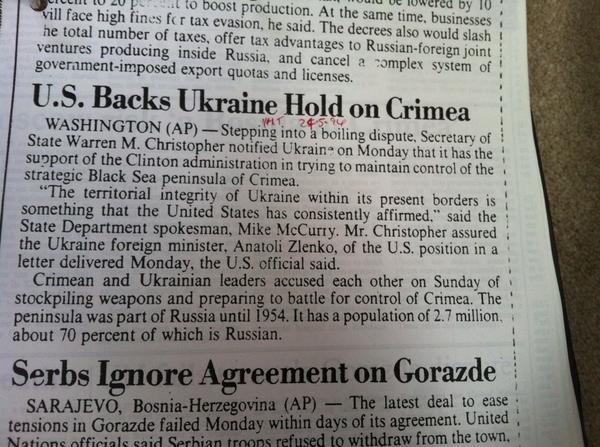 Expand Image
Found in @RencapMan attic - Crimea headlines from 1994; US backs Ukraine amidst threat of war http://t.co/YBNtHgdPp4
See more...
See more...
See more...
Trending Now
Most Popular This Week