Summary Zaharie joined MAS in 1981 and has chalked up 18,365 flying hours, he told a news conference. The Boeing 777-200 aircraft that went missing is 11 years and 10 months old, said Ahmad Jauhari. The flight departed Kuala Lumpur at 12.41am and was scheduled to land at Beijing International Airport at 6.30 am (Beijing time).
Stories
Buzz
Summary GEORGE TOWN (THE STAR/ASIA NEWS NETWORK) - Capt Zaharie Ahmad Shah, 53, the pilot of flight MH370 was a Penangite. A fellow classmate from Penang Free School, Jason Lee, 53, said that he last met Zaharie in 2010 during their batch's reunion dinner. "It was his long time ambition to be a pilot and he always told us back then how nice it was to fly around," he said on Saturday, adding that Zaharie was really a friendly person.
Summary SHAH ALAM - Social media has been filled with outpourings of love and support for Captain Zaharie Ahmad Shah, who piloted the Malaysia Airlines MH370 flight that went missing around 2.40am yesterday. A tribute article, titled "Tribute: Who exactly is Malaysia Airlines Captain Zaharie Shah of MH370" has been widely shared across Twitter and Facebook since the news of the missing flight broke.
The captain of flight 370 is quite a handy man... http://t.co/27HHQYGwxm via @YouTube
Summary The pilots of the missing Malaysian Airlines flight bound for Beijing have a combined 21,000 hours of flight experience. The captain joined Malaysian Airlines in 1981, Mr Ahmad added. The first officer of the flight was 27-year-old Fariq Ab.Hamid, a Malaysian.
Summary Missing MAS flight: Former schoolmates talk about Capt Zaharie. "He was a very pleasant and humble person. He was always smiling and very cheerful," said Ritzeraynn. who joined MAS from 1979 until 1991. "Zaharie was a very experienced pilot, too. My first contact with him was when we worked together in MAS in 1981 on the B737 services. He was the co-pilot and I was the leading purser. We shared a lot of good memories together. "Interestingly enough, it was not until the later years that I learnt that Capt Zaharie was from PFS.
Summary The teen daughter of Captain Zaharie Ahmad Shah, one of the pilots of the ill-fated took to social media hoping that her father along with the passengers and the crew onboard the Boeing 777-200 that went missing since Saturday morning over the South China Sea are safe. Zaharie Ahmad Shah, a 53-year-old Malaysian, has been named as the pilot of the Malaysian Airlines plane that went missing on Saturday. Shah joined the airline in 1981 and has 18,365 hours of experience, the airline said in a statement.
Summary The Malaysian airline pilot Captain Zaharie Ahmad Shah, 53, and his co-pilot Fariq Abdul Hamid, 27, made no contact to indicate there was a problem with the flight. If it is spread over a huge amount of space, it is an indication the plane broke apart at high elevation. The smaller the field, the more chance the plane broke up upon hitting the water.
@michharrington @chuckfro the captains nephew made him this. It's sad yet sweet http://t.co/Pb4C5YcSdP
Expand Image
Summary Malaysia Airlines Flight MH370 pilots Zaharie Ahmad Shah (R), 53, and Fariq Abdul Hamid (L), 27, seen here in their facebook profile pictures, are described by friends and family as respectable men involved in their communities. Fariq had a brush with fame when he was filmed recently by a crew from CNN Business Traveller. Reporter Richard Quest described the flight in that segment as a perfect landing of a Boeing 777-200, the same model as the plane that vanished.
Expand Image
File pic of Malaysian pilot Zaharie Ahmad Shah whose home was raided today after theory of hijacking emerged #MH370 http://t.co/PZ5AaJeVFs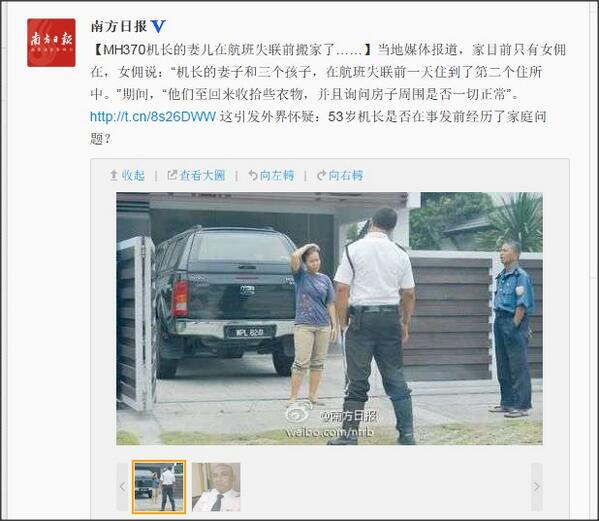 Expand Image
Midlife Crisis? Wife and three kids of #MH370 captain Zaharie Ahmad Shah moved out the house one day before incident. http://t.co/7ySAjlwwuE
Expand Image
Captain Zaharie Ahmad Shah's homemade flight simulator #MH370 http://t.co/Y85Yoa0x4y
See more...
See more...
See more...
See more...
See more...
See more...
See more...
Trending Now
Most Popular This Week