Summary An overwhelming group of SWAT forces in riot gear has descended on protesters who gathered once again in Ferguson, Missouri, on Wednesday. Police were also shooting rubber bullets while smoke grenades and tear gas canisters were falling into the crowd and surrounding neighborhood. Meanwhile, some of the protesters reportedly threw rocks and bottles at the police.
Stories
Buzz
Expand Image
Summary "Hands up! Don't shoot!" Some young men at the back of the group raised their middle fingers as they passed a Ferguson Police Department officer, shouting profanities at him. About 30 demonstrators, who were almost all black, sat down in the middle of an intersection near a line of about a dozen riot police, who were all white.
Expand Image
Summary Clouds of tear gas rolled through Ferguson, Missouri on Wednesday night as SWAT tried to disperse protesters amid simmering unrest over the killing of an unarmed black teen by police over the weekend. Two reporters, from The Huffington Post and The Washington Post, reported being manhandled by police. The Washington Post released a statement saying it was "appalled" and that the arrest was "an assault on the freedom of the press."
Expand Image
Summary SWAT officers gather near the QuikTrip in Ferguson. According to multiple media reports, two shootings took place. First, a drive-by hit a young woman in the head a little past midnight. The officer then fired, police said. The man was taken to the hospital, and police recovered a gun at the scene.
Ferguson SWAT Shoots Tear Gas at Al Jazeera Crew, Shreds the Constitution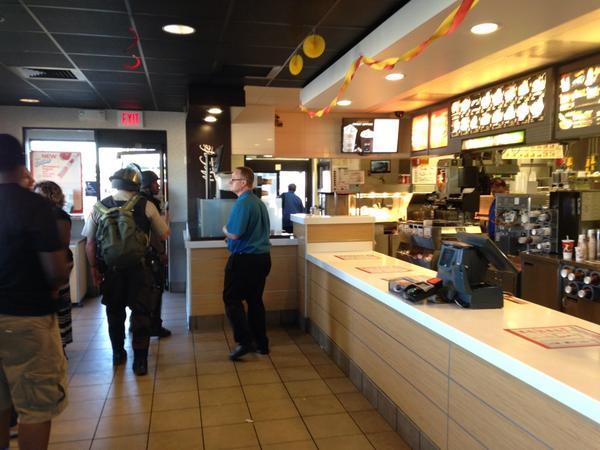 Expand Image
Ferguson: SWAT Team Raids McDonald's Arrests Two MSM Journalists Eating Inside Found at http://pic.twitter.com/ZP2nxheiWl http://bit.ly/1vPvU4G
Expand Image
Summary The Ferguson, Missouri police department has faced criticism for its response to an officer shooting dead 18-year-old Michael Brown--its riot gear , how it has protected the officer's identity, and that it reportedly neglected a key witness to Brown's death. But Ferguson's police department is also more or less average in its diversity. A 2007 survey of local police forces across the country from the Department of Justice showed that the average for a city of Ferguson's size--21,000--is an 87.5-percent white police force, and 5.6-percent black.
Expand Image
Summary While the New York's Police Department was certainly more reserved than Ferguson's -- there was no tear gas, rubber bullets, or riot gear used -- a handful of people were arrested. One was associated with the group in charge of the march. The other person is a popular member of the Occupy movement.
WHY DID AMERICA ATTCK Al-Jazeera via @YouTube #FergusonShooting http://youtu.be/oqtiGhpNH9Y
See more...
See more...
See more...
See more...
See more...
See more...
See more...
Trending Now
Most Popular This Week