Summary An overwhelming group of SWAT forces in riot gear has descended on protesters who gathered once again in Ferguson, Missouri, on Wednesday. Meanwhile, some of the protesters reportedly threw rocks and bottles at the police. Those reporters turned out to be Reilly of the Huffington Post and Wesley Lowery of the Washington Post.
All Stories
Expand Image
Summary "Hands up! Don't shoot!" About 30 demonstrators, who were almost all black, sat down in the middle of an intersection near a line of about a dozen riot police, who were all white.
Expand Image
Summary Two reporters, from The Huffington Post and The Washington Post, reported being manhandled by police. The Washington Post released a statement saying it was "appalled" and that the arrest was "an assault on the freedom of the press."
Expand Image
Summary SWAT officers gather near the QuikTrip in Ferguson. First, a drive-by hit a young woman in the head a little past midnight. The man was taken to the hospital, and police recovered a gun at the scene.
Ferguson SWAT Shoots Tear Gas at Al Jazeera Crew, Shreds the Constitution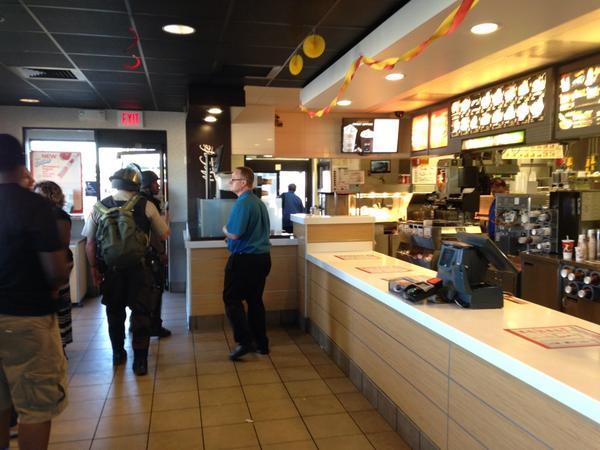 Expand Image
Ferguson: SWAT Team Raids McDonald's Arrests Two MSM Journalists Eating Inside Found at http://pic.twitter.com/ZP2nxheiWl http://bit.ly/1vPvU4G
Expand Image
Summary The Ferguson, Missouri police department has faced criticism for its response to an officer shooting dead 18-year-old Michael Brown--its riot gear , how it has protected the officer's identity, and that it reportedly neglected a key witness to Brown's death.
Expand Image
Summary While the New York's Police Department was certainly more reserved than Ferguson's -- there was no tear gas, rubber bullets, or riot gear used -- a handful of people were arrested. According to the NYPD, we were trespassing in the bank, although we planned on using the ATM.
Expand Image
Summary Within just a few weeks a grand jury is expected to have a decision on whether or not to indict the police officer who shot and killed unarmed black teenager Michael Brown Jr. in Ferguson, Missouri , this summer.
See more...
See more...
See more...
See more...
See more...
Expand Image
Summary The leader of Nigeria's Islamic extremist group Boko Haram has denied agreeing to any cease-fire with the government and said more than 200 kidnapped schoolgirls have all converted to Islam and been married off. "In this war, there is no going back," he said in the video received by The Associated Press in the same way as previous messages.
Expand Image
Summary Ninth on a restart with five laps left, Busch moved to third in one lap and was running second behind Quiroga when Jeb Burton sent ThorSport Racing teammate Johnny Sauter spinning through the infield grass, forcing the green-white-checkered finish.
Summary Highlighting 17 Australian wineries ready for export, the platform will provide targeted marketing and logistics support to importers and key account holders working in the U.S. market. The Wine Australia Initiative is engineered to align the goals of Australian wine producers with those of US importers and is the logical next step for Wine Australia towards helping the growth and promotion of the Australian wine industry.
Expand Image
Summary She died Friday at a hospital, a week after she was shot in her school cafeteria. "The Tulalip Tribes continue to offer up our condolences and prayers for the passing of Zoe Galasso and Gia Sariano, our hearts are heavy as we hear of the passing of Shaylee Chuckulnaskit," the Tribes said.
See more...
See more...