Summary Anat Ronen , the artist behind the beautiful mural, painted it in May earlier this year at the Avis Frank Gallery in Houston, Texas. Rosie the Riveter is a representation of the American women who worked in factories during World War II. Here is Ronen as she begins to paint the mural.
All Stories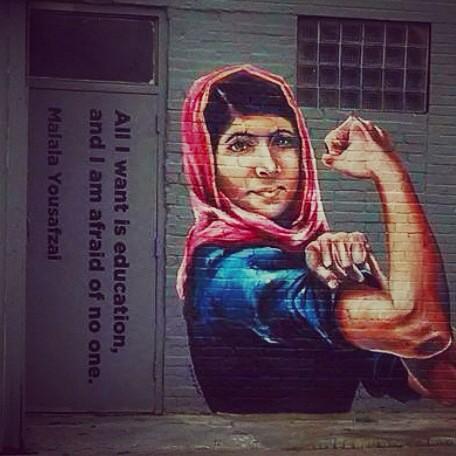 Expand Image
Anat Ronen's mural Yes She Can!" melds Malala Yousafzai's face together with signature features of World War II icon http://pic.twitter.com/oGyhVl754e
See more...
See more...
See more...
See more...
See more...
Summary The El Paso Times reports ( http://bit.ly/1x7an3F ) Myrna Gamboa pleaded guilty in federal court this week to conspiracy to defraud the U.S. government. The former El Paso Independent School District administrator resigned in November 2012, hours before the board was to consider whether to fire her.
Expand Image
Summary There was a time before the King was the King. Priscilla Presley told the Associated Press: "There has been no other photographer that Elvis ever allowed to get as up close and personal in his life through photos as he did with Alfred ... I'm deeply saddened by the death of Alfred Wertheimer. He was a dear friend and special soul. I feel he was a gift for all who knew him, especially Elvis Presley."
Expand Image
Summary Former newspaperman steered coverage of Watergate scandal that led to fall of Nixon. Watergate was the trailblazing story of his time at the Post. The scandal sparked by the newspaper's intensive local reporting stemming from a burglary at the Democratic offices in the Watergate complex in June 1972 grew to a political inferno resulting in the only US president ever to resign.
Expand Image
Summary Hunt was once worth an estimated $16 billion and owned racehorses, property and oil fields around the world. Once considered to be the richest man in the world, Texas oil magnate Nelson Bunker Hunt has died at the age of 88 in modest circumstances at an old people's home.
See more...
See more...