Summary Anat Ronen , the artist behind the beautiful mural, painted it in May earlier this year at the Avis Frank Gallery in Houston, Texas. Rosie the Riveter is a representation of the American women who worked in factories during World War II. Here is Ronen as she begins to paint the mural.
All Stories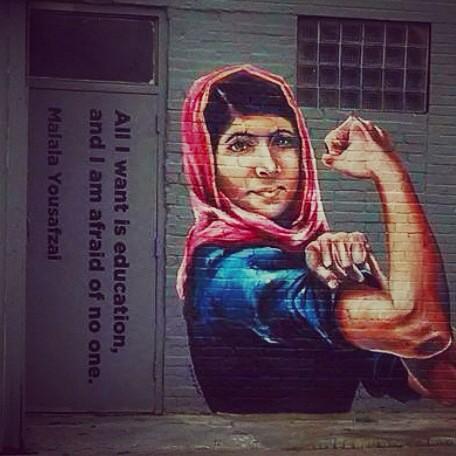 Expand Image
Anat Ronen's mural Yes She Can!" melds Malala Yousafzai's face together with signature features of World War II icon http://pic.twitter.com/oGyhVl754e
See more...
See more...
See more...
See more...
See more...
Expand Image
Summary There was heartbreak, but now the New Mexico Spaceport Authority is scrambling again. The testimony covered everything from the salaries and benefits of spaceport employees to how much is spent to keep the lights on at the futuristic building in southern New Mexico.
Summary The intervention was most effective among children who are considered to be at the highest risk of struggling in school - those belonging to low-income backgrounds and learning English as a second language. In all, 276 children enrolled in federally funded programmes for at-risk children participated in the study.
Summary The incident happened Saturday afternoon in apartment in Brooklyn's East New York section. Police say the father told officers he was cleaning his gun when it accidentally discharged.
Summary Niki was a former model who just started her career when an injury from a car accident caused her to become paralyzed. Both the models and photographers share in the proceeds of the sale of the images and also have the opportunity to donate some or the entire commission to support organizations of their choice.
See more...
See more...