Summary Anat Ronen , the artist behind the beautiful mural, painted it in May earlier this year at the Avis Frank Gallery in Houston, Texas. Rosie the Riveter is a representation of the American women who worked in factories during World War II. Here is Ronen as she begins to paint the mural.
All Stories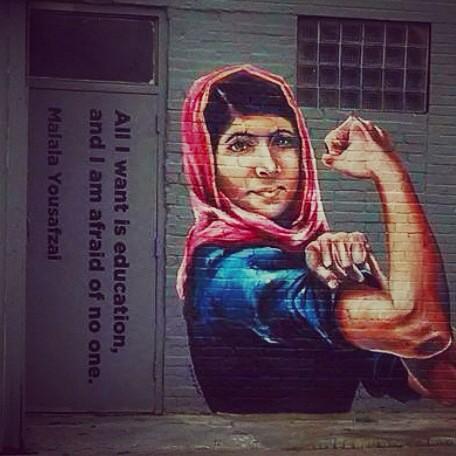 Expand Image
Anat Ronen's mural Yes She Can!" melds Malala Yousafzai's face together with signature features of World War II icon http://pic.twitter.com/oGyhVl754e
See more...
See more...
See more...
See more...
See more...
Expand Image
Summary The virus spreads through bodily fluids, such as sweat, urine, semen and saliva. The model from Medlock and his colleagues takes into account the density of infected patients, number of people hospitalized, size of funerals, average number of relatives, health care workers and the size of the overall population.
Expand Image
Summary "Your honor, I'd just like to say that I'm sorry," Washington, who had seemed stoic, even defiant, in court apprearances since being charged in March, said to Judge Steven O'Neill. A grand jury report said Washington berated her chief of staff when he questioned the propriety of ordering her staff to do political work on government time.
Expand Image
Summary About 2.5 million cubic yards of sediment contaminated with polychlorinated biphenyls have been removed over the course of the $2 billion federal Superfund project. The EPA believes the dredging will clean the river of PCB contamination and eventually make the fish safe to eat.
Expand Image
Summary Mr. Matonis will remain on the foundation's board until Dec. 31. The Bitcoin Foundation said the decision to resign was Mr. Matonis's. Established in 2012, the Bitcoin Foundation has become one of the most prominent voices in the virtual currency industry.
See more...
See more...