Story
Buzz
Gallery
Buzz
3 tourists drown in Sylhet - Prothom Alo (English): 3 tourists drown in SylhetProthom Alo (English)Three touri... http://t.co/NKrqf3KpfL
Retweet
The enrichment of the Sylheti language is a human right #sylhet #bangladesh #BengaliSuperstitions #bengali
Retweet
Ay magir detail Lima rahman Father Lutfur rahman Vill KANDEBPUR Ps Moglabazar Sylhet Ekon Italy er Palermo ta take
Finally I'm going to Sylhet for the first time :D :D i hope it will be a great tour :) — feeling awesome
Retweet
Walk way in front of Grand Sultan Hotel at Srimangal , Sylhet
London to Dhaka via Sylhet. It's a new experience, transit in home country. Two more boring hours in the aircraft to reach Dhaka! It's Biman.
Off to Sylhet! Awesome weather!! @ Dhaka Sylhet Highway http://t.co/8s7uoCi24Z
Retweet
Some guy was beaten to death in Sylhet, Bangladesh cuz he came to the Eid prayer without fasting a single day during Ramadan
Retweet
See more...
See more...
Story
Emirates 24/7
Summary Ireland survived an inspired spell of swing bowling from Zimbabwe's Tinashe Panyangara to scrape through for a three-wicket win on the last ball of their Group B encounter in Sylhet on Monday. Stirling hit nine boundaries and a six and with captain William Porterfield (31) added 80 runs for the opening wicket but Panyangara's double strike in the 15th over brought Zimbabwe back in the game. Panyangara (4-37), who was smashed for 18 in his first over by Stirling, also dismissed the dangerous Kevin O'Brien (17) in the 18th over and returned to bowl the final over of the innings with Ireland needing four runs for victory.
Related Stories
Summary SYLHET: Ireland has set the massive 190 runs target in the round-up match of Word T20 against Netherlands here at Sylhet stadium. Ireland middle order batsman Poynter made an outstanding 57 runs while skipper Porterfield put his 47 runs for giving highest target against Netherlands. Netherlands bowler Jamil took two wickets giving 26 runs in his 4 overs while Swart gave highest 39 runs in 4 spells.
Summary Allrounder Elton Chigumbura struck a fiery half-century to help Zimbabwe achieve a five-wicket win over United Arab Emirates in Sylhet on Friday, keeping their hopes of reaching the next round alive. Chigumbura smashed three sixes and six boundaries in his 21-ball 53 not out to lift Zimbabwe from a struggling 34-4 and surpass a modest 117-run target in 13.4 overs. The win also lifted Zimbabwe's net run-rate over Ireland who face the Netherlands in the crucial match to decide which team qualifies for the Super-10 stage from Group B. Bangladesh qualified for the Super-10 from Group A on Thursday.
Summary Zimbabwe's leap to the top of the group has meant that the second game of the afternoon in Sylhet is a knockout for Ireland and Netherlands. Ireland, who were on top of the group just a short while ago and looked primed to progress to the Super 10, suddenly need nothing less than one point to qualify, either via a win or a washout.
Summary SYLHET, Bangladesh - Elton Chigumbura hit a rapid 53 not out to help Zimbabwe win its second match in the World Twenty20, beating the United Arab Emirates by five wickets on Friday. Chigumbura smashed six fours and three sixes off just 21 balls. The last six sealed the win in emphatic fashion as Zimbabwe raced to 118-5 in 13.4 overs after the UAE was restricted to 116-9.
Summary 9.1 68.8 mph, What have you done Porterfied! Van Beek looked to launch the length ball over to the sight screen, but ends up hitting it high.. The mid-off fielder runs with his back towards the batsman and times his dive to perfection to hold on to this..
Summary Ireland are hopeful that key all-rounder Paul Stirling will pass a late fitness test on an elbow injury ahead of their final first-round game against the Netherlands in Sylhet today. "It's just the nature of the impact, and the site of the injury, can be quite painful for Paul and for any player who gets a hit on that site," said Dunne. " So at the moment he's just doing the standardised kind of recovery procedure, just resting it, icing it. We have it strapped and we just have to wait and see how he pulls out of it in the morning." With hosts Bangladesh stumbling into the Super 10s stage with a defeat to Hong Kong in Chittagong yesterday, Ireland have the chance to be the only side to make the second stage of the competition with an unbeaten record and Kevin O'Brien believes that relying on run rate calculations is not the way to approach the match against the Netherlands.
Summary Dhaka: Authorities in Bangladesh have asked businesses, shopping malls and markets to shut down during the evening to save electricity in the wake of Wednesday`s power outage during a World Twenty20 match in Sylhet. The qualifying group B match between Ireland and the United Arab Emirates plunged into darkness twice due to power failure at the Sylhet Stadium. Authorities also asked people to cut the use of air conditioners, water pumps, micro-ovens and other home appliances during the evening, the peak hours for the cricket.
Summary CHITTAGONG - First-timers Nepal upset a higher ranked and more experienced Afghanistan by nine runs in Sylhet to record their second win in the World Twenty20 tournament on Thursday. Khakurel hit six boundaries and a six during his 53-ball knock before falling to paceman Shapoor Zadran, the best of the Afghan bowlers with 2-19. Nepal will now await the outcome of the last match in the group, with hosts Bangladesh needing a win against the United Arab Emirates to go through to the next round.
Summary The Netherlands' Ben Cooper, right, and Wesley Barresi celebrate their team's victory against Ireland in their World Twenty20 Group 2 match at the Sylhet International Cricket Stadium in Sylhet, Bangladesh, on March 21, 2014. SYLHET, BANGLADESH // After firing the Netherlands to the most extraordinary run-chase in the short history of Twenty20 cricket, Stephan Myburgh admitted he did not even know where his side have to head next. The Dutch earned a place in the Super 10 phase of the World Twenty20 in a stunning flurry of sixes, chasing down 190 to beat Ireland in only 13.5 overs on Friday.
Summary SYLHET, Bangladesh: Zimbabwe notched a thrilling last-ball victory against a spirited Netherlands in a World Twenty20 qualifier yesterday to stay in contention for the main round. Scores: Zimbabwe 146-5 in 20 overs (Brendan Taylor 49, Hamilton Masakadza 43; Pieter Seelaar 2-9) def. Netherlands: 140-5 in 20 (Tom Cooper 72 not out, Ben Cooper 20; Prosper Utseya 2-24) by 5 wickets.
Gallery
Grid View

Great atmosphere in Sylhet @ABNAMROSport http://t.co/6K9nf2UXEu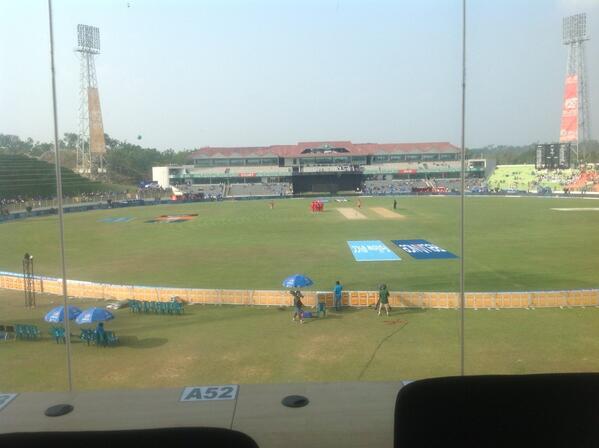 Some early joy for Zimbabwe here in Sylhet - Stephan Myburgh out for 1 & unable to repeat his heroic effort on Monday http://t.co/L2ROa6koay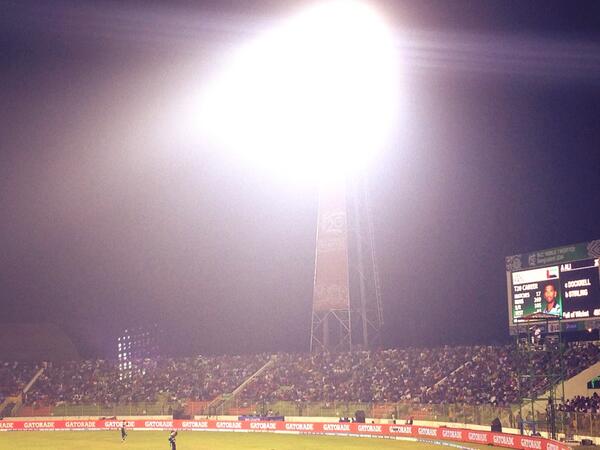 Sylhet can be proud of the crowd attendance tonight. Really good atmosphere for great cricket. @ICC #wt20 http://t.co/IQ0SmE6VuQ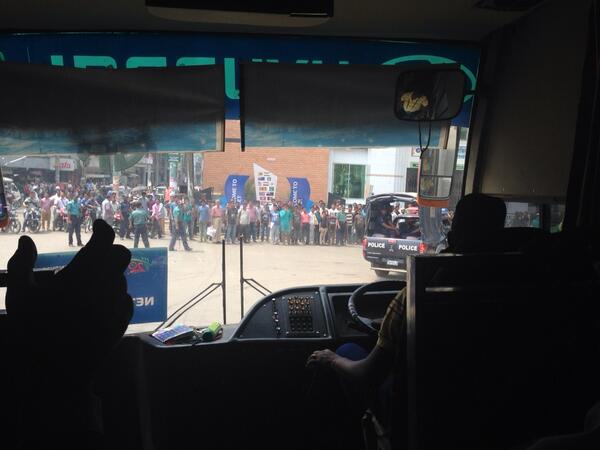 Cricket popular amongst the 175 million in Bangladesh. Police escort through the streets of Sylhet @ABNAMROSport http://t.co/ATFETdhCKy
Watch my recent road trip to Sylhet, Bangladesh. #beautifulbangladesh http://t.co/Ja9A1E6eMr
My family video. #Sylhet #Bangladesh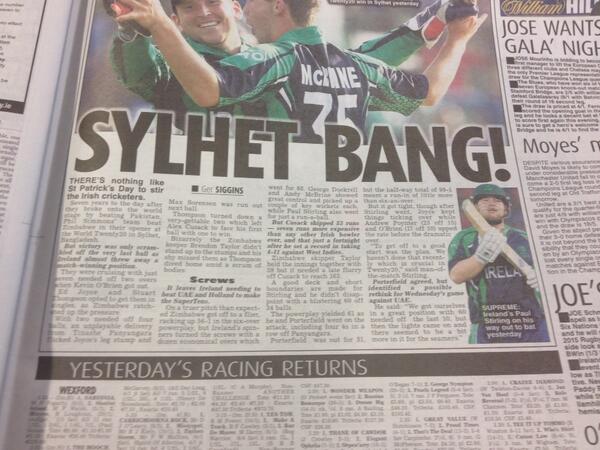 Well played, the sub in The Star who wrote this headline for Ireland's win in Sylhet, Bangladash. Well played I say http://t.co/5QOsjOUIk9
See more...