Story
Buzz
Gallery
Buzz
$DSG Choppy Waters For Shipping IPOs http://t.co/zLkWaI7tj0
Retweet
$DSG Choppy Waters For Shipping IPOs http://t.co/jg8eSZGeR0
Retweet
$SEMI 9 IPOs To Watch For This Week http://t.co/rjx8L2dKO3
Retweet
Tech IPOs Not Keeping Pace With VC Funding Surge http://t.co/Wc8iKwaoGZ
Retweet
1st half of 2014 = hottest IPO market in 14 years – 133 IPOs priced, raising over $30 billion, already greater # of IPOs priced 11' & 12'!
Retweet
The ABCs of IPOs by Ameritrade 2014-07-25 http://t.co/x7wO4MY5Nh
Retweet
See more...
See more...
Story
TechCrunch
Summary Over the last three years, we've seen an increasing number of tech IPOs - many from consumer-facing companies that we've long known were headed for an IPO. Zuora was among the first few to recognize the shift toward a subscription economy and the need for a billing service that is not only easy to integrate but also highly scalable. Zuora is the most likely product that is used by nearly all the companies in this article, meaning that it has been part of the success of an entire generation of SaaS companies.
Related Stories
Summary Public offerings from Silicon Valley and San Francisco so far this year have been concentrated in the health and medical sectors. San Francisco-based DocuSign, the digital transaction management company, raised $85 million in new funding at a reported valuation of $1.6 billion, choosing to stay private as it pushes to grow around the world. San Francisco cloud storage provider Dropbox raised about $250 million in a recent funding that came with a valuation of about $10 billion.
Summary The biotech IPO window is open, and Radius Health is preparing to see if it can make the leap and land on Wall Street with about $86 million in hand. And there's a follow-up program in mid-stage development along with a patch-delivered version of its lead drug that can add to and extend their commercialization efforts--which can be augmented by ex-U.S. partners. Of course, if the lead drug fails to deliver, that business plan will amount to little more than a pipe dream, but such is the stuff of the high-risk biotech IPO market today.
Summary Tech Companies Look to Ride the IPO Wave. The latest wave of fast-growing technology companies announcing that they're going to list a chunk of their business on stock markets around the world is no coincidence. The time for fast-growing technology companies to go public is now, according to investors at two leading venture capital firms. Pawel Chudzinski, a partner at Point Nine Capital in Berlin, told Techworld: "I think the windows for IPOs is now. The whole thing is cyclicalproven by history, there are windows for tech companies and then they close and then they open again. I think right now is a time when the investor community in general is hungry for tech companies."
Gallery
Grid View

Predicting The Next IPO Wave: The Era Of The Enterprise http://t.co/xwbYQvCfAG

Predicting The Next IPO Wave: The Era Of The Enterprise Over the last three years, we've seen an increasing n... http://t.co/y9Uq7PHlMX

Wall Street Beat: Tech IPOs heat up but there's no bubble -- yet http://t.co/o40jUi1gw0
We'll see a lot more IPOs and M&A this year : http://t.co/wdrXUU98WV via @YouTube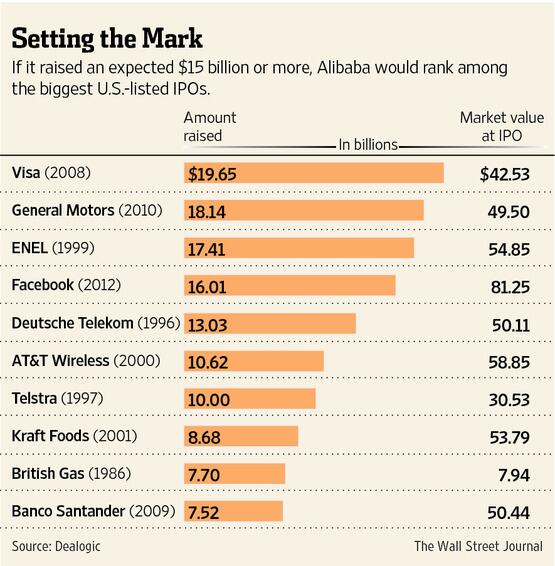 If it raised an expected $15 billion or more, China's web giant Alibaba would rank among the biggest U.S.-listed IPOs http://t.co/SS37kdWa5A
See more...