Summary Ministers of parliament in Ukraine who are members of the Neo-Nazi Svoboda party have assaulted the CEO of the state television channel, forcing him to sit at his desk and sign a letter of resignation. The incident is the latest power play by the Neo-Nazis in Ukraine, who have emerged as a dominant force in the new coalition government.
Stories
Buzz
Ukraine Crisis Today: Democracy caught on camera (this will never be shown on mainstream media)
A young boy kicks a #Russian flag along the street in front of a Svoboda Party mob: http://youtu.be/JlEz3wjd-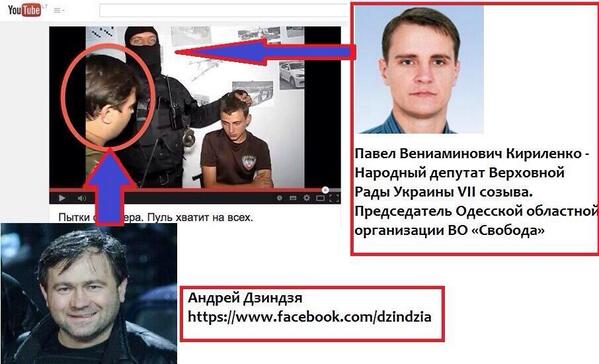 Expand Image
#Ukraine member of parliament from Svoboda party (ex National-Socialist party) possibly behind kidnapping of 16 y.o. http://pic.twitter.com/Xk6So0ibnY
Raw: Fight Breaks Out in Ukraine Parliament: via @YouTube http://youtu.be/3O4hVnLGAgM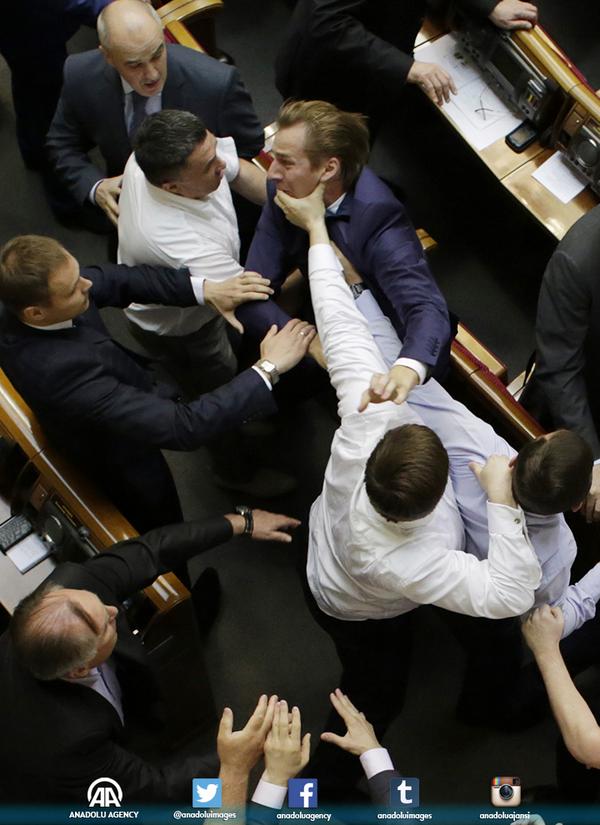 Expand Image
Deputies of Svoboda Party fight with members of Regions Party&Communist Party deputies at Verkhovna Rada,in #Kiev.#AA http://pic.twitter.com/0EEtmb23zO
VIDEO: July 23, Svoboda far right MPs attempt to kick Communist Party leader Simonenko from Ukraine Parliament http://youtube.com/watch?v=FmdrO5…
Summary "The nationalist Svoboda party and the Udar party led by former boxer Vitali Klitschko pulled out of the group of legislators that took over after former President Viktor Yanukovich was ousted by protesters seeking closer ties with the European Union. Parliament speaker Oleksandr Turchynov said it was up to Udar and Svoboda to propose a candidate for temporary prime minister to lead the government until early parliamentary elections can be held." The New York Times adds that it's unclear if Yatsenyuk's announcement was symbolic or if he actually was leaving the government.
Expand Image
Summary Ukrainian Prime Minister Arseniy Yatsenyuk, center, is shown in 2012 with Oleh Tyahnybok, then leader of the nationalist Svoboda party, left, and WBC Heavyweight Champion boxer Vitali Klitschko, right, in Kiev, Ukraine. (Associated Press/2012). Yatsenyuk made the announcement from the dais of Parliament after two parties said they would pull out of the governing coalition.
See more...
See more...
See more...
See more...
VIDEO. A chance to observe body language & facial expressions of Oleh Tyahnybok, head of Ukraine's Svoboda Party. http://t.co/EzzRHsJJhK
All is far from well in #Kiev, as senior member of neo-Nazi Svoboda party @aronets tweets of in-fighting - https://t.co/Mb0fAInJ06 #Ukraine
Interesting point of view from Stephen Cohen, that argues that #Putin "had no choice" but to respond in #Ukraine. http://t.co/mtZu5ZTEYM
Ukraine Eurobonds plunge as markets sense restructuring pain http://t.co/TGym8XmQC5
Russia pushes Ukraine some on trade, gives a little on troops http://t.co/wdYLnFNsWi via @WSJ
Raiffeisen Bank hit by Ukraine conflict: Austrian bank's shares fall as it increases provisions for bad loans ... http://t.co/iU76BlZOLs
Listening to @batchelorshow and Prof Steve Cohen talking about #Ukraine, Russia 'New Cold War' to listen http://t.co/LfngVWkUXI enjoy :)
See more...
See more...
See more...
Trending Now
Most Popular This Week