The Times of Northwest Indiana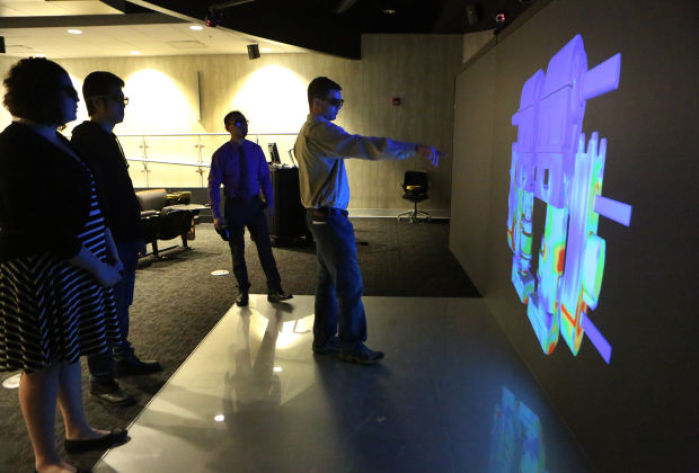 Summary Purdue University Calumet's Center for Innovation through Visualization and Simulation undergraduate students Hannah Amor, Stephen Builta, and Michael Garcia won first place last week for a student project presentation at the Association for Iron and Steel Technology's AISTech 2014 conference in Indianapolis.
All Stories
Expand Image
Summary The Hammond school's Center for Innovation through Visualization and Simulation won a $480,000 grant from the National Institute of Standards and Technology for the project. Fourteen companies and groups, including steelmakers ArcelorMittal and U.S. Steel, are sponsoring the consortium and will support it financially over the long term.
See more...
See more...
See more...
See more...
See more...
Summary If submitting a self-post - especially if you're asking a question - be as specific as possible. -on the 8th, leave to Niagra Falls (Crap, just realized I planned to go to Niagra Falls on the weekend.
Expand Image
Summary The four officers were on foot patrol yesterday afternoon when a photographer asked them to pose for a photograph. The force refused to comment on suggestions the incident was linked to terrorism, in the wake of the attacks in Canada on Wednesday.
Expand Image
Summary Ole Miss is enjoying its best football season in a half-century, and that's bringing new attention to Mississippi's flagship university. In this photo taken on Thursday, Oct. 16, 2014, lifelong Mississippi resident Logenvia Morris, wearing a button with an image of her son Aaron Morris on it, speaks at her home in Jackson, Miss. Morris, who goes to every football game to cheer for her son, said the offensive lineman had to overcome his grandfather's deep skepticism about whether black students are truly welcome at the university.
Summary British Prime Minister David Cameron, center, speaks with Dutch Prime Minister Mark Rutte during a round table meeting at an EU summit in Brussels, on Thursday, Oct. 23, 2014. BRUSSELS (AP) -- Britain says its prime minister is protesting a European Union request for an additional 2.1 billion euro ($2.65 billion) contribution to the EU coffers at a time of increasing pressure at home for the country to leave the bloc.
See more...
See more...