The Times of Northwest Indiana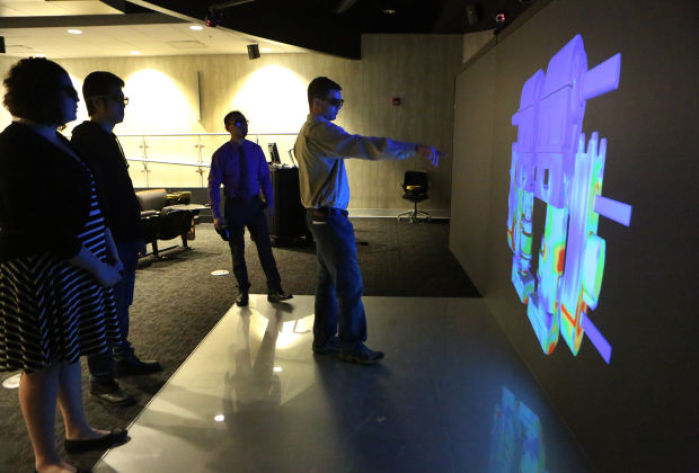 Summary Purdue University Calumet's Center for Innovation through Visualization and Simulation undergraduate students Hannah Amor, Stephen Builta, and Michael Garcia won first place last week for a student project presentation at the Association for Iron and Steel Technology's AISTech 2014 conference in Indianapolis.
All Stories
Expand Image
Summary The Hammond school's Center for Innovation through Visualization and Simulation won a $480,000 grant from the National Institute of Standards and Technology for the project. Fourteen companies and groups, including steelmakers ArcelorMittal and U.S. Steel, are sponsoring the consortium and will support it financially over the long term.
See more...
See more...
See more...
See more...
See more...
Expand Image
Summary Cancer Classic on Saturday night. Winslow and Cook, the tournament MVP, helped Duke build a 15-point lead in the second half but it was Okafor who slammed the door on Stanford after it closed to 51-43 on a floater by Randle with 10:55 to play. The Blue Devils led by 11 at halftime and were professional the rest of the way in handling Stanford.
Expand Image
Summary AUBURN, Alabama -- Samford's close relationship with Auburn apparently hurt the Tigers early Saturday night. The coaches visit Auburn in the spring and summer to study the hurry-up, no-huddle offense, which Auburn offensive coordinator Rhett Lashlee installed at Samford during his time with the FCS school in 2011. The Tigers finished with 386 yards, the third-lost output of the season.
Expand Image
Summary "I don't need to be validated," he says. Smith was on the cusp of creating a legacy, similar to the one his friend Tony Dungy built at Indianapolis after getting fired by the Bucs in 2001. Loyalty is everything to him, and he has given that to the Bucs.
Expand Image
Summary WACO -- College Football Playoff selection committee chairman Jeff Long was at a loss earlier this week about how to really determine "game control." The No. 7 Bears jumped on OSU early, scoring two touchdowns in the first 2:11 to take command of the game and maintained a two-touchdown lead throughout.
See more...
See more...