The Times of Northwest Indiana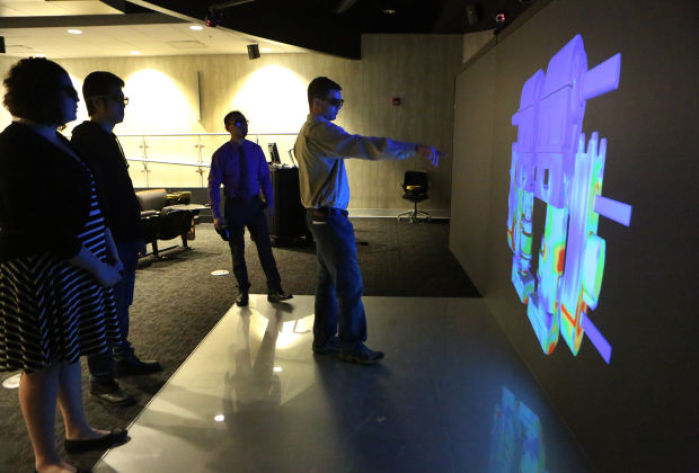 Summary Purdue University Calumet's Center for Innovation through Visualization and Simulation undergraduate students Hannah Amor, Stephen Builta, and Michael Garcia won first place last week for a student project presentation at the Association for Iron and Steel Technology's AISTech 2014 conference in Indianapolis.
All Stories
Expand Image
Summary The Hammond school's Center for Innovation through Visualization and Simulation won a $480,000 grant from the National Institute of Standards and Technology for the project. Fourteen companies and groups, including steelmakers ArcelorMittal and U.S. Steel, are sponsoring the consortium and will support it financially over the long term.
See more...
See more...
See more...
See more...
See more...
Expand Image
Summary Calvary Chapel: Chuck Smith's daughter, widow sue church, alleged it conspired to cheat them. A daughter and the widow of Chuck Smith -- the founder of the worldwide Calvary Chapel movement -- have sued his former church, alleging a conspiracy to commandeer Smith's ministry and deny him emergency medical attention on his deathbed.
Expand Image
Summary PITTSBURGH -- The streets here Wednesday afternoon were crawling with black T-shirts and Pirate caps. When Bumgarner hit for himself in the top of the eighth, the crowd managed a few feeble boos at the sound of his name over the public address system.
Expand Image
Summary Israel's Netanyahu presses Obama to not make concessions to Iran in nuclear talks. The U.S. has long opposed Israeli settlements in Palestinian territory, yet the hard condemnation coming so soon after the private meeting between the leaders showed that little of the tension between the two allies had eased.
Summary The United States and China openly clashed Wednesday over the pro-democracy protests sweeping Hong Kong, with Beijing angrily warning Washington to back off and saying it would not tolerate "illegal acts." The Basic Law is the mini-constitution of Hong Kong, where Beijing is grappling with one of the biggest challenges to its rule of the territory.
See more...
See more...