Summary Jakarta. "We have invested a lot, including our recruitment of 4,457 sanitation workers, and the purchases of garbage trucks... and supporting units," Bandjar Marpaung, the head of the Sanitation Service Association (Hipenlasih) -- a trade group representing some 25 waste management firms that worked as contractors for the Jakarta administration -- said in Jakarta on Monday. "[The city] has inflicted losses on us with the termination of the contracts."
Stories
Buzz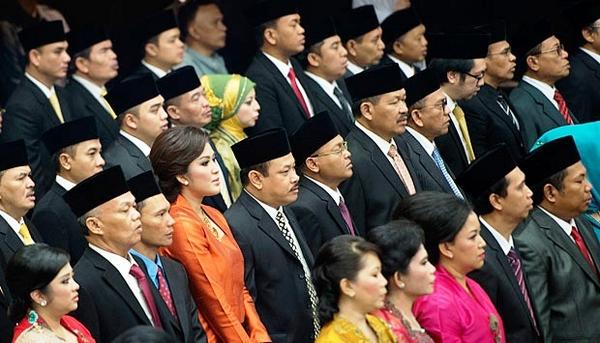 Expand Image
#TopNews | FITRA Blasts DPRD Jakarta for Lavishing Budget | http://pic.twitter.com/Xi6kjCrG7z http://bit.ly/1qIWV1n
Summary (JP/Jerry Adiguna). President Susilo Bambang Yudhoyono, in his capacity as the Democratic Party chairman, is set to join other leaders from the party to go on the campaign trail ahead of the April 9 legislative election, in a bid to help salvage the party's chances in the poll.
Summary Jakarta. Promising to personally cook nasi goreng for journalists after the April 9 legislative elections, the president also offered some piercing insights into the upcoming legislative and presidential elections. A veteran of two previous elections, the president is one of the most senior politicians in the country.
Summary Jasa Marga finance director Reynaldi Hermansjah said the company had allocated Rp 5.5 trillion of its internal cash for capital expenditure in 2014. The company is also set to enter the bonds market, in the fourth quarter of the year at the latest, to generate Rp 1 trillion in funds.
Summary The Jakarta Composite Index (JCI) on Wednesday weakened by 23.51 points, following movements on Asian stock markets. Meanwhile, the LQ45 index, which represents lists of the 45 most liquid stocks, weakened by 6.09 points (0.77 percent) to 782.87. "Negative sentiments from Asian markets affected the JCI; however, it is predicted that the index's correction potentials will not likely be deeper as it will be balanced with positive factors from the domestic side," Valbury Asia Securities head of research Alfiansyah in Jakarta on Wednesday, as quoted by Antara.
Summary Jakarta. "In modern-day Indonesia, sakti means strong creative energy, divine and indestructible that contains the capacity for achievement beyond mere human abilities." "Sakti [was chosen] as the theme of the Indonesian pavilion at the 2013 Venice Biennale because the exhibition explores the inner, alternative power that is present in the creative struggle in Indonesian art and life," she added.
Summary A group of CrossFitters in their box. Every charity project sees an outpouring of compassion, empathy and social awareness with each CrossFitter raising money with the workouts they perform. The more repetitions performed by a CrossFitter, the more money is raised for the charity.
Summary Jakarta. Net income rose 4.7 percent to Rp 405.94 billion ($35 million) in 2013 from Rp 387.54 billion a year earlier, the company said in a filing to the Indonesia Stock Exchange (IDX) on Wednesday. Revenue fell to Rp 2.37 trillion from Rp 2.39 trillion, but Sido Muncul's financial statement showed that its cost of goods sold declined at a faster pace, to Rp 1.36 trillion from Rp 1.47 trillion.
Summary Jakarta. "Golkar will not alter [the export ban policy], instead we will underline the importance of value-added [commodities]," Harry Azhar Azis, a senior member of the Golkar Party's economic team, told Reuters. Gerindra said the president's handling of the new mining rules had caused widespread investor confusion, but the political party would not change the mining rules if its candidate, Prabowo, wins the presidency.
AVRIL LAVIGNE - HERE'S TO NEVER GROWING UP Live in Jakarta, Indonesia 2014
AVRIL LAVIGNE Play Audience - WHAT THE HELL Live in Jakarta, Indonesia 2014
See more...
See more...
See more...
See more...
Sosiologi ulud ♫ This Love by @maroon5 (with @risaka_ and Lingga at SMAN 27 Jakarta) — https://t.co/ZlNOLCUfNP
❤💙💚💛💜 (with Epita, @hyacintaaa, and 2 others at SMA Negeri 77 Jakarta) — https://t.co/JuIbz4FiEh
UNLEASHED SOON THIS DECEMBER👉 follow our Twitter & Instagram: @Anttic10_👏🎉🎼🎨🎭 (at SMAN 3 Jakarta) [pic] — https://t.co/8pu4wzeFAx
Have a duty for the Graduation of… (w/ @rahmihyt, @jellytafenny, & Devi at "Jakarta International Expo") [pic] — https://t.co/WA62TFuUNg
Follow Samurai Kids for information about Japanese Martial Arts program in Jakarta for kids age 4-15.… http://t.co/k48sPR1WaH
Yoshiki give some hint??? Yes you have to hold X Japan Concert in Jakarta #xjapan #concert #yoshiki… http://t.co/Wix7HKsJgW
I'm feel so lazy today (=| (with @indri_aniS at SMKN 27 Jakarta SBI Invest) — https://t.co/O7VmyRUcQk
😪😣😴📚 (with @Angelcnnd, @ddheara, and 3 others at SMA Negeri 60 Jakarta) — https://t.co/Stwse6J8se
Qantas Airways Promo Return Ticket from JAKARTA From $640USD* Please go to our page for further details: https://www.facebook.com/netfarejkt ( Full details of promotions is on this page, please like us ! ) *subject to change
With Bobby, @hadyanariiq16, and 4 others at X MIA 1 SMAN 50 Jakarta — https://t.co/YGnLicRpVu
See more...
See more...
See more...
Trending Now
Most Popular This Week