Story
Buzz
Gallery
Buzz
Kesha's interviews this week: Thursday morning - GMA Thursday night - Jimmy Fallon Friday - Kelly and Michael ANIMALS!!
Retweet
I liked a @YouTube video http://t.co/M81oeIgJFs "#Hashtag" with Jimmy Fallon & Justin Timberlake (Late Night with Jimmy Fallon)
Retweet
Kesha will be on #GMA tommorow! and Jimmy fallon at night.
Retweet
12-Year-Old Accused Of Stealing A School Bus -- Again - http://t.co/QlAOMy0fYH. @FallonTonight @jimmyfallon
Retweet
I liked a @YouTube video http://t.co/YnlwCVYKbI Jimmy Fallon & Dwayne Johnson's Workout Videos -- Part 2
Retweet
I liked a @YouTube video http://t.co/4PkZSACQBB Jimmy Fallon & Dwayne Johnson's Workout Videos -- Part 1
Retweet
In few years, I'll be a french @jimmyfallon... I hope. If he can explain me his success, it would be great !
Retweet
@jimmyfallon OMG. I have a new crush. Audra McDonald is gorgeous and has a angelic voice. Love her!!!
Retweet
I liked a @YouTube video http://t.co/ExQ4qBKuDN Box of Lies with Tina Fey Part 1 (Late Night with Jimmy Fallon)
Retweet
I liked a @YouTube video http://t.co/ffpGm4Cl6e Weezer Back To The Shack Live on Jimmy Fallon
Retweet
See more...
See more...
Story
People

Summary What do mom-dancing, hashtags and children's instruments have in common? In honor of Fallon's assumption of the Tonight Show throne Monday night, enjoy this side-splitting collection of some of his most-viewed sketches:. "#Hashtag with Jimmy Fallon and Justin Timberlake " (21 million views).
Related Stories
Summary Last night (2/18/2014) Lady Gaga performed an unexpected single on the new "Tonight Show" starring Jimmy Fallon. Also, Mother Monster is looking to re-launch her mild-selling ARTPOP CD promotion and help sell concert tickets. Gaga did give Jimmy Fallon a little kiss on the cheek and that was a nice touch at the end.
Summary On Tuesday night the comedian was on The Tonight Show Starring Jimmy Fallon, and he delved into what it's like to put his three kids (ages 8, 10, and 13) to bed, or as he calls it, the "Royal Coronation Jubilee Centennial of rinsing and plaque and dental appliances and the stuffed animal semi-circle of emotional support." Take a look (skip to the 3:50 mark to get to the parenting rant):.
Summary The late night landscape forever changed when Jay Leno passed The Tonight Show torch to Jimmy Fallon earlier this week. But lately, as television has given way to competing digital mediums, celebrities in promotion mode have been making the rounds on a totally different circuit -- within the hallowed halls of Silicon Valley. On a promo outing last week for her new book -- whose cover she debuted on Instagram -- Lena Dunham stopped by the offices of both Twitter and Facebook to meet with staffers and host an in-office Q&A. During her Twitter visit , which coincided with Valentine's Day, Dunham was interviewed by the company's consumer communications manager, Elaine Filadelfo -- a conversation that was unsurprisingly live-tweeted by a several Twitter employees.
Summary Kristen Wiig 's impersonation days aren't over yet! What followed was an off-the-cuff interview that likely amused Wiig and entertained Fallon more than some of his viewers. The actress gave up her personal interview time and donned a spot-on floppy wig and a white V-neck T-shirt, layered on a bunch of necklaces on top and wore the 20-year-old's signature fitted black blazer, skinny jeans and boots -- boots she seemed fascinated by when she first sat down for the interview. .
Summary The numbers aren't quite up to the 14.6 million viewers who tuned in during Jay Leno 's last show, but considering the late hour and the smaller Olympics lead-in, it is still a substantial number. According to Fast Official's Monday night ratings, Fallon averaged a rating of 3.8 among adults ages 18-49, which puts him on par with Conan O'Brien 's 2009 debut on "The Tonight Show."
Summary Chicago Mayor and former White House chief of staff Rahm Emanuel says he will accept Jimmy Fallon's open invitation to appear on "The Tonight Show" -- if he'll brave the frigid waters of Lake Michigan. The Chicago Democrat tweeted a challenge to Fallon on Wednesday in response to comments Fallon made doing press for his premier this week as "The Tonight Show" host. The Polar Plunge is an annual event that raises money for the Special Olympics during which participants run into Lake Michigan the first weekend in March, while the lake is still quite cold from the winter.
Summary Kristen Wiig Is A Better Harry Styles Than Harry Styles. By Donna Dickens Wednesday, Feb 19, 2014 2:24 PM. Jimmy Fallon continues his debut week as the new host of The Tonight Show with this fantastic clip of Kristen Wiig as Harry Styles .
Summary Last night, on his second evening as the new host of the Tonight Show , Jimmy Fallon presented another throwback : this time, to the early '00s. Fallon, along with his barbershop quartet The Ragtime Gals, presented a smooth (although somewhat less sultry than the original) rendition of R. Kelly's iconic 2003 single " Ignition (Remix) ." The most memorable parts include the sophisticated "Bounce, bounce, bounce, bounce, bounce, bounce" from Fallon's solo, as well as the harmonized "toot-toots" and "beep-beeps."
Summary Though there was the inevitable drop-off from his big Tonight premiere, Jimmy Fallon's second night as host proved a big one for NBC. Fast Official returns give Tonight 7.366 million viewers, its most-watched Tuesday broadcast since 2000. Tonight continued to ride the wave of a strong Winter Olympics lead-in, though Tuesday's proved much smaller than Monday's.
Summary Only in Lady Gaga's world would a performance where she is shrouded in dry ice and playing a clear-top grand piano be considered subdued. While she is certainly fond of all the bells and whistles, Lady Gaga excels when it is just her at a piano performing the songs with the barest of accompaniment and showing off her strong voice. The song later brings in the electronic elements and a full band, but the stark opening is the best part.
Gallery
Grid View
Lady Gaga sings quirky Artpop on the Tonight Show with Jimmy Fallon
Kristen Wiig stops by 'Tonight Show' as boy bander Harry Styles
TV Ratings: Jimmy Fallon's Second 'Tonight' Hits 13-Year High for a Tuesday
#Hashtag2 with Jimmy Fallon & Jonah Hill
#Hashtag with Jimmy Fallon & Justin Timberlake (Late Night with Jimmy Fallon)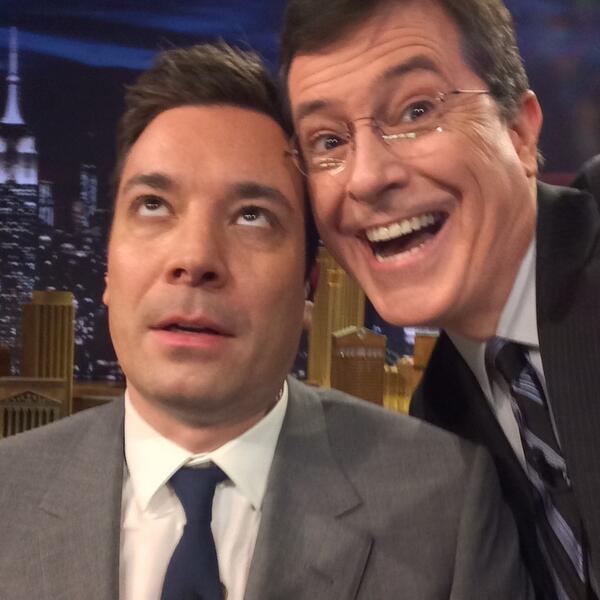 The two funniest men on late night @StephenAtHome and @jimmyfallon http://t.co/QdW3dUXwME
See more...