Summary According to Federal Election Commission records, Texas gubernatorial candidate Wendy Davis--the feminist icon who exploded onto the national political scene with a pro-abortion filibuster in June--donated to Republican George W. Bush days before becoming a public official. Known nationally only as the lady in Vogue in the pink shoes , a confirmation that she gave money to perennial bogeyman George W. Bush will be difficult to swallow for the far left that has embraced her. To Democrats in the state, she already has the unfortunate reputation of being, if at all possessed of a political and moral compass, far to the right of the national party.
Stories
Buzz
Abortion Supporters chant "Hail Satan" as Christian Pro Lifers sing Amazing Grace
Expand Image
VOTE GREG ABBOTT! ETHICAL QUESTIONS MOUNT ON @WendyDavisTexas http://t.co/KoICvxysxy %u2026 http://t.co/Vy93VYDhMR
Women Turning On Wendy Davis (No, Not THAT Way): http://t.co/QjzuzAPgAI via @YouTube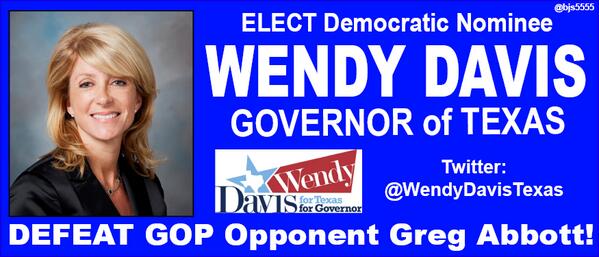 Expand Image
ELECT Democratic Nominee Wendy Davis @WendyDavisTexas #GOVERNOR of #TX DEFEAT (R) Greg Abbot! @UniteBlueTX #Red2Blue http://t.co/u10I0ehGBR
See more...
See more...
See more...
See more...
See more...
See more...
See more...
Trending Now
Most Popular This Week