The character has previously been referenced on multiple occasions - first in 2012's The Avengers and later on Marvel's Agents of SHIELD. "So when Clark [Gregg, who plays Coulson] called me personally and said how important this role was to him, that it [needed to be] cast with the right person, it was very flattering that he thought that I was that person."
"Marvel's Agents of SHIELD" has been renewed for a third season, but the two-hour second season finale drew a series-low overnight rating. A 2-hour season finale starting at 9 was always going to have less live numbers. Flash is on at 8, earlier time slot. 1 hour episode. People who decided to skip missed a great two hours.
No matter if you're among the Agents of S.H.I.E.L.D. viewers who are looking forward to getting some proper answers to season-long mysteries (as well as details on the more recent game-changing revelations ) and/or the guest-star appearances lined up on the episodes ahead - or feel that it's all too little, too late - there's no denying that Marvel Studios' first expedition into the realm of TV entertainment is looking to finish its first run (read: season) with a bang.
The actress is set to play the mysterious "cellist" in Marvel's popular television series. Fans first heard of the cello player in The Avengers movie: She was a woman who Coulson previously dated and was the love of his life ... and she played the cello. We've already learned on S.H.I.E.L.D that she has no idea that Coulson is alive and that she was racked with grief over his apparent death.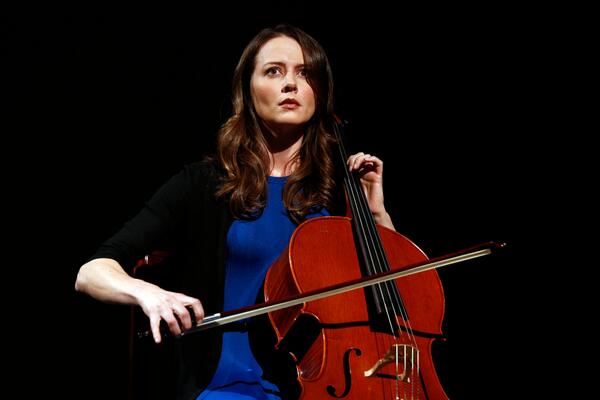 1. With Phil Coulson (Clark Gregg) the main character, we'd meet "the cellist" mentioned in The Avengers. 2. Acker's previous collaborations with Whedon include her series regular role on Angel, The Cabin in the Woods and a notable recurring character on Dollhouse, where she also worked with SHIELD executive producers Jed Whedon and Maurissa Tancharoen.
TV Guide reports that "Angel" and "Dollhouse" alum Amy Acker has been cast as Audrey, Coulson's cellist ex-girlfriend who will appear in at least one episode of "Agents of S.H.I.E.L.D." TV Guide describes the character a "a talented musician turning heads in Portland, Audrey believes Coulson to be dead and has no idea that he's guarding her from a distance as a super-powered threat from her past re-emerges."
First mentioned in 2012's Avengers, the character -- whose name will be revealed as Audrey, according to the announcement on Marvel.com -- has since been referenced in Agents of SHIELD as being unaware that Coulson had, in fact, survived Loki's attack. The length of Acker's involvement with the show is unknown, as is the date of her first episode of the series.
The guest star will fill in more of Coulson's history on the ABC series. Acker will play Audrey, who Marvel fans refer to as "the cellist," on at least one episode, a network representative told TheWrap . Fans first heard of the cello player in "The Avengers" movie, a woman who he previously dated and was the love of his life.
On Wednesday, March 26 TV Guide exclusively broke the news that actress Amy Acker will be joining the television drama "Marvel's Agents of S.H.I.E.L.D." for at least one episode in a pivotal role which will link her with Agent Coulson. The character is a talented cellist who apparently lives in Portland, but after the events in New York, she believes Coulson to be dead.
You don't need to be The Clairvoyant to have seen this casting eventually coming. ABC's Agents of S.H.I.E.L.D. has enlisted Whedonverse alum Amy Acker to guest-star as Audrey, the cellist Agent Coulson was dating at the time of his death/"death," TVGuide.com reports.
Acker will portray Audrey, a cellist and the love of lead character Phil Coulson's (Clark Gregg) life. The character was mentioned by name in an earlier episode of the show, but has not yet appeared in the series. Audrey believes Coulson is dead, and is unaware that the agent guards her from a distance.
On March 26, TV Guide shared the news about the new cast member and what her part will be on the show. As of right now, Amy Acker will be on the April 22 episode of "Marvel's Agents of S.H.I.E.L.D." Fans are hoping that they keep her around for longer than just one episode of the show.
See more...