A blood moon is expected on April 14-15 -- the first of four over the next 18 months. The blood moon has many believing that the end of the world is near -- or that the second coming of Christ is upon us. More on the blood moon and the fear of "impending doom" in the video above.
Mark your calendars, sky watchers: In one week a total lunar eclipse will turn the moon an eerie shade of red. The red color occurs because even when the Earth has moved directly between the moon and the sun, the scattered light from all the sunsets and sunrises on the rim of our globe still make it to the moon's surface.
REUTERS/Mark Blinch) During the early hours of April 15, many will look up to the sky and assume that the end has finally come. Do not fret however; no matter how apocalyptic the moon will look, it will still just be a 'Blood Moon'. In regards to the blood color that will appear on the moon, it is actually quite normal.
The sky was clear, the moon was bright and there was a little chill in the air. Packed up the camera and tripod, jumped in the car and zigzagged around the neighbourhood to look for a clear view; by then the fog has rolled in and I could no longer see the moon. Like a storm chaser, I drove quickly while looking up to keep my eye on the moon.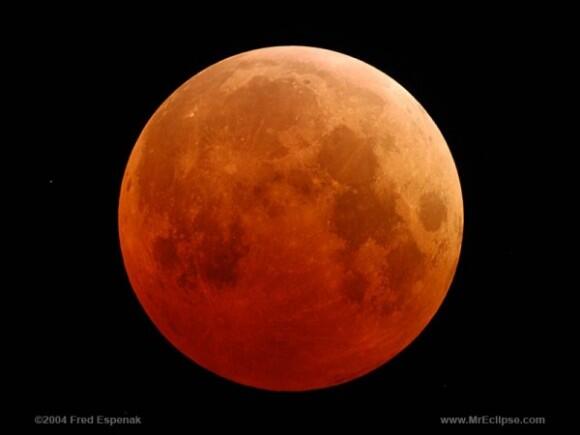 I liked a @YouTube video Blood Red Moon April 2014 - The Terrible Day of The Lord is Nigh - Joel 2:30-31 t.co/4lVf2EnlYB
Much like the Mayan Prophesy which occurred two years ago, the series of total lunar eclipses - commonly referred to as the tetrad - is causing much speculation. The religious connections to the current tetrads are obviously being linked because of the dates on which they occur. The next occurrence of the blood moon will be at midnight on April 15, 2014.
Sign of the 4 Blood Moons with Irvin Baxter
A total lunar eclipse, also known as a "blood moon," will begin just after midnight on April 15. A full lunar eclipse occurs when the entire moon is shaded by the Earth and appears as an eerie reddish color. The red color is caused by refraction of sunlight by the Earth's atmosphere, according to EarthSky.org.
See more...