Summary COLLBRAN -- Residents along Salt Creek Road were loading up horses Wednesday, lining up a moving truck for a 127-year-old grand piano, boxing up baby pictures and reassuring anxious relatives by phone that they were keeping a close eye on the huge landslide on the mountain above them.
All Stories
Expand Image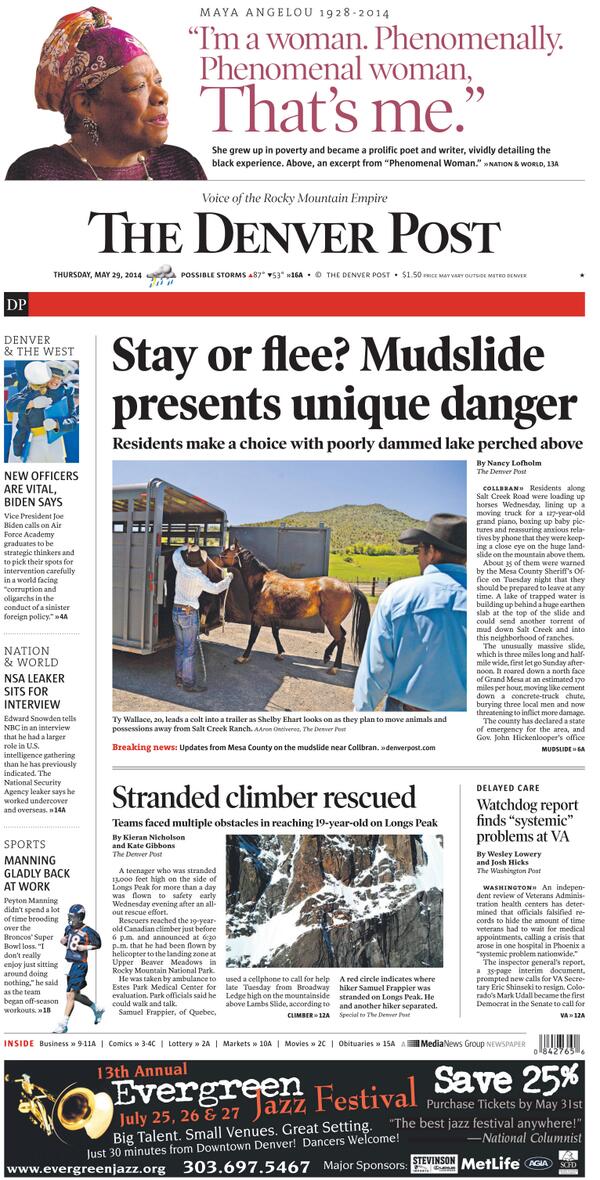 Expand Image
Stay or flee? Some residents in path of massive mudslide near Collbran pack up http://pic.twitter.com/CS662ctHUS
Expand Image
Summary GOLDEN - The massive landslide that poured down from Colorado's Grand Mesa on Sunday reshaped part of the geography in that area and also created a brand new lake. The big concern is whether the lake water is mixing with shale from the landslide.
Expand Image
Summary A lake forming behind a huge unstable dam of soil at the top of the deadly mudslide near Collbran has scientists fearing the slide will deliver more destruction . Wilin "The Bull" Rosario walked to the plate in the seventh inning with a .222 average, but with fire in his eyes.
Summary The slide occurred on Sunday outside the small town of Collbran, about 200 miles west of Denver. A deep snowpack and several days of rain-weakened terrain in the forest set up the catastrophe, and when the mountainside gave way, a 250-foot-deep wall of timber, mud, snow and dirt tore through the valley, authorities said.
Expand Image
Summary The slide that roared down from the top of Grand Mesa on Sunday, covering nearly 700 acres and burying three local men, is still unstable, still very difficult to predict and still a challenge for those trying to monitor it.
Expand Image
Summary The results of a three-mile long mudslide appear on Grand Mesa, where the slide started, in a remote part of western Colorado near the small town of Collbran Monday, May 26, 2014. "The power of the slide itself is enormous," Hilkey said.
Expand Image
Summary COLLBRAN -- Authorities and scientists are figuring out how to monitor movements that could signal another mudslide near Collbran. At a town hall meeting Thursday night, Jeff Coe of the U.S. Geological Survey suggested putting a GPS receiver on the site to send information to a remote server.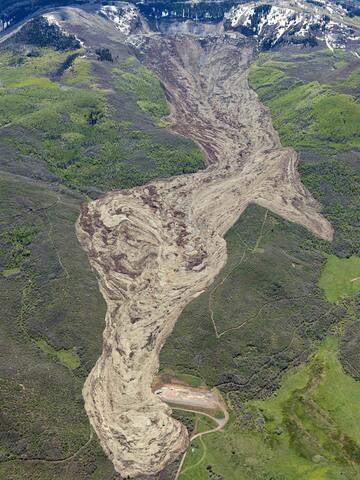 Expand Image
Aerial photos show massive mudslide in Collbran, Colorado: (Copyright John Wark) http://pic.twitter.com/BiyQC6KMbg
See more...
See more...
See more...
See more...
See more...
Expand Image
Summary For most toddlers play time takes up much of the day. It's a condition where the rear portion of the brain pushes down on the spine. "It's scary for them and I try to be very honest. I try to comfort them. I tell them Mommy is going to be there. Daddy is going to be there," said Ramirez.
Summary GAINESVILLE, Ga. (AP) - A federal judge took a chance on a Georgia woman when he sentenced her to probation after she admitted to blowing up pipe bombs at remote locations. The judge told her not to make him look like a fool.
Summary "We are not communists, we don't govern against the people," Mr. Orban said in his regular weekly interview on Hungarian radio. Government press officers had said that the organizers of the protests -- which began in Budapest on Sunday and swelled much larger in the capital and in other cities on Tuesday -- had deliberately misrepresented the proposal as a new tax when it was actually just an extension of an existing telecommunications tax.
Expand Image
Summary The two had been listening to the Giants' World Series game on the radio when Monahan asked Stent for a cigarette, said San Mateo County District Attorney Steve Wagstaffe . Monahan was winning the fight, and at one point Stent walked away, the prosecutor said.
See more...
See more...