Summary COLLBRAN -- Residents along Salt Creek Road were loading up horses Wednesday, lining up a moving truck for a 127-year-old grand piano, boxing up baby pictures and reassuring anxious relatives by phone that they were keeping a close eye on the huge landslide on the mountain above them.
All Stories
Expand Image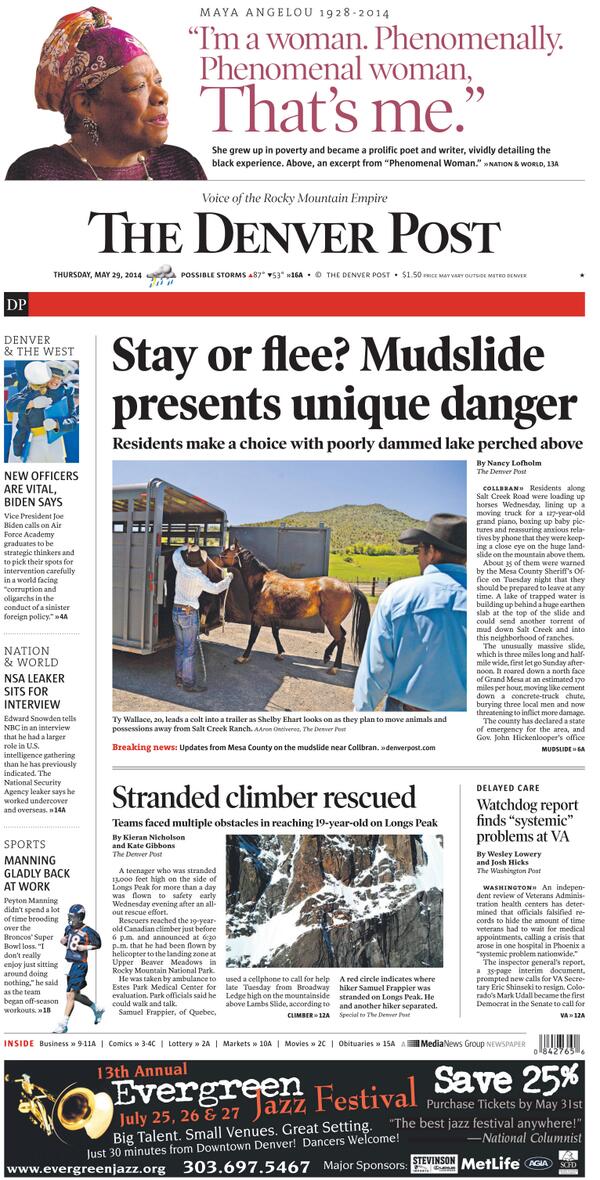 Expand Image
Stay or flee? Some residents in path of massive mudslide near Collbran pack up http://pic.twitter.com/CS662ctHUS
Expand Image
Summary GOLDEN - The massive landslide that poured down from Colorado's Grand Mesa on Sunday reshaped part of the geography in that area and also created a brand new lake. The big concern is whether the lake water is mixing with shale from the landslide.
Expand Image
Summary A lake forming behind a huge unstable dam of soil at the top of the deadly mudslide near Collbran has scientists fearing the slide will deliver more destruction . Wilin "The Bull" Rosario walked to the plate in the seventh inning with a .222 average, but with fire in his eyes.
Summary The slide occurred on Sunday outside the small town of Collbran, about 200 miles west of Denver. A deep snowpack and several days of rain-weakened terrain in the forest set up the catastrophe, and when the mountainside gave way, a 250-foot-deep wall of timber, mud, snow and dirt tore through the valley, authorities said.
Expand Image
Summary The slide that roared down from the top of Grand Mesa on Sunday, covering nearly 700 acres and burying three local men, is still unstable, still very difficult to predict and still a challenge for those trying to monitor it.
Expand Image
Summary The results of a three-mile long mudslide appear on Grand Mesa, where the slide started, in a remote part of western Colorado near the small town of Collbran Monday, May 26, 2014. "The power of the slide itself is enormous," Hilkey said.
Expand Image
Summary COLLBRAN -- Authorities and scientists are figuring out how to monitor movements that could signal another mudslide near Collbran. At a town hall meeting Thursday night, Jeff Coe of the U.S. Geological Survey suggested putting a GPS receiver on the site to send information to a remote server.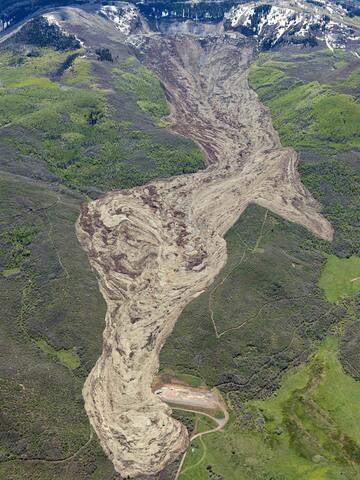 Expand Image
Aerial photos show massive mudslide in Collbran, Colorado: (Copyright John Wark) http://pic.twitter.com/BiyQC6KMbg
See more...
See more...
See more...
See more...
See more...
Expand Image
Summary Holder, who was speaking at a news event in Los Angeles, last month announced his resignation but said he would not leave until his replacement was chosen and confirmed by the Senate. The Obama administration is expected to announce a nominee to replace him by the end of the year.
Expand Image
Summary Marysville Education Association president Randy Davis said Saturday that first-year social studies teacher Megan Silberberger intervened in the shooting at Marysville-Pilchuck High School. Student Erick Cervantes told KIRO-TV the teacher intercepted the gunman as he was trying to reload. Authorities say the on-scene investigation at the school was complete.
Expand Image
Summary Rainn Wilson 's production company will no longer be working with a controversial Vine star. . "After much consideration, the decision was made with Curtis Lepore to mutually part ways on SoulPancake's television project featuring Vine stars," Wilson wrote Oct. 24 on Facebook .
Expand Image
Summary Marcelo Marquez, suspect in the shooting deaths of two Sacramento Couny Sheriff's deputies, has been booked into Sacramento County Jail, Oct. 25, 2014. The car, which had a man and woman inside, then drove about a mile and the couple tried to carjack a driver and shot him in the head when he refused to give up his keys, authorities said.
See more...
See more...