Summary COLLBRAN -- Residents along Salt Creek Road were loading up horses Wednesday, lining up a moving truck for a 127-year-old grand piano, boxing up baby pictures and reassuring anxious relatives by phone that they were keeping a close eye on the huge landslide on the mountain above them. Geologists, hydrologists and engineers have been working with local experts such as Pudge Cox to try to get a better handle on how the slide might behave from here on out. A big unknown affecting that is how deep the lake is at the top.
Stories
Buzz
Expand Image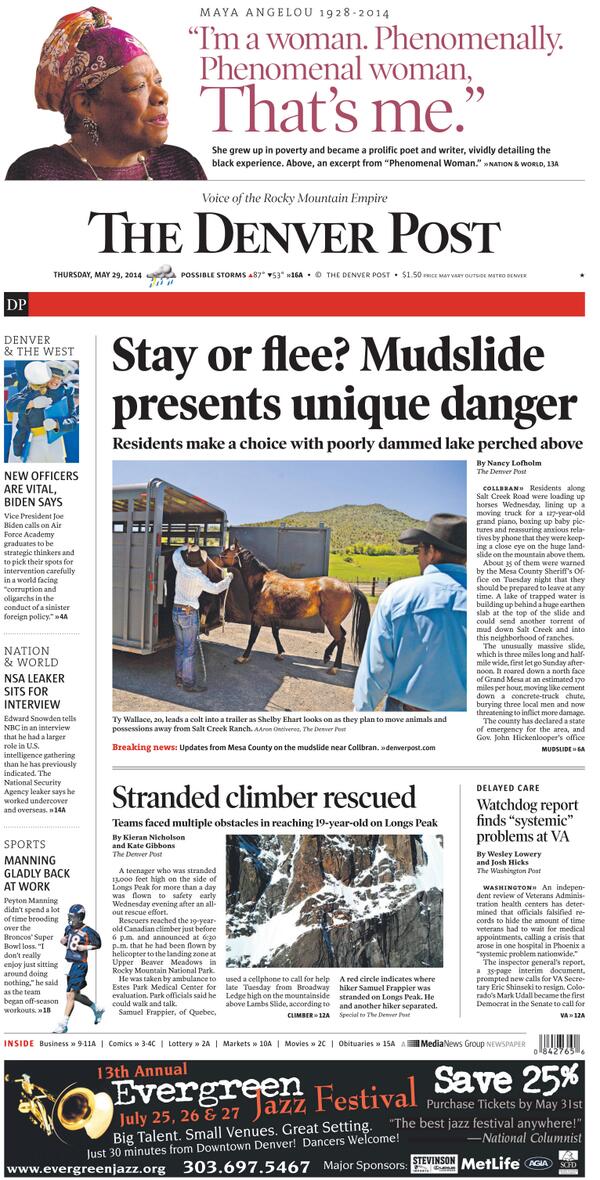 Expand Image
Stay or flee? Some residents in path of massive mudslide near Collbran pack up http://pic.twitter.com/CS662ctHUS
Expand Image
Summary GOLDEN - The massive landslide that poured down from Colorado's Grand Mesa on Sunday reshaped part of the geography in that area and also created a brand new lake. "We really haven't evaluated how big the body of water is behind it and how big it's going to be before it overtops, but we're trying to work out the uncertainties on that so we can decide how far downstream there might be a problem," said Harp. The big concern is whether the lake water is mixing with shale from the landslide.
Expand Image
Summary A lake forming behind a huge unstable dam of soil at the top of the deadly mudslide near Collbran has scientists fearing the slide will deliver more destruction . "It's a dam of rubblized, disturbed bedrock," geologist Jon White said Tuesday. "It's a chaotic disturbed mass." ( PHOTOS ).
Summary The slide occurred on Sunday outside the small town of Collbran, about 200 miles west of Denver. "This declaration is largely being done to assess the risk, since we don't have the expertise or the jurisdiction to fully support the assessment," county administrator Tom Fisher said in a statement. A deep snowpack and several days of rain-weakened terrain in the forest set up the catastrophe, and when the mountainside gave way, a 250-foot-deep wall of timber, mud, snow and dirt tore through the valley, authorities said.
Expand Image
Summary COLLBRAN -- "We are trying to outsmart a mountain," authorities told a crowd of more than 400 who overflowed the Collbran Community Center on Thursday evening looking for answers about what a massive mudslide hanging over the Plateau Valley will do next. "I'll be the first to tell you we don't have all the answers for you tonight." The U.S. Geological Survey did have better estimates of the size of the pond at the top of the slide and the huge block of earth that is holding it back.
Expand Image
Summary The results of a three-mile long mudslide appear on Grand Mesa, where the slide started, in a remote part of western Colorado near the small town of Collbran Monday, May 26, 2014. The sheriff said the slide at one point roared up a hill and then down again. "The power of the slide itself is enormous," Hilkey said.
Expand Image
Summary COLLBRAN -- Authorities and scientists are figuring out how to monitor movements that could signal another mudslide near Collbran. Right now, helicopter flights and real-time cameras over the slide are helping keep an eye on the situation. At a town hall meeting Thursday night, Jeff Coe of the U.S. Geological Survey suggested putting a GPS receiver on the site to send information to a remote server.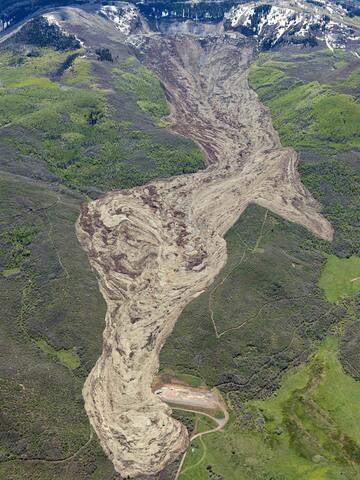 Expand Image
Aerial photos show massive mudslide in Collbran, Colorado: (Copyright John Wark) http://pic.twitter.com/BiyQC6KMbg
See more...
See more...
See more...
See more...
See more...
See more...
See more...
Trending Now
Most Popular This Week